Industry Insights
Global fluoropolymers market size was 720.8 kilo tons in 2014. Rising demand for the polymer for manufacturing semiconductors which are used in electrical appliances including computers and smart phones is expected to drive growth. Growing electronics industry, particularly in China, South Korea, and Japan, in light of increasing domestic demand along with the presence of R&D base is expected to augment growth in the near future.
Fluoropolymers are extensively used in numerous applications for various industries including automobiles, electrical and electronics and chemical processing industries owing to its high heat resistance and excellent tensile strength. Expanding automotive sector in the U.S., Mexico, China, India and Indonesia on account of new product launches by vehicle manufacturers such as GM, Toyota and Volkswagen is likely to impact favorably market growth in the near future.
U.S. fluoropolymers market volume, by application, 2012 - 2022 (Kilo Tons)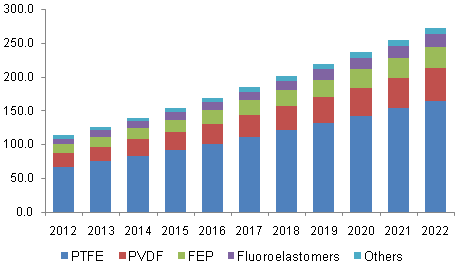 Stringent framework to manufacture and use of fluoropolymers implemented by numerous regulatory bodies is expected to hamper industry growth. Perfluorooctanoic acid (PFOA) which is used as a raw material is deemed as carcinogenic by USEPA. Usage in a wide range of household products including stain-resistant carpets, non-stick cookware, and furniture sprays is a major source of PFOA contamination which is anticipated to hamper industry growth over the next seven years.
Product Insights
In terms of product, polytetrafluoroethylene (PTFE) market dominated the global fluoropolymers industry accounting for over 60% of overall volume in 2014. Enhanced wear resistance and chemical stability are key properties of PTFE, paving its way for use to manufacture gaskets, linings, washers, pump interiors, seals, and spacers in industrial applications.
Polyvinylidene difluoride (PVDF) is expected to witness the fastest growth and is expected to reach 408.0 kilo tons by 2022. It is majorly used as an insulation material in electrical wires as it posses properties such as flexibility, low weight, low thermal conductivity, high chemical corrosion resistance and heat resistance.
Gaining importance of piezoelectric materials in electronics is expected to favor market growth for PVDF in the near future. Rising expenditure towards the development of PVDF-based architectural coatings by chemical manufacturers such as Solvay is expected to open new growth opportunities over the forecast period.
Application Insights
Industrial applications dominated the market accounting for over 30% of global fluoropolymers industry in 2014. It is widely used in industrial applications including flue gas heat exchangers, filtration membranes, coatings and pharmaceutical processing equipment. Fluorine based polymers are used in industrial applications to provide thermal and corrosion resistance.
Construction is expected to be the fastest growing application at a CAGR of over 11.0% from 2015 to 2022. Increasing construction spending in India, China, and the Middle East in light of supportive regulations to promote infrastructure development is expected to have a positive impact on the industry in the near future.
Demand from the automotive sector is expected to witness growth in light of its increasing proliferation in fuel engine systems to reduce emissions and provide heat resistance. The European Commission and the U.S. EPA have framed stringent regulations, pertaining to restrict VOC emissions, and this is likely to increase the importance of fluoropolymers in the automotive application.
Regional Insights
Asia Pacific fluoropolymers market accounted for over 30% of global volume in 2014. Positive outlook towards automotive and construction sectors in China, India, and Indonesia in light of supportive regulations to promote investments at a domestic level is expected to impact favorably on industry.
North America market was over 290.0 kilo tons in 2014 and is likely to witness growth in light of expanding manufacturing base for automotive, construction and electronics sector in the U.S. Emergence of Mexico as an automotive hub along with growing demand for PVDF as a piezoelectric material in wire and cable insulation is expected to support industry growth in the near future.
Lucrative construction sector growth in African countries such as Nigeria and South Africa on account of regulatory support to improve infrastructure as well as positive mining industry outlook is expected to favor positive growth in the near future. Africa is expected to foresee growth at a CAGR of over 10.0% from 2015 to 2022.
Competitive Insights
Daikin, Chemours (DuPont), Asahi Glass Company, Solvay Solexis, 3M (Dyneon GmbH) and Honeywell dominated fluoropolymers market share. This industry is characterized by new product developments and strategic tie-ups with buyers. In February 2014, DuPont announced capacity expansion at its manufacturing unit in Parksberg, U.S. The facility is expected to increase output by 1,000 tons and will produce FEP resins commencing from June 2014.