Industry Insights
Global antisense and RNAi therapeutics market size was valued at USD 878.7 million in 2014. The presence of a strong pipeline product portfolio coupled with the introduction of advancements in RNAi drug delivery technology are expected to serve as high growth rendering drivers in this market.
It is a developing sector and is anticipated to witness new product approvals over the forecast period owing to ongoing extensive research carried out in RNA silencing, gene knock-down, and gene expression modulation for treatment of diseases at a molecular level.
U.S. Antisense and RNAi Therapeutics Market, By Application, 2012 - 2022 (USD Million)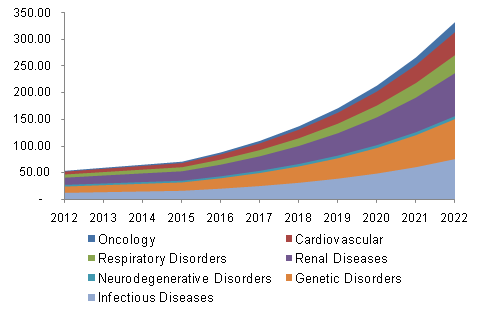 This industry is witnessing heightened collaborations between big pharmaceutical companies and RNA silencing therapeutic developers in order to gain access to drug delivery platforms. Moreover, operating entities are also forming alliances for outsourcing the research services and licensing of the launched platforms for delivery of therapeutic targets that are under different clinical phases of human trials.
Since the discovery of ribonucleic acid silencing, there have been numerous avenues of treatments developed using interference mechanism of with RNA, however, the industry has picked up very little over the past decade due to the complexities faced by scientists and drug developers with respect to the delivery of target molecules to the target organs or tissues required for gene silencing.
Development of newer nanotechnology-oriented methods that have exhibited considerably higher efficacy in target delivery has reinfused the industry with a high potential to grow over the forecast period. Additionally, implementation of favorable government incentives and external funding for drug development R&D are also factors that reinforce the market's potential for lucrative growth.
However, delivery of the RNAi therapeutic drugs to a number of target organs is still a major factor restraining research progress of some, if not all drug candidates under trials. Delivery of ribonucleic acid interference biologicsis a challenge due to limited transferability of these formulations to the brain, spleen, kidney, heart, skeletal muscle, some cancer cells, small intestine, and large intestine. Furthermore, these formulations are eliminated from the systemic circulation much prior to exerting the desired pharmacological action due to thermodynamic instability of RNA itself.
Ongoing research programs pertaining to the delivery of these formulations with the aid of nano-biotechnology and liposome-mediated delivery systems have exhibited considerable success in a number of trials. Expected methodology enhancement with the implementation of knowledge from these techniques is a factor expected to exert positive development pressure over the potentially lucrative pipeline present in the market over the projected period.U.S. Antisense and RNAi Therapeutics Market, By Application, 2012-2022 (USD Million)
Technology Insights
Usage of RNA interference technology accounted for the larger share of industrial revenue in 2014 as a result of a large number of research projects carried out in the segment and associated relatively higher exhibited efficacy. The presence of siRNA products in discovery, development, and clinical phases of drug development is attributive for higher preference of RNAi.
Moreover, advantages such as utilization of cellular machinery for targeting of complementary transcripts, which further results in potent down-regulation of gene expression associated with the utilization of RNA interference is another factor anticipated to reinforce the segment growth over the forecast period.
Application Insights
The applications of antisense and RNAi therapeutic drugs are assessed on the basis of diseases treated using RNA silencing and gene knock-down technology. Depending upon the deliverability of these therapeutics to various organ systems, their usage has considerable potential in the treatments of diseases in oncology, cardiology, renal, neurodegenerative, respiratory, genetic, infectious, and other ailments such as wound healing.
Applications of RNAi in oncology accounted for a substantial share of the generated revenue in 2014 which can be attributed to the presence of a higher number of research grants and licensing revenue associated with cancer-based trials for RNAi and antisense therapeutics.
This can be attributed to the fact that RNAi therapeutic treatments in oncology have exhibited high potential and efficiency. The ability of siRNA induction at advanced stages of cancer growth and the associated high specificity of RNAi therapy as compared to chemotherapy are among the major factors for the high market potential of this segment.
It is expected to witness strong growth in demand over the forecast period due to the clinical safety and efficacy demonstrated by siRNA, bishRNA and shRNA cancer therapies. RNAi potential for treatment and management of cardiology diseases also exhibited strong potential for growth owing to the presence of candidate molecules in clinical phases for the treatment of lipid, blood, and cholesterol associated disorders.
Route of Administration Insights
Pulmonary delivery of the molecules covers intra-tracheal, intra-nasal, and inhalation routes of administration. Presences of several drugs in the pipeline for treatment of cancer employing the intra-nasal route are attributive for the largest share of this delivery route in 2014. The treatment of lung cancer, chronic inflammatory diseases, and viral lung diseases involves delivery of siRNA to the target organs through inhalation or aerosol based transfer modes.
Regional Insights
North America accounted for the largest share of revenue generated in the industry. There are a significant number of products in clinical trials that are underway or in the process of initiation for the development of antisense therapeutics from participants with clinical laboratories in operation within this region. These entities contribute significantly via product and platform licensing in revenue generation. Expected commercialization of certain candidates under R&D is going to provide the region with a lucrative opportunity for growth over the forecast period.
Pending the complete commercialization of development therapies in the market, this region expected to grow moderately over the next couple of years. However, post commercialization of RNAi therapies, it is expected that the Asia Pacific region will register growth at the fastest rates. Internal research &development of topical and other forms of siRNA delivery technology is also a strong factor reinforcing the region's high growth rate up to 2022.
Competitive Insights
Companies that dominate the global intravenous immunoglobulin industry share include Santaris, Alnylam Pharmaceuticals, Isis Pharmaceuticals, Antisense Therapeutics, Silence Therapeutics, and miRagen Therapeutics.
Big pharmaceutical developers have entered into collaboration agreements or licensing deals with a number of smaller firms in an attempt to capitalize on the expected growth in revenue that this market is expected to have over the forecast period.
For instance, Alnylam Pharmaceuticals formed an alliance with Genzyme to develop and commercialize RNAi therapeutics, which led to the introduction of ALN-TTRsc and Patisiran for the treatment of ATTR in the APAC region. Alnylam Pharmaceuticals also underwent collaboration with Roche with respect to licensing SNALP technology.
In January 2016, Isis Pharmaceuticals announced the initiation of Phase-I study of ISIS-HBV-L Rx in collaboration with GSK Pharmaceuticals for the treatment of Hepatitis's B viral infection. Growing number of licensing activities in this market space is expected to further propel growth.
Analyst Perspective
This study consists of different drug products and technological platforms used for the silencing of RNA and gene expression manipulation. Gene knockdown and silencing technologies hold significant potential for treatment of various chronic diseases, especially a number of different forms of cancer that are hard to address with the conventional existing drugs.
These drugs have the potential to provide high target specificity as compared to small therapeutic molecules. RNA interference inhibits protein expression in target cells to which binding of small molecules is difficult due to an absence of molecular capabilities.
Although there are benefits associated with the use of antisense and RNAi technology, this market is in the nascent stage of development owing to a number of hindrances scientists have faced over the last decade in successfully delivering RNAi to a number of target organs. The aim of this research report is to identify key drivers responsible for driving revenue generation in this market.
Key trends followed by market participants in order to maintain market share are also analyzed in the report. Pipeline analysis is carried out keeping into consideration a substantial amount of drug candidates that are under discovery and development phase apart from clinical and preclinical phases.
Market estimates and revenue generated is calculated on the basis of activities carried out by the market players, the presence of research programs and pipeline products in the particular segments with higher clinical potential. Market entities are engaged in developing extensive collaboration networks for licensing of products and platforms. Thus, this topic is gaining substantial attention in the field of biotechnology and clinical therapeutics.