Industry Insights
Global cell culture market size was valued at USD 16.35 billion in 2014. Since, biotechnology has gained a central importance for the R&D of newer healthcare and biological applications, living cells and tissues, in vivo and in-vitro, have become central to any and all research activity. Therefore, the cell culture market and its applications in the field of molecular biological research and development have remained and are expected to remain a critical factor for any further development. With the advent of genetic engineering, recombinant DNA technology, genomic and proteomic profiling, the cell culture techniques have become indispensable.
North America cell culture market, by application, 2012 to 2022 (USD Million)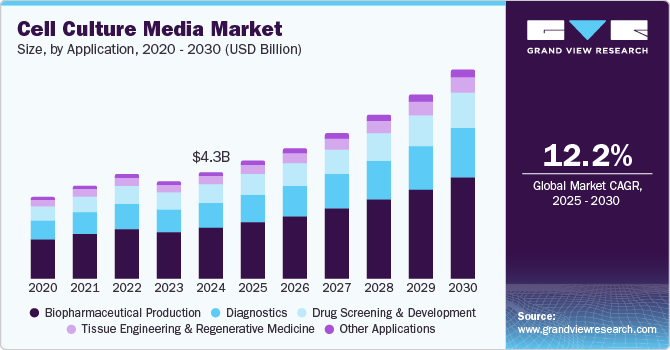 Usage of cell cultures has increased to an extent where conventional manual small scale production and handling of cultures is no longer enough to meet the new age production demands. This has encouraged the development of automated large-scale cell culture systems which are capable of producing high throughput cell cultures of excellent purity and in larger quantities.
The continued development of cell culture techniques and applications has poised this market to expect a steady and substantial growth through to 2022. Global cell culture market is expected to grow at a CAGR of over 10.7% during the forecast period, to reach USD 37.0 billion in 2022.
Product Insights
Product segments in the cell culture market include culture systems, incubators, pipetting instruments, biosafety and cryostorage equipment. Further classification of culture systems includes culture plates, culture bags, T-flasks, roller bottles, bioreactors, and centrifuges.
The largest share of the cell culture market is occupied by culture systems as the equipment included in this segmented is of central importance to any cell culture process. Moreover, with advancement in the development of spheroid and complex bioreactors it has been made possible to introduce three-dimensional cell cultures as opposed to the conventional two-dimensional petri dish based cell cultures.
These factors along with the fact that cell culture systems which include robotic automated liquid handling instruments and sophisticated centrifuge systems are more expensive as opposed to the other segments, it is expected that cell culture systems will continue to dominate this market throughout the forecast period. With the seemingly estimated introduction of highly automated robotic laboratory equipment, this segment is also poised to grow at a considerable CAGR through to 2022.
Applications Insights
As a fundamental procedure for all biotechnological research in the field of molecular biological analysis, cell culture techniques find applications in the fields of cancer research, gene therapy, toxicity testing, tissue engineering, drug development, manufacturing of biopharmaceuticals and production of vaccines.
A thorough study of the cell culture market reveals that the highest revenue generated in the market through the application of cell culturing is in the fields of manufacturing biopharmaceuticals followed by production of vaccines. A very important factor contributing to this dominance is the fact that a mass culture of animal cells, especially mammalian, is an elementary step for the fabrication of biotechnological products, primarily viral vaccines.
Owing to the innovations in genetic engineering there has been a significant increase in the usage of protein-based biopharmaceuticals. Their production is greatly dependent on the protein expression systems derived from mammalian cell cultures and construction of high-yielding cell lines. This recently developed application of cell cultures in the biopharmaceutical segment is responsible for most of the revenue generated from this segment and is also expected to be the primary cause for the same throughout the forecast period.
Regional Insights
The largest share of revenue generated in the global cell culture market was accounted for by North America in 2014. Owing to the introduction and development of automated cell culture techniques, and increasing usage of stem cell therapy in the region, cell culture finds most application in the U.S. and Canadian life science laboratories. In the U.S. alone, the cell culture automation for cell-based assays such as induced pluripotent stem cell research, cellular expression, culturing of monoclonal antibodies and cryobanking accounted for about a third of the revenue generated.
Development of automatic single cell examination and segregation systems in Asia Pacific region, especially Japan, for advanced research in stem cell therapies is also expected to fuel the cell culture market during the foreseeable future and account for the expected growth of the Asia-Pacific region in the coming eight years.
Competitive Insights
Key participants of the cell culture market include Thermo Fisher Scientific, Sartorius, Merck, General Electric, Corning, Sigma-Aldrich Co., LLC, Promocell, Lonza, Eppendorf and Becton, Dickinson & Company.
Due to the advanced developments in bioreactors, the companies are also involved in the introduction and improvement of 3D cell culture techniques which are a step up from the conventional 2D cell cultures. Three-dimensional cell colonies which are obtained from 3D cultures are more accurate models of in vivo cells and it is expected that there development will further fuel cell culture market growth.