Industry Insights
The global in-vitro toxicology testing market size was valued at USD 20.2 billion in 2014. Growing preference for in-vitro toxicology tests over the conventional in-vivo tests is anticipated to drive demand in the sector. Furthermore, the increasing R&D investments in cell culture is expected to contribute to a significant extent towards boosting demand.
Rise in inclination of regulatory authorities for toxicology testing using the in-vitro tests instead of animal usage is also one of the high impact rendering drivers of this market. The presence of several animal welfare organizations that are engaged in the reduction and replacement of animal usage for pre-clinical tests and R&D are expected to create a lucrative growth potential for the manufacturers to capitalize on.
North America In-vitro Toxicology Testing Market, By Technology 2012 - 2022 (USD Million)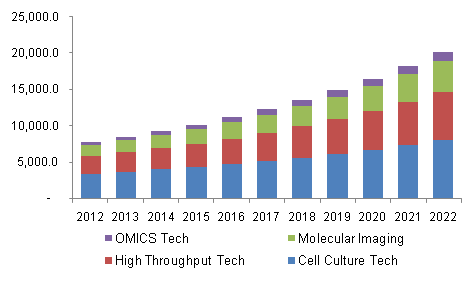 The availability of different methods in biotechnology and bioinformatics in order to carry out in-silico simulation on animal models is also attributive for influencing industry growth through to 2022. Moreover, the development of toxicology databases for in-silico analysis of different compounds is anticipated to fuel demand for the in-vitro techniques thereby, leading to sector progress.
Considerable government funding for research coupled with definite reimbursement policiesin order to develop automated and technologically advanced equipment for laboratory analysis and ex-vivo studies is expected to enhance market stability. On the contrary, the unavailability of immunity testing and immune stimulation in current in-vitro tests is expected to hamper growth.
End-use Insights
Pharmaceutical accounted for the largest share of over 35% in 2014 owing to higher usage of toxicology tests in pharmacokinetic analysis of novel and generic modified pharmaceutical products.
The chemicals market is expected to register lucrative growth as a result of the presence of several products currently in the pipeline, that are applicable as excipients in the production of finished pharmaceuticals or cosmetics.
Technology Insights
Cell culture technology held the largest share of revenue with respect to technology due to significant developments and advancements in cell culture as well as cell line production techniques. Furthermore, upcoming developments in field of genome sequencing pertaining to toxicology testing are anticipated to be attributive for substantial as well as consistent progress.
Application Insights
Systemic toxicology contributed extensively in market revenue generation amongst other applications due to higher preference of physicians for intra-vascular administration of drugs which augments the systemic toxicity to comparatively greater extent.
Dermal toxicity is anticipated to witness significant growth in the coming years. Introduction of topical formulations of various drugs coupled with interactions and side effects of different drugs on skin is attributive for the expected growth in this segment through to 2022.
Method Insights
Cellular assay accounted for the largest share in sector revenue owing to wider availability of these techniques for pharmacokinetic profiling coupled with presence of significant number of market entities operating in this field of biotechnology. Additionally, increasing focus on detection of toxicity in earlier stages of drug development is leading to persistent requirements for human cell-based in vitro models.
Ex-vivo methods are expected to drive industry with CAGR of over 11% in the coming years due to presence of advancements in stem cell therapy which consequently increases inclination of scientists to use this technique.
Regional Insights
North America accounted for the largest share of over 45% in sector revenue in 2014 due to presence of favorable government incentives for laboratory development in this region. Moreover, presence of animal welfare organizations in this region attribute for higher preference for in-vitro toxicology testing.
Europe also accounted for a substantial revenue share due to presence of strict anti-animal testing laws laid by the European government
However, Asia Pacific in-vitro toxicology testing market is estimated to register relatively faster gains over the next seven years due to enhancement in health care infrastructure, and rise in government incentives for research in academic and private organizations in order to aid enhancement in technology.
Competitive Insights
This industry shows presence of number of sector participants due to which there is an intense internal rivalry to occupy revenue share. Major entities operating in this industry include Covance, Alere, Inc, Quest Diagnostics, GE Healthcare, Bio-Rad, Thermo Fisher Scientific, Agilent Technologies, Catalent Pharma Solutions, Sigma Aldrich, Charles River Laboratories, Cyprotex, and Eurofins Scientific, Inc.
Market participants are involved in the development of software solutions in order to enhance in-silico simulation methods for toxicological profiling of different compounds. Market entities are also engaged in expanding their market presence by entering untapped regions and collaborating with smaller clinical research organizations operating in this market.