"The 3D cell culture market is driven by its increasing adoption as a building block in tissue engineering and drug development."
Global 3D cell culture market was valued at USD 489.6 million in 2015. Culturing cells in a non-planar orientation enables provision of physiologically relevant information required for the study of disease etiology, consequently driving its demand in the coming years. Maturity in development of different assay techniques and expected emergence of 3D optimized assays, protocols, and kits is anticipated to provide promising avenues to this vertical and hence drive the 3D cell culture market in the coming years.
Owing to the fact that such cultures are more suited to mimic the typical organ microarchitecture and morphology resembling the in vivo model, there are substantial efforts taken towards the development of in vitro 3D cellular models, thus influencing revenue generation over the forecast period.
U.S. 3D cell culture market, by application, 2013 - 2024 (USD Million)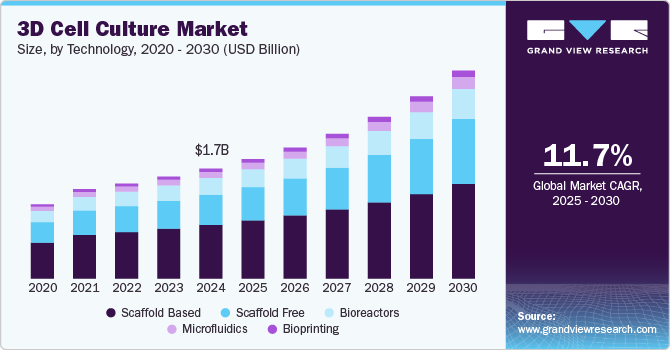 Rise in demand for organ transplantation and tissue engineering for treatment of chronic diseases is expected to drive research in this vertical thus affecting industrial growth through to 2024. Moreover, advent of technology such as lab-on-a-chip technique based on the principle of microfabricated tissue component culturing is anticipated to drive market with potential avenues. This system enables elucidation of the role of microenviromental factors in normal as well as diseased states thus resulting into an increase in adoption for drug discovery and regenerative medicine.
Additionally, this technique in comparison to, simple monolayer culture takes less production time and also increases cellular viability which attributes for higher usage of the method as compared to other conventional technologies. Application of the technology in several assay types such as proliferation, viability, stimulation, transport, patch clamping, high content screening, and metabolic activity is leading to a further rise in demand for projects with sophisticated and efficient solutions.
However, present lower compatibility of the method with available workflow and automated lab ware is expected to restrain the emergence of this technology to a certain extent.
"Scaffold free 3D cell culture is expected to witness the fastest growth through to 2024"
Scaffold-based cultures accounted for the largest share of over 40% in 2015. Availability of a significant number of products based on the principle of a framework supported 3d cell culture is attributive for the estimated share of this segment.
Moreover, advantages associated with the use of scaffold/gel-based techniques such as its ability for integration into an automated 96-well or 384-well assay workflow, simple assay protocols, ease of imaging, and modification of mechanical and biochemical properties of the scaffold are supportive for the larger share.
However, implementation of bioprinting and microfluidic culture methodologies is expected to propel growth due to their applications in providing a combination of organs-on-chip technologies with tissue engineering in order to achieve efficient cell manipulation and creation of the extracellular microenvironment in a way that mimics physiological in-vivo conditions.
"Application in oncology research accounted for the largest demand for 3D cell cultures"
Ability of 3D culture technique for manipulation of genetic factors facilitates real time study of mammalian physiology at a cellular level. To study underlying cross-linkage between different intercellular pathways for tumor formation, three dimensional culture systems play a critical role owing to the ability to mimic environment experienced by tumor cells in vivo. For instance, 3D multicellular tumor spheroid (MCTS) system is used as a promising tool for modeling phenotypic and tumor heterogeneity aspects of in vivo tumor growth.
Stem cell-based research is expected to witness lucrative growth as a consequence of rise in the adoption rate of these cellular models for organoid generation using human embryonic stem cells and induced pluripotent stem cells. Additionally, employment of such products for expansion and differentiation of human pluripotent stem cells based on the principle of biological and solid scaffolding is expected to aid in revenue generation over the forecast period.
"Biotechnology and pharmaceutical companies accounted for the largest end-user share"
End use of this market encompasses biotech and pharmaceutical companies, research laboratories, hospitals, diagnostic centers, and academic institutes. Biotechnology & pharmaceutical organizations dominated the market with respect to revenue in 2015 as a consequence of the higher implementation of technology in the drug discovery protocols in order to carry out efficient screening and target validation.
Research funding available for doctoral academic projects employing this technology are anticipated to drive the demand for 3D culturing systems consequently resulting in to growth in revenue from research laboratories and institutes.
"The Asia Pacific 3D cell culture market is pegged to witness the fastest growth"
North America dominated this market with a share of over 40% in 2015 as a result of the presence of several biotechnology and pharmaceutical organizations implementing the technology in collaboration with research laboratories.
However, Asia pacific is projected to witness the fastest growth over the forecast period owing to the developing economic status and rising demand for the R&D projects. Furthermore, availability of untapped areas which captivate major players operating outside the region are expected to enhance revenue generation in this region significantly.
"The 3D cell culture market moving towards consolidation with rise in R&D for incorporation of novel technologies in the workflow by market players"
Key players operating in this vertical are Thermo Fisher Scientific, Merck, Becton Dickinson and Company, Nano3D Biosciences Corning Inc, 3D Biomatrix, Lonza Group, VWR International, LLC, Tecan, 3D Biotek LLC, Global Cell Solutions, Inc., and InSphero AG.
These companies are focusing on collaboration with the laboratories for commercialization of technologies that are not potentially established in the market space. For instance, InSphero is involved in a collaborative effort with AstraZeneca and German research institutions for development of a body-on-chip platform which can enable testing of a drug across multiple different 3D micro tissues on a single chip.
"Analyst Perspective"
The report has been studied on the basis of technologies, available products, and products under the process of development for 3D cell culture implementation. It provides a detailed overview of the technological advances in scaffold-based, scaffold-free and bioreactor based 3D culturing methodologies. It aids in identifying key companies and researchers, and also provides sector revenue estimates and forecasts related to current and expected technology commercialization trends.
Our opinions and insights, presented in this study, also take into consideration the discussions conducted with experts in this area. This information was processed through well-established analytical models for the purpose of estimation and forecasting of the market. The report is expected to provide strategic insights for entities operating in biotechnology, pharmaceutical industries, hospitals, and health care research organizations that are involved in three-dimensional culturing.