Report Overview
The India oncology NGS market size was valued at USD 23.67 million in 2019 and is expected to expand at a compound annual growth rate (CAGR) of 14.6% from 2020 to 2027. Efforts taken to develop genomic databases for the Indian population are expected to drive the market. Efforts have been undertaken to develop genomic databases specific to the Indian population. In this regard, the Council of Scientific and Industrial Research (CSIR) launched the IndiGen Genome Project in April 2019 to sequence whole genomes of 1,008 Indians. The project is a part of a much larger initiative undertaken by the Department of Biotechnology, India to sequence 10,000 genomes. It involves the CSIR-Institute of Genomics and Integrative Biology (IGIB) and Centre for Cellular and Molecular Biology (CCMB) and costs USD 2.44 million.
The IndiGen Genome Project concluded in November 2019, with a genome database of Indian people from diverse ethnicities. As a majority of the global genetic tests have been developed by the use of genomic databases of Caucasian populations, this indigenously developed Indian database is expected to enhance the ability to treat, prevent, and diagnose disorders specific to Indians.
In India, the cost of genetic tests has come down to USD 4.06 to USD 947.36 from USD 2,706.76 to USD 3,383.45 per test. The Next Generation Sequencing (NGS) DNA testing costs range from USD 338.35 to USD 744.36 depending on the area being examined within multiple genes. Similarly, the cost of genome sequencing in India declined from USD 67,852.70 per sample in 2009 to USD 1,357.05 per sample in 2019. This exponential decline in the costs for genetic sequencing is a high impact rendering driver in the market.
In February 2020, the Indian Ministry of Science and Technology approved The Genome India Project (GIP), an ambitious genomics project to map the genetic diversity in India and lay a solid foundation for the improvement of customized treatments and preventive interventions for precision medicine. The project is a collaboration of 20 imperial Indian institutions, such as IITs and the Indian Institute of Science, and has received a funding of USD 32.33 million from the Indian Department of Biotechnology. Such initiatives are expected to increase the use of NGS for precision medicine in India.
Technology Insights
Targeted and gene panel sequencing segment dominated the market with a revenue share of 74.44% in 2019. This is attributed to the technology's shortest read lengths, its higher market penetration rates, and market presence for a relatively longer duration than whole genome sequencing and WES. This segment is expected to witness significant growth in demand as a large amount of whole-genome data will be needed to be analyzed at specific gene locations and isolated genetic expressions.
Genetic testing in India is an expensive and less efficient process owing to the lack of indigenous genetic panels that are specific to the Indian population. This is because most of the panels in India are based on European genetic panels. Efforts taken by local players to develop a targeted panel that is specific to the Indian population is anticipated to propel the segment growth.
In May 2020, India-based 4baseCare announced to launch targeted oncocare tests at one-fourth of the cost of the existing genetic tests. The company deploys its in-house genomics test panels and has collaborated with Illumina Inc. to acquire genomics data from the Indian population to accelerate test development based on Indian genomic data.
The developments in whole genome sequencing capabilities in India are expected to propel the segment growth at a significant rate. Other factors responsible for the growth in this segment include the provision of the base-by-base view of the unique mutations and variants observed in the cancer tissue. Moreover, the introduction of technologically advanced systems with updated software and analysis algorithms is expected to increase the reliability of NGS technology, thus propelling the segment growth.
Application Insights
The research studies application segment held the largest share of 60.35% in 2019 owing to the extensive use of NGS technology for oncology research. The diagnostics and screening application segment is expected to witness the fastest growth from 2020 to 2027. Genetic mutations act as causative factors leading to the onset of hereditary cancers, whereas sporadic cancers are caused by damage to the gene integrity influenced by normal aging, hormones, environmental exposures, and dietary factors among others.
Professionals rely majorly on screening younger patients with possible susceptibility to genetic mutation or hereditary cancer as these frequently occur before the sporadic cancers. Acknowledging this traction gained by screening, various Indian entities are investing in the development of comprehensive hereditary NGS panels. For instance, DNA Labs India offers comprehensive hereditary cancer NGS panel test, which is designed to screen more than 100 genes responsible for the onset of various types of cancer.
The introduction of a number of novel oncology NGS panels targeted toward screening of sporadic cancers in India drives the sporadic cancer screening segment. For instance, RGCS operates extensively across the development of multi-gene panel-testing based on NGS for targeted therapy and diagnosis of cancer patients. In addition, it has validated NGS-based protocols to sequence several unidentified genes related to the onset of sporadic cancers to further assist clinicians operating in this market space.
Product & Service Insights
Platforms and related products accounted for the largest revenue share of 77.12% in 2019. The presence of key players offering platforms and panels is contributing to the segment growth. MedGenome, one of the key genetic testing companies in India, leverages NGS platforms and consumables offered by Illumina in its lab. The company also uses consumables from Agilent for sample preparation workflow.
Similarly, Bionivid, an Indian Genome "IT" company, has access to Illumina MiSeq, Illumina HiSeq 2000, Thermo Fisher Scientific's Ion Torrent, Thermo Fisher Scientific's Ion Proton, Roche FLX plus, and Roche FLX. The collaboration of Indian companies with major global players to gain access to advanced technologies is driving the segment.
DNA Labs India offers various NGS panel tests, including myeloid tumor NGS panel test, breast-ovarian cancer NGS panel PLUS test, cancer hotspot NGS panel test, colon cancer non-polyposis NGS panel test, and other cancer panel tests. Similarly, Redcliffe Lifesciences Pvt. Ltd. offers a comprehensive hereditary cancer panel (134 Genes) that targets more than 50 hereditary cancer syndromes.
Workflow Insights
NGS (next generation sequencing) is the most important phase of the workflow and the segment accounted for the largest share of 54.17% in 2019. Platforms such as MiniSeq, iSeq, NextSeq, MiSeq, NovaSeq, and HiSeq X series from illumine and Ion Torrent from Thermo Fisher Scientific are the most widely used ones for NGS.
Tertiary data analysis is the third step of data analysis and involves gathering multiple samples, along with the phenotype and experimental data. The tertiary data analysis segment accounted for the largest share in terms of the revenue generated from NGS data analysis as a consequence of major steps executed in this sub-segment. These steps include multi-sample processing, QA and QC of variant calls, annotation and filtering, data aggregation, association analysis, population structure analysis, and exploratory analysis with the aid of genome browser.
Adoption of NGS library preparation kits for tumor DNA and tumor RNA sequencing is anticipated to drive the pre-sequencing segment. Moreover, the presence of companies such as Integrated DNA Technologies that offer xGen Prism DNA Library Prep Kit, Lotus DNA Library Prep Kit, and other products in India propels the segment growth. Lotus applies enzymatic fragmentation technology to generate libraries that are suitable for targeted, PCR-amplified, and PCR-free sequencing on Illumina platforms.
End-use Insights
The hospitals and clinics segment held the largest share of 34.29% in 2019. With over 1 million new cases of cancer diagnosed in the country each year, the need for NGS-based comprehensive testing continues to increase for accurate and cost-saving testing. France-based International Agency for Research on Cancer (IARC) predicts that the number of new annual cancer cases in India is likely to double in the next 20 years.
This further emphasizes the need for improved and robust diagnostic strategies for cancer management. The launch of NGS-based cancer panels and tests in Asia has significantly addressed early-phase cancer testing concerns in the hospitals and clinics in India. The provision of on-site bioinformatics courses that include workshops on the practical implementation of sequencing and data analysis is expected to boost the revenue generated through the academic research segment in the coming years.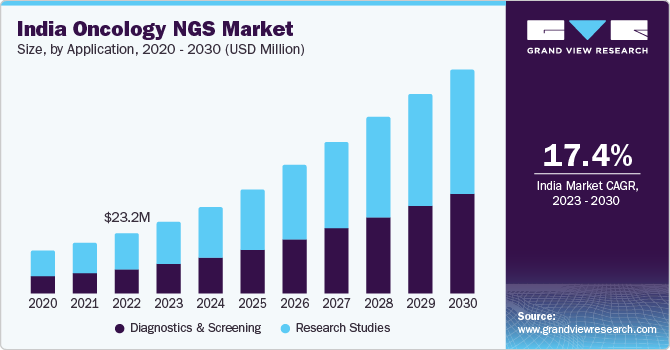 In March 2020, the National Institute of Biomedical Genomics conducted a workshop to train researchers, clinicians, and computational scientists on data analysis from bulk sequencing to single-cell sequencing. The Department of Genetic Engineering at SRM Institute of Science and Technology is actively involved in transcriptome and genome sequencing and analysis in humans, plants, and bacteria using NGS technology and advanced genomic tools.
The research institutes are equipped with NGS platforms and solutions from key suppliers, such as Illumina and Thermo Fisher. For instance, the Genomics Core Facility (CCF) at the Rajiv Gandhi Centre for Biotechnology uses Thermo Fisher's Ion Personal Genome Machine System (PGM) and Ion Proton system to accelerate whole-genome sequencing (de novo and resequencing), transcriptome sequencing, exome sequencing, and metagenomics-based research activities.
Key Companies & Market Share Insights
Premas Life Sciences Pvt. Ltd. is one of the leaders in the Indian market. The company is an authorized partner of Illumina in India and offers software, platforms, reagents, training, and troubleshooting services to laboratories involved in genetic testing in India. It also offers AmpliSeq for SARS-COV-2 Research Panel, manufactured by Illumina, for epidemiological research on the SARS-COV-2 virus in India. In addition, the company offers products from Fluidigm, 10X genomics, Unchained Labs, and other companies.
MedGenome Labs Ltd. is one of the largest private-sector genomic solutions providers in India. It provides genomic tests in oncology, inherited diseases, reproductive health, and infectious diseases and performed more than 1,20,000 tests in 2019. The company has also collaborated with Nanyang Technological University, Singapore to sequence 1,00,000 whole genomes in Asia as part of the Genome Asia project. The company also offers C-MET amplification, Comprehensive Tumor Panel, and Tumor Mutation Burden NGS panels for cancer. Some prominent players in the India oncology NGS market include:
Illumina, Inc.

Genotypic Technology Pvt. Ltd.

Tecan Trading AG

SciGenom Labs Pvt. Ltd.

Xcelris Labs Ltd.

Eurofins Scientific

4baseCare

MedGenome

Sayre Therapeutics

Redcliffe Lifesciences

Partek Incorporated

Bio-Rad Laboratories

Myriad Genetics

Hologic, Inc. (Gen-Probe Incorporated)

Horizon Discovery Group plc

Vela Diagnostics

Premas Life Sciences Pvt. Ltd. (PLS)
India Oncology NGS Market Report Scope
| | |
| --- | --- |
| Report Attribute | Details |
| Market size value in 2020 | USD 23.96 million |
| Revenue forecast in 2027 | USD 70.59 million |
| Growth Rate | CAGR of 14.6% from 2020 to 2027 |
| Base year for estimation | 2019 |
| Historical data | 2016 - 2018 |
| Forecast period | 2020 - 2027 |
| Quantitative units | Revenue in USD million and CAGR from 2020 to 2027 |
| Report coverage | Revenue forecast, company ranking, competitive landscape, growth factors, and trends |
| Segments covered | Technology, application, product & service, workflow, end-use |
| Country scope | India |
| Key companies profiled | Illumina, Inc.; Genotypic Technology Pvt. Ltd.; Tecan Trading AG; SciGenom Labs Pvt. Ltd.; Xcelris Labs Ltd.; Eurofins Scientific; 4baseCare; MedGenome; Sayre Therapeutics; Redcliffe Lifesciences; Partek Incorporated; Bio-Rad Laboratories; Myriad Genetics; Hologic, Inc. (Gen-Probe Incorporated); Horizon Discovery Group plc; Vela Diagnostics; Premas Life Sciences Pvt. Ltd. (PLS) |
| Customization scope | Free report customization (equivalent up to 8 analysts working days) with purchase. Addition or alteration to country & segment scope. |
| Pricing and purchase options | Avail of customized purchase options to meet your exact research needs. Explore purchase options |

Segments Covered in the Report
This report forecasts revenue growth at the country level and provides an analysis of the latest industry trends and opportunities in each of the sub-segments from 2016 to 2027. For the purpose of this study, Grand View Research has segmented the India oncology NGS market report on the basis of technology, application, product and service, workflow, and end use:
Technology Outlook (Revenue, USD Million, 2016 - 2027)

Application Outlook (Revenue, USD Million, 2016 - 2027)

Product & Service Outlook (Revenue, USD Million, 2016 - 2027)

Workflow Outlook (Revenue, USD Million, 2016 - 2027)

Pre-Sequencing

NGS Library Preparation Kits

Semi-automated Library Preparation

Automated Library Preparation

Clonal Amplification

Sequencing

NGS Data Analysis

NGS Primary Data Analysis

NGS Secondary Data Analysis

NGS Tertiary Data Analysis

End-use Outlook (Revenue, USD Million, 2016 - 2027)
Frequently Asked Questions About This Report