Industry Insights
The global insulation market size was USD 44.46 billion in 2015 and is anticipated to grow at CAGR of 8.5% from 2016 to 2024. Growing consumer awareness regarding energy conservation is expected to remain a key driving factor for global insulation market.
The favorable regulatory scenario in most parts of the world, such as new building codes in the European Union which require increased insulation usage to reduce energy consumption, is also expected to have a positive influence on the demand growth. Increasing infrastructure spending in emerging markets of Asia Pacific such as India, China, Indonesia, Thailand, etc. is also expected to spur growth over the next eight years
Volatile prices of key raw materials are expected to remain a key challenge for industry participants. Raw materials such as styrene that used to manufacture plastic foams are facing volatility on account of faltering crude oil prices.
Such issues are expected to challenge key industry participants in terms of profitability and production costs. However, in the current scenario, lower crude oil price is expected to benefit the plastic foam demand growth.
High level of integration exists in the foamed plastic market as the raw material suppliers are integrated forward to manufacture insulation products. Major players in the industry are likely to aim for first mover advantage in order to achieve a larger share and also expand the product portfolio.
Increasing expenditure on research by key players is likely to impact the market positively. Leading players have been focusing on mergers and acquisitions to expand their presence in the emerging regions. In 2013, Huntsman Acquired over 20% stake in Nippon Aqua Co. Ltd. in order to strengthen foothold of the company in the East Asian market.
U.S. insulation market revenue by product, 2014 - 2024 (USD Million)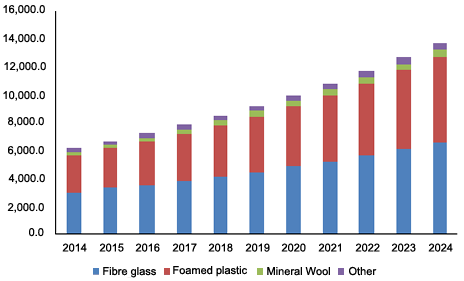 Product Insights
Foamed plastic was the largest product consumed and accounted for over 45% of the total revenue in 2015. Foamed plastic is widely used for thermal as well as acoustic insulations in residential as well as non-residential applications on account of its high insulation value. Demand for plastic foam material is also expected to originate from refrigerators and freezers.
Fiberglass insulation material will observe a surge in demand from the rebounding construction sector in U.S. and Canada. The product is widely used in North America on account of its favorable properties, low cost and ease of installation and is thus preferred by DIYers. Rising demand, especially for thermal insulations especially for energy efficient applications, is anticipated to drive the overall growth of product segment.
Application Insights
Residential application segment is anticipated to dominate the market and is expected to reach over USD 36.3 billion by 2024. Increasing demand for thermal insulation from households in Europe and North America is expected to drive the application growth.
U.S. Dept. of Energy initiative through Weatherization Assistance Program (WAP) to improve the energy efficiency of low-income households through federal funding is expected to have a positive impact on insulation demand in residential construction. Growing residential infrastructure sector across emerging region is expected to further complement the market growth over the forecast period.
Urbanization in emerging economies of Asia Pacific has increased need for better commercial and public infrastructure. This trend coupled with favorable regulations regarding the energy efficiency of these buildings is expected to drive insulation demand in non-residential construction application over the forecast period.

Regional Insights
Asia Pacific insulation market led the global industry and accounted for over 40% of global revenue in 2015. Regional market is characterized by high insulation demand in residential and commercial buildings. High industrialization rates coupled with increased construction spending in emerging economies of China and India along with Indonesia, Thailand, Malaysia and Philippines have driven the need for better infrastructure.
Growing demand for thermal insulation in residential and commercial buildings is expected to be a major factor driving the North American demand. High awareness among consumers regarding energy conservation and regulatory policies to reduce greenhouse gas emissions is expected to have a positive impact on the regional growth.
Growth in the North American insulation market will be influenced by government initiatives such as Weatherization Assistance Program, which promotes thermal insulation, especially in low-income households. The regional thermal insulation growth can also be attributed to insulation material demand for building refurbishment.

Competitive Insights
The global insulation market is characterized by presence of multinational conglomerates. Production of these materials is highly capital-centric and hence, the barriers to entry are high. Achieving economies of scale remains the major focal point for industry participants in order to survive the competition.
The industry is dominated by four major companies with a very small difference in their product offerings. Owing to infrastructure development in emerging regions, major players are focusing on achieving a first mover advantage in these lucrative markets. Competition in the industry is greatly affected by environmental regulations. Key players operating in the industry include Saint-Gobain, Rockwool, Johns Manville, Knauf, and Huntsman Corporation.