Report Overview
The global isobutene market size was valued at USD 20.61 billion in 2015. High demand from end-use industries such as automotive and aerospace is expected to drive the industry over the forecast period. The chemical is widely used in rubber tires and tubes and as a fuel additive in aerospace applications.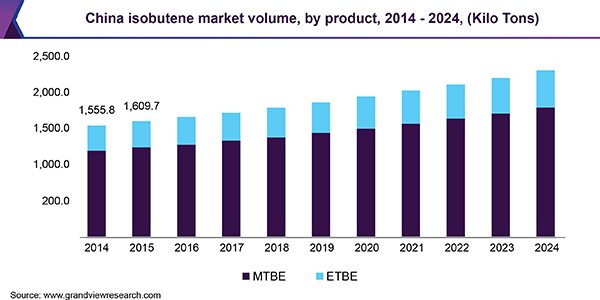 Isobutene or isobutylene is majorly utilized for the production of polybutylene (butyl rubber) and as an intermediate for manufacturing methyl tert-butyl ether. These products are widely utilized in plastic packaging, hot melt adhesives, compounding, and masterbatches, as well as niche areas such as electrical insulation, compression packaging, and wires and cables.
As a hydrocarbon of industrial importance, the chemical's wide application scope ranges across industries that include automotive, aerospace, and pharmaceutical. It is produced during the fractionation of refinery gases and using catalytic cracking of methyl tert-butyl ether. The global market is expected to witness significant growth due to its use in numerous applications, ranging from fuel additives and polymers to agriculture industries.
Evonik Industries has tripled the production capacity at their facility in Antwerp, Belgium, given, increasing global demand and establishing themselves as a leading producer in Europe. Major companies such as Global BioEnergies have undertaken efforts to introduce sustainable isobutene from renewable resources such as corn biomass to mitigate these isobutene supply issues and also reduce the impact of its production on the environment.
Bio-based alternatives are also overcoming other sustainability issues associated with isobutene and its derivatives in the market. Various governments are also fostering these developments by providing incentives and tax benefits for the production of isobutene from renewable resources.
Product Insights
Methyl tert-butyl ether (MTBE) emerged as the dominant segment in the isobutene market, accounting for 80.0% of the global volume in 2015. The product finds wide application scope in end-use industries such as automotive and aerospace. The product is refined to manufacture butyl rubber by polymerization of isobutylene and isoprene. Butyl rubber is used extensively in the automotive and pharmaceutical industries.
Although the benefits and advantages of using MTBE are well known, the U.S. has banned the use of this product owing to identified health hazards it causes in terms of leakage into the atmosphere. Over 90.0% of methyl tertiary butyl ether production is used in gasoline as an octane booster and oxygenate. With its high-octane number, it is suitable where higher octane gasoline grades are sold. It has been favored over ethanol because of its transportability, superior performance in reducing benzene and formaldehyde in gasoline, and its lower volatile organic compound content.
ETBE is primarily a biofuel derived from isobutylene and ethanol. It's high octane content and low vapor pressure, as well as boiling point, make it a favorable component in petrol blending. This enables refiners to meet octane content and bio-component requirements. It also allows companies to meet environmental standards and adjust to changes in gasoline trade dynamics. This is done using the chemical to upgrade naphtha to petrol or to improve lower octane grades to higher ones.
Rising demand for higher quality gasoline owing to numerous reasons such as rising awareness regarding improvement in vehicle performance and stringent regulatory norms mandating consumers to use environment-friendly fuel is expected to drive ETBE demand over the forecast period.
Application Insights
Elastomers based on isobutylene exhibit properties unique to automotive applications. These properties include minimal permeability in gases and liquids, chemical resistance, and superior damping. These elastomers, when halogenated, improvise on their thermal performance as well.
Brominated isobutylene-co-paramethylstyrene exhibits similar properties, but also has inherent ozone resistance. These properties give the material a distinct advantage in automotive applications, which include dynamic parts, hoses, and inner liners of tires. Furthermore, its chemical properties have been a major factor in its usage as an anti-knocking agent in automotive fuel.
Isobutene on alkylation with butane produces isooctane, which is extensively used as a fuel additive in aviation fuel. The civil aviation industry, in particular, is witnessing significant expansion due to factors such as liberalization in trade activities, declining fares, opening up of economies for foreign direct investment, and advancement in information technology.
Engine manufacturers of aircraft recommend a certain type of oil for use in different application areas such as engine usage, engine design, climate, and location. The growing importance of regional connectivity, along with rapid urbanization, has supported the growth of the aviation industry over the past couple of decades.
Regional Insights
Asia Pacific has one of the largest automotive markets, which is on the road to recovery from the economic recession of 2009-'10. These factors have contributed to higher consumer confidence and spending on passenger cars and light vehicles. Increasing per capita disposable income, coupled with strong manufacturing sector growth in the region, is expected to drive product demand in APAC.
A significant contribution from Southeast Asian countries such as Thailand, Malaysia, and Vietnam is expected to further drive the regional market. Developing countries in the region are making efforts to develop their automobile sector. Governments in these nations are continuously focusing on trade liberalization programs and policy frameworks.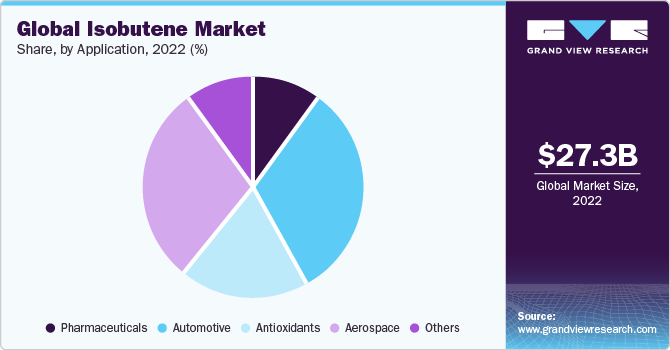 Economic recovery in the U.S. has proved beneficial for the automotive sector, which in turn, has witnessed a steady increase in vehicle production units and sales. Consumers are increasingly becoming confident and choosing to purchase individual passenger cars while flavoring luxurious models on account of rising disposable income. These factors are expected to drive MTBE consumption in rubber tires, tubes, and other automotive components over the forecast period.
Isobutene Market Share Insights
Major companies such as Evonik and LyondellBasell N.V. are integrated along the value chain to provide raw materials, as well as supply other products manufactured from isobutene to other end-use industries. Not only do these companies gain an edge over their competitors in terms of raw material availability but they are also able to maintain direct contact with end-users.
Key manufacturers of isobutene include BASF, Evonik, ExxonMobil, ABI Chemicals, Global Bioenergies, Praxair, Syngip BV, LanzaTech, Honeywell International, and LyondellBasell Industries.
Isobutene Market Report Scope
| | |
| --- | --- |
| Report Attribute | Details |
| Market size value in 2019 | USD 24.35 billion |
| Revenue forecast in 2024 | USD 30.71 billion |
| Growth Rate | CAGR of 4.6% from 2016 to 2024 |
| Base year for estimation | 2015 |
| Historical data | 2014 |
| Forecast period | 2016 - 2024 |
| Quantitative units | Revenue in USD billion and CAGR from 2016 to 2024 |
| Report coverage | Revenue forecast, company ranking, competitive landscape, growth factors, and trends |
| Segments covered | Product, application, region |
| Regional scope | North America; Europe; Asia Pacific; Central & South America; Middle East & Africa |
| Country scope | U.S., Canada, Mexico, Germany, U.K., France, China, India, Japan, Brazil, Saudi Arabia |
| Key companies profiled | BASF, Evonik, ExxonMobil, ABI Chemicals, Global Bioenergies, Praxair, Syngip BV, LanzaTech, Honeywell International, and LyondellBasell Industries. |
| Customization scope | Free report customization (equivalent up to 8 analysts working days) with purchase. Addition or alteration to country, regional & segment scope. |
| Pricing and purchase options | Avail customized purchase options to meet your exact research needs. Explore purchase options |
Frequently Asked Questions About This Report