Industry Insights
The global lubricant additives market size was USD 14.35 billion in 2015. The industry is characterized by increasing additive usage in base oil blending for longer service life and performance. These additives improve the viscosity of the oil, act as antioxidants and corrosion inhibitors in combustion engines, and reduce oil decomposition.
With increasing regulatory pressure on improving the fuel efficiency of vehicles and reducing greenhouse gas emissions, there has been a tremendous development in lubricating oil formulations. Blenders have significantly invested in R&D for developing superior products that adhere to environmental regulations as well as consumer expectations.
Since additives play a significant role in base oil blending and subsequent formulations as they are critical materials in improving specification and performance of oils. The trend as stated above has had an enormous impact on the industry's development over the past and is expected to continue driving the global lubricant additives market.
The selection of additives is largely dependent on the lubricant's end-use, such as in automotive engines, hydraulic systems, gears, and bearings, their usage varies accordingly. Consumer requirement for application-specific lubricating oil is expected to influence consumption patterns in the industry across regions.
U.S. lubricant additives market volume by product, 2014 - 2024 (Kilo Tons)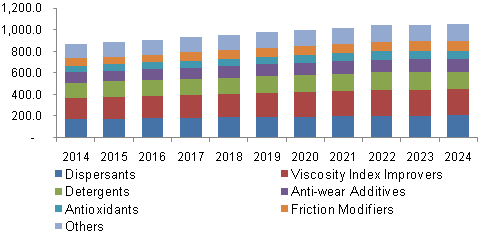 One of the major drivers for the global industry is increasing automotive sales, particularly passenger cars with high performance and long service intervals. Developing aftermarket for automobiles in emerging economies and the subsequent establishment of domestic blenders is expected to drive growth over the forecast period.
Product Insights
The global industry is segmented on the basis of product as dispersants, viscosity index improvers, detergents, anti-wear additives, antioxidants, and friction modifiers among others such as corrosion inhibitors and emulsifiers.
Dispersants and viscosity improvers collectively accounted for over 40% of the global volume in 2015. Dispersants are widely used to prevent sludge or varnish or other deposit formation on surfaces. About three-quarters of their usage is in diesel and gasoline engine oils, where their usage is subjected to engine protection.
Viscosity index improvers are polymeric in nature and are added to lubricating oils to reduce the degree of viscosity change at low and high temperatures. Their volume was estimated at over 950 kilotons in 2015 and emerged as the leading product segment. These additives are one of the prime ingredients in engine oil formulations.
Application Insights
On the basis of application, the global lubricant additives market is segmented as automotive and industrial lubricants. These segments are further divided into heavy-duty & passenger car motor oils, general industrial oils, industrial engine oils, and metalworking fluids.
Passenger car motor oil was the dominant segment accounting for over 30% of the global volume in 2014 and is expected to maintain its dominance over the forecast period. EURO norms, regulating the amount of nitrogen oxide, carbon monoxide, soot and hydrocarbons coupled with shift a in consumer preferences towards using operationally efficient and low viscosity fuel is driving the need for passenger car motor oil.
In the industrial lubricants category, general industrial oil accounted for over 35% of the global volume in 2014 and is expected to be the fastest-growing segment over the future. The shift of manufacturing facilities to low-cost Asian markets is no longer attractive owing to the declining cost competitiveness of manufacturers in the region.
Also, these manufacturers are improving and modernizing the manufacturing process to become competitive across the globe. This is expected to influence market dynamics in terms of volume and quality of lubricants consumed.
Regional Insights
Asia Pacific lubricant additives market led the global industry with demand share estimated over 25% in 2014. Growth is expected to be driven by development fuel efficiency norms coupled with growing environmental concerns about carbon emission in China, India, and Japan.
Economic growth in the region coupled with industrialization has enabled greater production and possession of vehicles. Asia Pacific is poised to be the fastest-growing at a CAGR of over 3% from 2016 to 2024.
Various environmental and legal factors are promoting industrial development in Central & South America and the Middle East & Africa as well. These regions are also home to major countries such as Brazil and South Africa that are growing at a rapid rate due to increasing passenger car and heavy-duty vehicle production domestically.
Recovery of manufacturing sectors in mature economies of North America and Europe such as the U.S., UK, Germany, and Italy will drive consumption over the forecast horizon. Increasing government intervention to achieve fuel economy targets is anticipated to impact further industry dynamics.
Competitive Insights
The global lubricant additives market is characterized by the presence of a large number of players. The key manufacturers in the industry include BASF SE, Chemtura Corp., Chevron Oronite, Croda International, Evonik Industries, Infineum International, Lubrizol Corp, Shamrock and Tianhe Chemicals.
Frequently Asked Questions About This Report