Advent of hybrid technology in imaging and rising focus of healthcare towards diagnostics is expected to boost market growth
The Optical Coherence Tomography (OCT) market was valued at USD 719.0 million in 2015 and is expected to witness a CAGR of 11.2% over the forecast period. OCT imaging and diagnostic devices are majorly used in ophthalmology, however, diversification initiated and the technology finds application in the field of dermatology, cardiology and others.
This widening of the application horizon is expected to benefit the manufacturers over the forecast period. For instance, products are being designed to help cardiologist identify and treat coronary artery disease.
The technology is being used for over two decades with excellent results for tissue imaging, and endoscopy. As of 2015, players such as Optovue are involved in the introduction of hybrid techniques such as Optical Coherence Tomography Angiography (OCTA), thereby enhancing the resolution and isolation characteristics of images obtained. Using the aforementioned technology, clinicians are capable of isolating the region of interest and obtaining its 3D images.
Optical Coherence Tomography (OCT) Market, 2013 - 2024 (USD Million)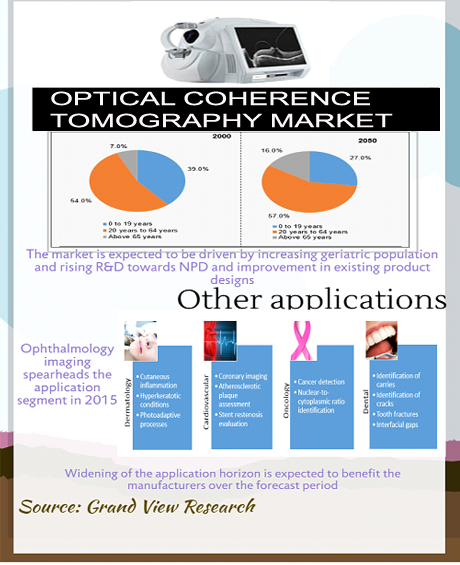 Optovue launched their latest product AngioVue in July 2016, and such expansion in product portfolio are indicative of the rising demand for these devices. Other recently launched products include; AngioScan OCT by NIDEK, 3D OCT-1 Maestro and DRI Triton by Topcon.
Being the pioneering technology, time domain held the largest share as of 2015
On the basis of technology, the industry has been segmented into time domain, frequency domain, and spatially encoded frequency domain. Spatially encoded frequency is the most advanced of the three and is further sub-segmented into Fourier domain and others. The spatially encoded domain technology is predicted to witness the fastest growth, owing to their higher scanning capabilities and advanced data collection. Furthermore, these eliminate the errors arising due to patient movement along with better slicing of the images.
As of 2015, time domain based imaging held the largest share. The technology is routinely used in diagnosis of retinal disorders. However, with improved results using spatially encoded frequency based devices, time domain technology may lose on revenue share over the forecast period.
Easy to hold and operate, handheld devices led the type segment in 2015
The type segment includes; catheter, handheld, tabletop and Doppler OCT devices. Handheld devices are expected to hold majority of the shares owing to their higher product penetration in regions such as U.S., UK, Germany, and Brazil.
Demand of early diagnosis, especially in ophthalmology segment is anticipated to drive the demand of OCT market
On the basis of application, the industry is segmented into ophthalmology, cardiovascular, oncology, dermatology and others. Other applications analyzed in the study include; urology, rheumatology, gastroenterology, dental, and gynecology.
The ophthalmology segment dominated the segment over a decade and is expected to sustain its growth over the forecast period. Introduction of higher performing devices with enhanced performance, accuracy and ease of use coupled with the augmenting incidences of retinal and choroidal disorders is the vital impact rendering factor.
However, dermatology segment is expected to witness the fastest growth over the next seven years. The devices are used for dermatological application since 1997 and have been undergoing several advancements to meet the demand of non-invasive imaging and monitoring various skin disorders.
Omnipotence for the OCT market remains within the North American region
Over the forecast period, North America is anticipated to sustain its dominance over the technology owing to increasing investment in R&D and faster adoption of the new products. Furthermore, expansion of hospitals and laboratory facilities leading to new product purchases is anticipated to support this growth. As of 2015, it is held over 30.0% of the market share.
Europe is expected to closely follow the North American region owing to the faster processing of approvals and documentation in order to allow automated devices to enter the province. For instance, the CEA fast tracked the process of Topcon's latest products across the European Union thereby driving revenue within the region
New product launches and efforts towards establishment of OCT product is expected to drive growth over the forecast period
The optical coherence tomography market is expected to witness a series of merger and acquisition and joint collaboration in order to maintain competitive edge. Major players of the industry include; Optovue, OPTOPOL Technology S.A., Carl Zeiss Meditec AG, Agfa Healthcare, Imalux Corporation, Michelson Diagnostics, and Novacam Technologies Inc. Other players include; Topcon Medical Systems Inc., Leica Microsystems, Agiltron Inc., and Thorlabs Inc.
Topcon Medical systems is aggressively marketing its new products in order to gain market share. They launched DRI Triton Swept source in August 2016, within the European region post its approval by the regulatory bodies. The company was established in 2006 and since then has been pioneering and engineering world class products based on spectral domain technology. Over the last few years, it has been working towards integration of healthcare analytics and IT with these devices to allow complete automation and higher performance.