Industry Insights
The global pentaerythritol market demand was 540.5 kilo tons in 2013 and is projected to expand at a CAGR of 5.4% from 2014 to 2020. Growing demand for stable polyols across various derivatives manufacturing industries is expected to drive the growth. Pentaerythritol has been gaining importance as a substitute for electrical transformer fluids on account of its biodegradability and less hazardous nature.
Various properties such as low volatility along with high flash point offer ignition resistance on account of which, pentaerythritol has emerged as an ideal substitute to dielectric fluids used in transformers. Increasing application in electrical transformer dielectric fluids is also expected to have a positive impact on market growth over the forecast period. Pentaerythritol finds application across numerous end-use industries including automotive, paints, and construction. Automotive applications such as lubricants, coatings, interior, and polyurethane foam have been gaining importance over the last few years.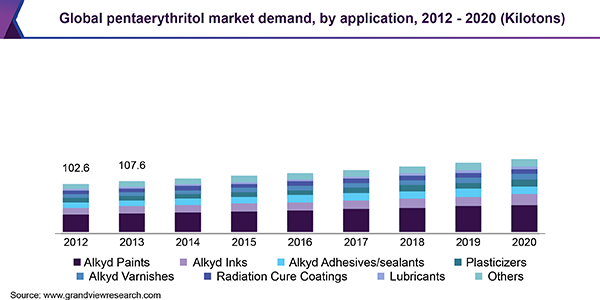 The growing automotive industry coupled with the rising application scope of pentaerythritol is expected to fuel market growth over the forecast period. Population growth and increasing disposable income in addition to the willingness to spend have driven infrastructural developments in emerging economies of Asia Pacific and Latin America.
Burgeoning middle class along with initiatives from governments towards cheaper home loans has driven the construction industry in countries such as India and China. Growing automotive and construction industries in these countries are expected to drive the demand for pentaerythritol over the forecast period.
Increasing demand for substitutes such as formaldehyde and acetaldehyde for several applications including paints and coatings and synthetic rubber is expected to pose a challenge for the growth of the pentaerythritol market over the forecast period. Volatile raw material prices are also expected to hinder the growth over the forecast period.
Increasing R&D and demand for bio-based polyols have led to the development of bio-based routes for manufacturing the polyol. The development of bio-based products coupled with the growth of niche application segments such as explosives and flame retardants is expected to create immense opportunities for the industry participants.
Application Insights
On the basis of applications, the pentaerythritol market has been classified into alkyd paints, alkyd adhesives/sealants, alkyd varnishes, plasticizers, alkyd inks, radiation cure coatings, and lubricants among others. Alkyd paints was the leading application segment in 2013. Increasing use of alkyd paints in the automotive and construction industries is expected to drive growth over the forecast period.
Plasticizers application segment is expected to register the fastest CAGR over the forecast period on account of increasing demand for high-performance polymers with enhanced properties such as flame resistance, wear, and chemical resistance. Coatings and adhesives segment is also estimated to witness above-average CAGR in the forthcoming years.
Alkyd ink segment is expected to grow at a faster rate but has a low penetration rate. The surge in demand for pentaerythritol is expected to drive the growth of alkyd inks. This alkyd ink contains properties such as pigment interaction and film foaming. Phthalate is the most used type of plasticizer. Di-2-ethylhexyl Phthalate (DOP) is generally utilized as a beneficial plasticizer particularly with PVC.
Regional Insights
Asia Pacific region led the global market for pentaerythritol in 2013 and is expected to remain the largest consumer over the forecast period. Growth in construction spending and the positive outlook of the regional automotive industry is expected to drive the regional market. Along with being the largest market, Asia Pacific is also expected to register the fastest CAGR over the forecast period.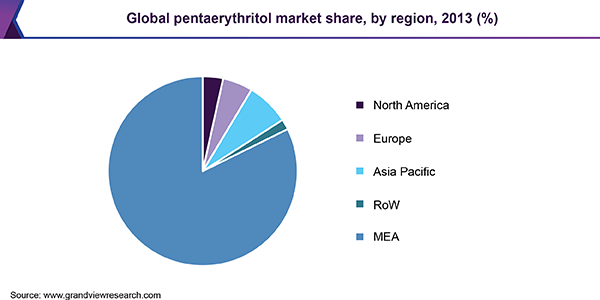 North America and Europe are expected to witness sluggish CAGR on account of mature automotive and construction industries in these regions. The regional markets are characterized by stringent environmental regulations for manufacturing and handling synthetic polymers and derivatives. Growing demand for bio-based polyols in the U.S., Germany, and the U.K. is expected to have huge potential for market growth in the near future.
Pentaerythritol Market Share Insights
The market is moderately consolidated within the top four companies accounting for just over half of the global share. Some of the leading companies include Hubei Yihua Group, Perstorp, Mitsui Chemicals, Ercros, and Celanese Corporation. Companies have been investing heavily in R&D to come up with novel applications of pentaerythritol.
Key players such as LCY Chemical Ercros, Perstorp, U-Jin Chemical, Kanoria Chemical & Industries Ltd., Koei Chemical Co. Ltd., Yunnan Yuntianhua Co.Ltd are focusing on developing strategies such as opening manufacturing facilities, regional offices to boost their market share and regional footprint.