Industry Insights
The global personal care packaging market size was USD 23.17 billion in 2014 and is expected to witness substantial growth over the forecast period owing to increasing demand for skin care products in various countries including India, China, Indonesia, U.S., Mexico, Vietnam, Brazil, UAE, and Saudi Arabia. Increasing focus on improving the aesthetic design of personal care products to attract consumers is expected to drive demand. Increasing consumer awareness towards sustainable and compact durable product packing solutions is expected to have a positive impact on market growth.
Surging demand for hair care and skin care products on account of increasing consumer awareness toward healthy lifestyle habits is expected to fuel industry expansion. Rising consumption of perfumes, aftershaves, and nail paints is expected to fuel demand. Rapid industrialization leading to the establishment of numerous cosmetic manufacturing units particularly in India and China is expected to stimulate industry growth over the next seven years.
Technological innovations aimed at improving the manufacturing process of flexible packaging to minimize raw material consumption and lower energy costs are expected to promote industry expansion over the forecast period. However, volatile raw material prices of HDPE and PP is expected to hinder growth over the next seven years.
U.S. personal care packaging market revenue, by application, 2012 - 2022 (USD Million)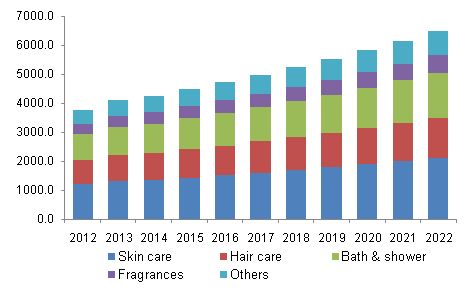 Increasing R&D investments, growing utilization of bioplastics along with ongoing product development to improve packaging performance is expected to open new avenues over the forecast period.
Application Insights
Skin care was the largest segment valued at USD 7.37 billion in 2014. It is expected to witness high gains over the next seven years on account of growing awareness regarding beauty, increasing consumer concerns regarding the harmful effects of pollution and global warming. Also, increasing preference among male consumers for skin care products along with high requirements of anti-aging creams will propel growth.
Bath & shower was a prominent segment accounting for over 20% of the market share in 2014 and is expected to witness rise owing to increasing awareness about health and hygiene among consumers, particularly in the Middle East and Asia Pacific. Also, increasing shift towards the use of body washes, shower gels, bar, and liquid soaps will drive growth. Moreover, superior antibacterial properties in soaps will create immense industry potential over the forecast period.
Product Insights
Flexibles were the largest product segment in 2014 and is expected to witness a significant rise at a CAGR of exceeding 6.0% from 2015 to 2022 on account of various advantages including container variety, less raw material requirement, easy disposal, and light weight. The emergence of bioplastics as packaging solutions with improved durability and shelf life is expected to create immense opportunities for personal care packaging sector over the forecast period.
Heavyweight, high storage costs, negative environment impact, and corrosion are some of the technical issues owing to which demand for metal packaging is likely to reduce over the forecast period. However, high consumption of deodorants and hair sprays in various countries including China, India, the U.S., Germany, Saudi Arabia, and Brazil is expected to augment demand for aerosol cans.
Packaging Type Insights
Bottles were the largest packaging segment in 2014 and accounted for over 28% of the global revenue share and are expected to continue to lead market on account of high usage in hair care, skin care, and bath & shower products. Cans are expected to lose market share over the forecast period as a result of its harmful environment impacts, high manufacturing cost along with its heavy weight.
Regional Insights
Asia Pacific personal care packaging market was valued over USD 8.10 billion in 2014, dominating the global industry. This trend is expected to continue account of growing demand for personal care products with lightweight packing, thus, driving flexible packaging market in countries including India, Indonesia, Sri Lanka, and Vietnam. Also, rising grooming awareness particularly among men, increasing income level along with rising consumption of gels, hair serums, skin cream, perfumes, tanning lotions, and sun block will propel industry development.
MEA is expected to witness a significant rise at a CAGR exceeding 7.0% from 2015 to 2022 on account of increasing demand for perfumes in UAE, Kuwait, and Saudi Arabia. In addition, increasing young and dynamic population along with high purchasing power is expected to fuel growth in the region over the forecast period.
Personal Care Packaging Market Share Insights
The industry is extremely competitive with key companies involved in R&D activities and constant product innovation. The market is dominated by major participants including Amcor, Bemis Company, Mondi plc, Sonoco, and Albea Group. Other players include Ardagh Group, Ampac Holding and Crown Holdings, Inc., ITC, and WestRock Company.
In July 2015, Amcor launched "LiquiForm Technology", which simplifies production of rigid plastic containers that are used in a wide range of consumer products. In March 2015, Sonoco Product Company signed an agreement to acquire a majority stake in Graffo Paranaense de Embalagens S/A (Graffo) to target the emerging flexible packaging sector in Brazil.