Industry Insights
The global pressure vessel market size was valued at USD 138.7 billion in 2015. Expanding power generation capacities in the Asia Pacific region and increasing number of chemical projects in the Middle East region are expected to be the factors responsible for market growth. Pressure vessels are containers that hold high-pressure gases or liquids and have wide applications in industries including oil & gas, chemicals, petrochemicals, distillation towers, nuclear reactor vessels, natural gas storage systems, and hot water storage tanks.
Developed regions, such as North America and Europe, are using renewable energy to meet stringent environmental regulations and to minimize the harmful gas emissions. Thus, such changing energy patterns across the globe are also expected to augment the market growth over the forecast period.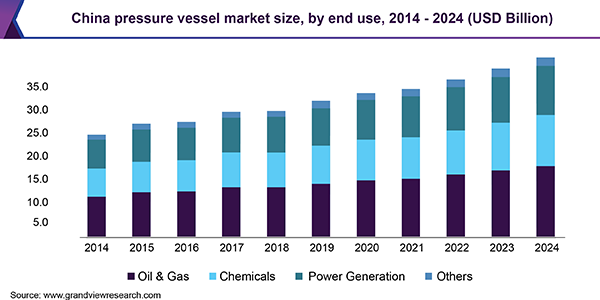 Existing power plants in developing regions are expected to restrain the industry volumes in near future. In addition, declining number of oil and gas projects as a result of falling prices of crude oil is also said to have a negative impact on the market revenues in the years to come. Sluggish growth in the mining industry is further anticipated to negatively impact the overall demand over the forecast period.
The global pressure vessel market is characterized by the presence of several key manufacturers and producers are anticipated to focus on forward integration to maximize their profits and expand their regional presence around the world. In addition, manufacturers are expected to tie up with the engineering solution providers to deliver high-quality product solutions at affordable prices. In the recent past, companies across the value chain have suffered sluggish growth on account of drastic decline in crude oil prices.
Product Insights
Boilers accounted for a revenue share of approximately 33.0% in 2015 and are projected to expand at a significant CAGR over the forecast period. This growth can be attributed to growing number of power plants in Asia Pacific. Separators are anticipated to register a CAGR of 5.7% from 2016 to 2024 on account of rising demand for petrochemicals and chemicals. Rapid commissioning of large-scale industrial projects coupled along with growing demand for energy is expected to drive the market. Chemical industry mainly uses boilers, pressure storage vessel, reactors, distillation columns, and process vessels.
End Use Insights
Raw material processing requires pressure vessels to obtain finished product. This, in turn, is anticipated to enhance product demand in various end-use industries including chemical, petrochemicals, oil & gas, and power plants. The chemical segment is expected to register the highest CAGR over the forecast years as a result of increasing demand for chemicals and petrochemicals across the globe.
Declining oil prices have negatively impacted the production projects as well as industry revenues. Growing demand for oil & gas and chemical plants for the storage of industrial gases and liquids is expected to boost the market growth. Shift in energy trends coupled with investments in nuclear and power plants is also projected to support market expansion.
Material Insights
Pressure vessels are made of steel alloys and composites. Composites are expected to witness the highest CAGR of 5.9% from 2016 to 2024 on account of technological innovations coupled with demand for high-quality products.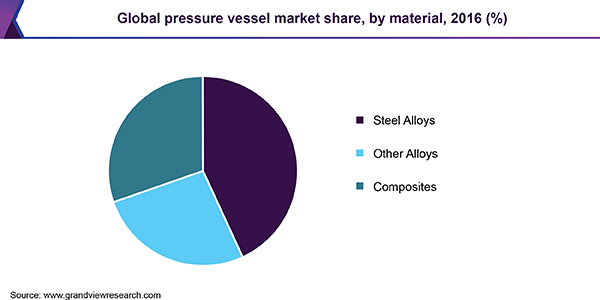 Steel alloys are anticipated to account for the maximum revenue share in the global industry owing to their excellent strength characteristics, which help in carrying high-pressure liquids and gasses. Steel alloys is estimated to emerge as the leading segment by 2024. Rising demand for high-pressure gas storage and transportation vessels is projected to boost the market growth over the coming years.
Regional Insights
Asia Pacific led the global market in 2015 and accounted for over 35% of the total revenue. Rapidly developing renewable sector in China, India, South Korea, and Australia is expected to drive the regional market. In addition, supportive government initiatives to expand power generation capacities is anticipated to significantly contribute to regional market development.
Moreover, increasing investments for the development of nuclear power plants coupled with growing demand for energy are also expected to drive Asia Pacific market. Middle East & Africa is anticipated to expand at a significant CAGR of 5.8% from 2016 to 2024 due to the presence of well-established oil & gas sector. Middle East Asia remains major hub for conventional oil & gas drilling, subsequently generating high demand for pressure vessels in upstream, downstream, and midstream sectors.
Pressure Vessel Market Share Insights
Key companies in this market are Abbott Laboratories; Bharat Heavy Electricals Ltd.; Larsen & Toubro Ltd.; Samuel Pressure Vessel Group; Barton Firtop Engineering Company Ltd.; Babcock & Wilcox Enterprises, Inc.; Doosan Group; and Mitsubishi Motors Corp. Other companies include Dongfang Electric Machinery Co. Ltd., IHI Corp., General Electric Co., Westinghouse Electric Company LLC, and Halvorsen Co.