Industry Insights
Growing high-quality animal feed consumption has led to increased feed preservatives demand which in turn is expected to drive propionic acid market growth. Increasing requirement for mold and bacteria-inhibiting additives coupled with growing demand for feed products having longer shelf-life is expected to fuel market growth. Propionic acid is not only an ideal preservative but also forms a major element in the manufacturing of vitamin E. Depleting vital nutrients in animal food sources also proposes an optimistic outlook for propionic acid-based feed products. The product also finds applications in food & grain preservatives, herbicides, and chemical & pharmaceutical industry. Growing demand for packaged food & beverages has led to increased consumption of food preservatives which has led to increased market penetration in food preservatives. EPA, FDA and OSHA approvals regarding the use of propionic acid in animal feed and food additives has given an impetus to market growth. Excluding U.S., global per capita consumption of food preservatives is estimated to be below average providing immense potential for market growth over the forecast period.
Lack of manufacturing facilities in many countries has limited supply and is responsible for a global average price hike of propionic acid & its derivatives. The high price of propionic acid coupled with limited manufacturing technologies poses a serious threat to market growth over the next six years.
Global propionic acid market estimates and forecast, by application, 2012 - 2020 (Kilo Tons)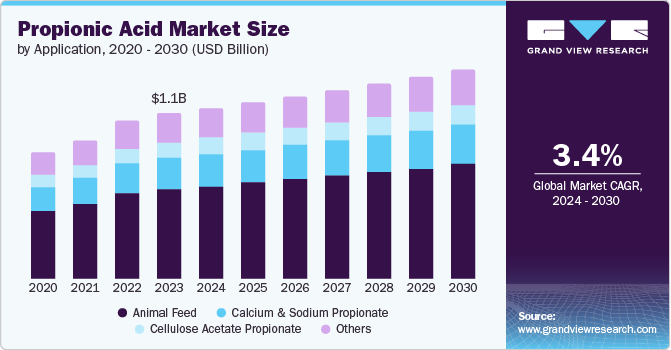 Untapped and developing application segments including antibiotics are expected to have promising future prospective for propionic acid market demand.
Application Insights
Animal feed was the largest application segment in 2013 and is estimated to increase market share over the next six years. Global animal feed market is estimated to grow at a CAGR of over 4% from 2014 to 2020 on account of increasing demand for high-quality feed products and animal nutrition. The EU hygiene directive directs the farm owners & feed-mix manufacturers to use and supply feed in hygienic conditions. Such directives favor growing propionic acid demand in animal feed additives. Propionic acid demand in chemical derivatives especially in calcium & sodium propionate and cellulose acetate propionate applications is estimated to witness average growth rates over the forecast period. High demand for long shelf-life packaged foods along with growing disposable income of average consumers is expected to have a positive outlook on propionic acid market demand. Propionic acid is also used as a preservative in bakery products and is expected to increase demand over the next few years owing to growth especially in France, Switzerland, Australia and China. The growth of several niche applications segments such as herbicides and biocides are estimated to have prospects for market growth.
Regional Insights
Europe was the largest regional propionic acid market and is expected to continue dominance over the forecast period. The regional market is characterized by favorable government & environmental regulations along with high growth potential for animal feed and food preservatives. The EU hygiene directive for maintaining the quality and hygiene of feed-mix products has augmented market demand, and the trend is estimated to continue over the next six years. North America is a mature market for propionic acid and is estimated to witness average growth rate over the forecast period. Asia Pacific market is estimated to witness above average growth rate over the forecast period owing to demand for food preservatives and growing the pharmaceutical industry in countries of China, India, and Australia. China was the single largest manufacturer of propionic acid in 2013. The majority of the future demand is estimated to come from countries such as India, China, France, Spain, South Africa, Russia, and Brazil.
Competitive Insights
The global propionic acid market is moderately consolidated and is characterized by capacity expansions by major participants. The global market is dominated by few key payers including BASF, Dow, Eastman Chemical Company, and Perstorp. Other companies operating in the propionic acid market include A.M. Food Chemicals, Biomin Holdings Gmbh, Krishna Chemicals and Macco Organiques.