Industry Insights
The global protein labeling market was valued at USD 1,116.7 million in 2015. Increase in the R&D expenditure by companies coupled with the rise in the adoption of bioengineering techniques are factors expected to drive growth.
The market is witnessing a number of new product launches and improvement in existing technologies that are anticipated to accelerate growth in demand. The product portfolio available with a number of major players includes various reagents, kits and services for in-vitro, in-vivo or biorthogonal labeling of the specific peptides. Development of advanced dyes that rapidly conjugates with the specific peptides in order to detect their presence and further the purification process more accurately are expected to have a positive impact on growth.
U.S. Protein Labeling Market, By Application, 2013-2024 (USD Million)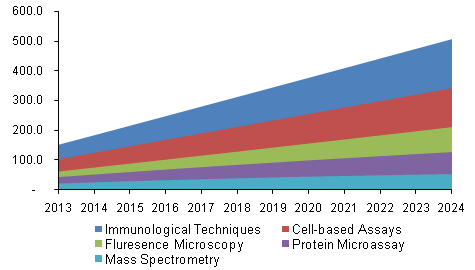 Biorthogonal labeling involves the labeling of the protein within a living cell without any interference in the biochemical functions and reactions within the cell. Thus, going to a micro scale of working on the industry demands, highly sophisticated environments enhance the need for highly skilled professionals and products to satisfy demand for the process.
These techniques find applications in various biotechnological and pharmaceutical research and diagnostic processes that include protein micro assay, cell-based assay, mass spectrometry, fluorescence microscopy and immunological techniques. Having said this, the market is estimated to grow due to increase in incidences of chronic diseases like cancer, need for diagnosis of which is anticipated to enhance demand for such techniques over the forecast period.
Product Insights
Revenue generated from reagents accounted for the largest share in 2015. Factors contributing to this large share include presence of considerable demand for peptide binding agents that tag required protein with high accuracy and repeatability. Portfolios include enzymes, reagents, probes, monoclonal antibodies and other substrates like dyes.
Furthermore, presence of a strong pipeline portfolio for monoclonal antibodies under investigational development and expectations for them to be commercialized over the forecast period reinforces the growth potential for demand. High R&D investment by major market entities towards growth and development of proteomics coupled with development of protein sequencing techniques is also expected to drive growth. 
Application Insights
Protein labeling has applications in a variety of tests including cell assay techniques, microscopy, and mass spectrometry. These are used for detection, analysis, and quantification of peptides in a wide array of proteomic studies. Tests such as ELISA, western blotting, immunohistochemistry, immunocytochemistry, flow cytometry all utilize protein labeling methodologies in a number of clinical and medical studies.
Ongoing R&D in proteomics is likely to provide the segments with more robust protein identification mechanisms over the forecast period. Further development in next generation sequencing is anticipated to generate large amounts of genetic data for protein expression studies. Expected growth in demand for peptide labeling will drive the market throughout the forecast period.
Labeling method Insights
On the basis of mode of expression studies, protein labeling can either be conducted in-vivo or in-vitro. In-vitro studies accounted for a larger share of revenue in 2015 owing to the presence of a considerable number of ongoing clinical investigation studies with respect to proteomic analysis of genetic data.
Regional Insights
North America turned out to be the most lucrative region accounting for over 45% of the global revenue in 2015. Presence of most major players in the region working on enhancing their portfolios on offer and rise in adoption of protein labeling in tandem with development of genomic sequencing and personalized medicine are the major factors accounting for the region's dominant position.
Asia Pacific is projected to witness growth at a faster rate over the forecast period owing to rising investment in genomic and proteomic research in a number of key developing countries. Furthermore, rapid rise in adoption of bioengineering technology solutions has also been observed in the region which is in turn expected to fuel their usage over the forecast period. 
Competitive Insights
Major participants of the protein labeling industry include Thermo Fisher Scientific Inc., Merck Millipore, PerkinElmer Inc., Promega Corporation, GE Healthcare Life Science, F. Hoffmann-La Roche AG, New England Biolabs, Eurogentec S.A, LI-COR Inc., Kirkegaard & Perry Laboratories (KPL).
Larger, more influential participants are involved in amalgamations and acquisitions of smaller companies, with novel products on offer, in an attempt to consolidate the market and strengthen their positions through enhancement of product portfolios and geographic reach.
Analyst Perspective
Ongoing developments in next generation sequencing that have led to reduction in costs of whole genome sequencing is directly correlated with the expected increase in demand for proteomic profiling studies that are a consequent to genomic and proteomic expression analysis for investigation of genetic data. In light of recent developments in the fields of NGS and Personalized Medicine, our team of analysts dedicated to track the aforementioned segments feel that Protein Labeling market is likely to be a field of increasing interest among market participants and consumers. In an attempt to provide the most accurate updates, Grand View Research has analyzed protein labeling, which in itself is intricately a part of Proteomic profiling and next generation sequencing technologies.