Industry Insights
Global RFID in healthcare market was valued at USD 646.7 million in 2014 and is expected to witness double-digit growth over the forecast period. Key factors attributing to its rapid growth include increasing incidences of theft or loss of various medical devices and medical devices which results in high losses to the hospitals and pharmacies.
High efficiency and low cost of these systems and tags is a key rendering driver for the growth of these systems in the healthcare industry. Increasing occurrences of stock outs and the expiration of medication due to improper storage and handling which results in revenue and reputation loss is expected to boost usage rates over the forecast period.
North America RFID in healthcare market by product, 2012 - 2022 (USD Million)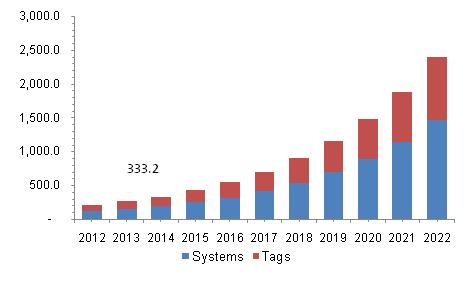 Furthermore, emergence and increasing usage of Kanban systems to manage lean inventory is one of the high impact rendering drivers for the growth of this market. A study conducted by Stanley Healthcare has found that RFID kanban systems enable organizations to reduce their inventory value by 15-35%. Additionally, inventory replenishment costs can be reduced by 95% with inventory reduction by 50%. These further are expected to reduce storage space by 22% which results in reduced storage costs and subsequent energy costs associated.
Development advanced Kanban systems which can be incorporate with existing hospital inventory management and place the order to the supplier directly for required medication or medical device once it's about to get over will promote pharmacies and hospitals to implement these systems.
Increasing penetration of RFID systems in healthcare establishment due to its wide application areas such as injection safety, infection control, radiology and tracking prescription drugs will improve market capitalization of these systems in coming seven years. Few notable instances include Sanraku Hospital, which is a 270-bed hospital in Tokyo Japan, collaborated with BayNexus in an effort to better manage its medical equipment, Wake Forest Baptist Medical Center incorporated RFID tags on the seams of x-ray vests in order to reduce the time taken to trace the vests for inspection purposes.
Product Insights
RFID systems and tags are two main products analyzed in the scope of the study. In 2014, RFID systems accounted for the majority of market share of over 55%. Key factors attributing to its large share include constantly improving penetration of these devices due to rising awareness levels pertaining to advantages associated with these devices such as reduction in overall cost of the operations and their ability to get incorporated with existing hospital ERP software. Furthermore, systems are further segmented as asset tracking, pharmaceutical tracking, patient tracking, and blood monitoring. The pharmaceutical segment accounted for the majority of share in 2014 and is expected to continue its market dominance over the forecast period of seven years. RFID tags are cost effective and can cost nearly 4-6 cents per tag which is a high impact rendering driver for the growth of the market over the forecast period. Additionally, tags market is also segmented on the basis of their usage in various departments which include asset tracking tags, pharmaceutical tracking tags, patient tracking tags, and blood monitoring tags.
Regional Insights
North America, Asia-Pacific, Europe, Latin America, and MEA are key regional markets analyzed in the scope of the study. In 2014, North America held the majority of the market share of over 50%. Key factors attributing to its large share include the presence of developed healthcare infrastructure coupled with high awareness levels pertaining to advantages associated with these systems.
Additionally, in November 2013, U.S. president has signed The Drug Quality and Security Act (DQSA) which outlines vital steps to build an electronic, interoperable system to trace and identify certain prescription drugs as they are distributed in the United States. The emergence of such act will boost the usage of RFID tags and systems in the U.S. over the forecast period.
However, Asia Pacific is anticipated to be the fastest growing regional market over the forecast period. Constantly improving healthcare infrastructure, favorable government initiatives and entry of multinational hospital chains in the region will significantly boost the growth of Asia Pacific market.
Market Share Insights
Key players operating in the market include Log Tag, Terson Solutions, Solstice Medical LLC, Logi Tag, Wave Mark, Mobile Aspects Inc, Hurst Green Plastics Ltd., Tagsys RFID Group, Pepperl+Fuchs, Metra Tec GmbH, Bollhoff Group, Wurth Group, Stanley Innerspace, Datelka, Brooks Automation, and Grifols.