Market Size & Trends
The global scaffold technology market was valued at USD 610.0 million in 2015. The sector is primarily driven by the continuous evolution of tissue engineering and its applications in the development of biological substitutes for replacement, regeneration, and restoration of diseased and defective organs or tissues.
It has been observed that the adoption rate of 3D cellular models is increasing amongst the clinical researchers due to their application in etiology studies and in the elucidation of pathways underlying diseases.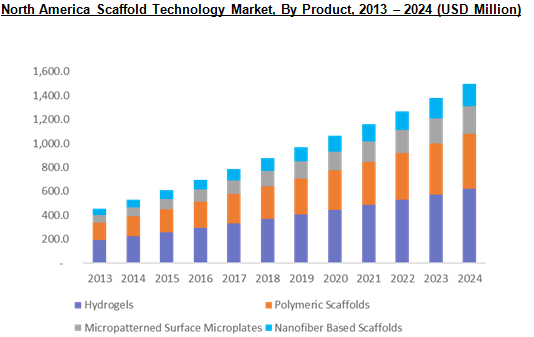 Utilization of this technology is efficient in overcoming the deficits of performing pharmacodynamic and toxicology research studies using 2D cell culture systems to investigate the response of host tissues to a particular drug, hence optimizing the drug development and discovery process and increasing its demand.
Technological advancements in reconstructive surgical procedures facilitate better integration of an implant at the desired site, which is expected to positively influence the growth of the scaffold vertical over the forecast period. In addition, ongoing research to design novel matrix-based 3D substrates that enable favorable interaction between implants and its host microenvironment for optimal drug release and functioning of the implanted cells is anticipated to boost revenue generation in this industry in the coming years
On the other hand, companies are playing a pivotal role in focusing on the development of innovative stem cell-based substrates, which facilitate organoid generation and grafting procedures, with applications in regenerative medicine, drug discovery studies, and disease and organogenesis modeling. Innovations implemented by companies in the process of material design and fabrication is furthering the possibility of production of implants with improved performance, thus influencing the growth of this sector.
However, inconsistency in results generated using matrix-based 3D cellular models and the emergence of scaffold-free technology for multi-dimensional cell culturing is anticipated to decelerate the growth of this industry up to some extent in the coming years.
Product Insights
Hydrogels held a substantial industry share of over 40% as a consequence of the properties associated with the use of hydrogels such as the ease of loading cells and drugs for controlled drug delivery. Moreover, biocompatibility and integration of hydrogels with the host tissue are responsible for its success in controlled drug delivery for tissue engineering.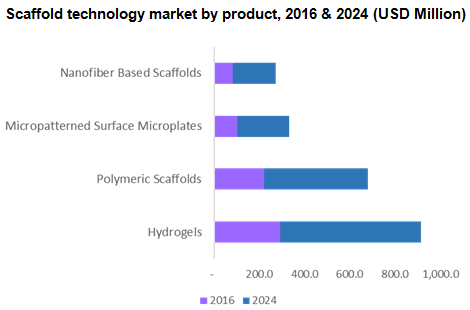 The high adoption rate of hydrogels is attributed to its swollen polymeric network structure, which remains insoluble and closely resembles native tissue, thus facilitating encapsulation of cellular bodies, the release of bioactive molecules, and efficient mass transfer.
Application Insights
Cancer biology accounted for the largest share in 2015. The dominant share is attributed to the relatively high success rate of 3D cell culture modeling in cancer research and the greater ability of matrix-based three-dimensional cell cultures to recapitulate the host microenvironment enabling the evaluation of promising targeted therapies in cancer.
On the other hand, scaffolds used in stem cell therapies with growing applications in the regenerative treatment of diseases are expected to witness the fastest growth over the forecast period. The combined use of stem cells and bioscaffolds presents a promising strategy for tissue engineering applications and cellular delivery, which in turn is anticipated to propel the growth of this segment.
End-use Insights
End users in this vertical include hospitals & diagnostic centers, research laboratories, biotech & pharmaceutical companies, and academic institutes. Biotechnological & pharmaceutical organizations captured the largest share owing to the increased adoption rate of this technology in drug discovery protocols for pharmacokinetic and pharmacodynamic profiling.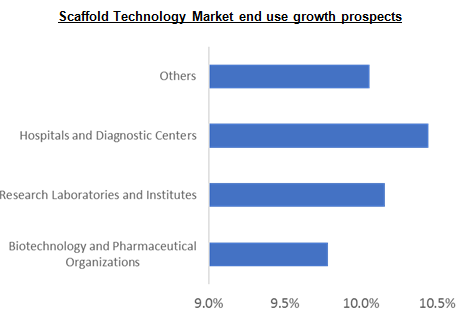 With respect to the growth prospects, hospitals and diagnostic centers are projected to witness a progressive increase in the number of reconstructive surgical procedures carried out every year along with the surging road accident cases, which account for most of the implantation procedures.
Report Scope Regional Insights
As represented in the above figure, North America is currently leading the sector with a share of over 40% with respect to revenue generation in 2015, followed by Europe. Key factors such as higher healthcare expenditure, a well-developed healthcare system, and rising investment in R&D have contributed to the large share of North America.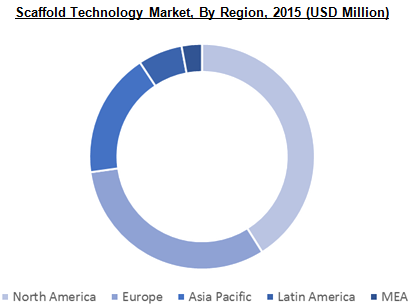 Companies present in the Asia Pacific region catering to this vertical are expected to drive industry expansion with potential avenues in the coming years owing to upcoming developments in the emerging economies, such as China and Japan, coupled with increasing awareness amongst healthcare entities about this technology. These developments include the use of advanced platforms equipped with microfabrication tools for the purpose of surgeries that incorporate the utilization of biomaterials.
Scaffold Technology Market Share Insights
Some of the key participants include Merck KGaA, Thermo Fisher Scientific, Inc.; 3D Biotek LLC.; Molecular Matrix Inc.; ReproCELL Europe Ltd (Reinnervate); Xanofi; Tecan Trading AG.; Matricel GmbH; Pelo Biotech GmbH; Corning, Inc.; Akron Biotech; 4titude; Becton, Dickinson and Company; 3D Biomatrix; Avacta Life Sciences Limited; Nanofiber Solutions; NuVasive, Inc.; Vericel Corporation; Molecular Partners; Acelity; and Medtronic. Major participants operating in this industry are engaged in strengthening their position in the vertical through the expansion of their distribution network, product portfolio diversification, and through partnerships with other entities.
For instance, in May 2016, Xanofi released XanoMatrix, the next generation three dimensional scaffold that can be customized to provide solutions in key areas of tissue engineering. This product is expected to be the closest biomimic for extracellular matrices in this vertical.
Report Scope
| | | | |
| --- | --- | --- | --- |
| Attribute | Details | Customization Offer (15% free)* | Additional Cost |
| Base year | 2015 | NA | NA |
| Historic | 2013 - 2015 | Extended historic data (2012 to 2015) | Free |
| Forecast | 2016 - 2024 | Extended Forecast data (2024 - 2027) | Free |
| Report details | Market size, company market share, competitive landscape, growth factors, trends | Contact us for specific market information not available in this report | Quotation to be shared post feasibility |
| Market representation | USD Million | NA | NA |
| Geographic coverage | Global & Regional (by country) | Information on up to three additional countries | Free |
| Company profiles | All major market players | Profiles of 10 additional companies | Free |
* 15% free customization - The 15% report customization is equivalent to work done by one research analyst for 5 working days.
Market Segments Covered in the Report
This report forecasts revenue growth and provides an analysis of the industry trends in each of the sub-markets from 2013 to 2024. For the purpose of this study, Grand View Research has segmented the scaffold technology market on the basis of product, application, end-use, and region:
Product Outlook (Revenue, USD Million, 2013 - 2024)

Hydrogels
Polymeric Scaffolds
Freeze Embryo Testing
Micropatterned Surface Microplates
Nanofiber-based Scaffolds

Application Outlook (Revenue, USD Million, 2013 - 2024)

Cancer
Tissue Engineering and Clinical Application
Drug Development
Stem cell research
Others

End-use Outlook (Revenue, USD Million, 2013 - 2024)

Biotechnology and Pharmaceutical Organizations
Research Laboratories and Institutes
Hospitals and Diagnostic Centers
Others

Regional Outlook (Revenue, USD Million, 2013 - 2024)

North America
Europe
Asia Pacific
Latin America
Middle East & Africa