Industry Insights
The global stearic acid market size was valued at USD 7.1 billion in 2014 and is projected to expand at a CAGR of 4.5% over the forecast period. Rising applications in personal care products including shampoos, shaving creams, and soaps is anticipated to augment market growth over the forecast period. Stearic acid is a waxy solid, saturated fatty acid that is derived from animal fat and vegetable oils.
Palm kernel and coconut oil have the maximum potential to extract the product. The production process involves hydrogenation of vegetable oils or animal fat treatment with water at elevated temperature and pressure. The commercial product is a mixture of palmitic, stearic acid, and oleic acid. Benefits such as enhanced shelf life, versatility, and stability as a base for cosmetics are expected to augment product demand in the near future. Additionally, it acts as an excellent binder and thickening agent for personal care products.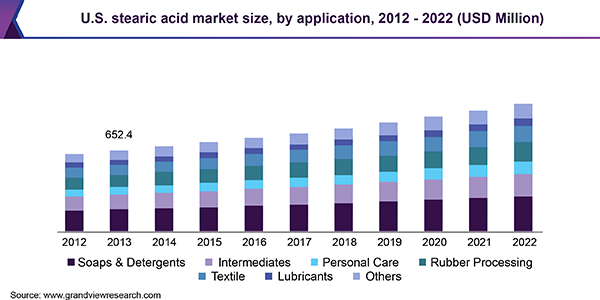 Powerful cleansing and surfactant properties that facilitate the removal of oil and dirt in the skin are projected to strengthen the demand for stearic acid in cosmetic and detergent applications. High demand in personal care and soaps and detergents as a surfactant is anticipated to foster product penetration in these segments in the next few years. Growing application scope in several niche segments including candle manufacturing, metal processing, and dietary supplements is also expected to bolster industry growth over the forecast period.
Growing demand for sustainable and biodegradable products due to decreasing petrochemical dependence is anticipated to remain a key driving factor in the stearic acid market. Volatile prices of the petrochemical-derived products owing to supply-demand imbalances have been a concern for the global chemical industry, which has encouraged the shift towards bio-based chemicals.
However, volatile raw material prices of vegetable oils and petrochemicals, coupled with the increasing incidence of toxicity and hazards associated with the same, may hinder industry growth. Moreover, hazards associated with the consumption of higher product concentrations such as liver toxicity, cancer, and skin damage in humans and animals may negatively affect industry growth.
In addition, neurotoxic and organ damage hazards are expected to limit market growth in cosmetic applications. Product derived from animal fats has led to rising protests by various animal rights activists, thus restraining its sourcing in the market. The development of 100% bio-based products, along with increasing R&D spending regarding product innovation, is estimated to create lucrative opportunities for future expansions.
Application Insights
Stearic acid esters are used with ethylene glycol to develop a pearly effect in shampoos, cosmetics, and personal care products. Soaps are able to retain their shapes in the molded form owing to optimum saturated fatty acid content. Alkyl ammonium derivatives are used to manufacture soaps.
Soaps and detergents were the largest application segment in 2014, accounting for over 25.0% share of the total demand. The segment is anticipated to witness rapid growth in the upcoming years. Body lotions, along with edible margarine, are manufactured in stearic acid, which is anticipated to bolster global stearic acid market growth. The lubricant application segment is projected to witness significant growth due to the growth of several applications including softening and release agents.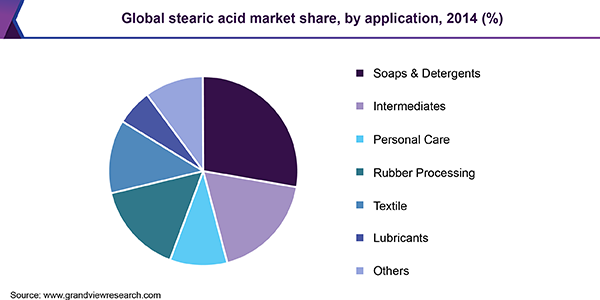 Product salts such as lead, zinc, calcium, and cadmium are applied in PVC softening. Additionally, they are used as release agents in automotive tire production. Increasing application scope as an additive in negative plates and lead-acid battery manufacturing is also projected to generate demand in the near future. Furthermore, it can be used as a hardening agent in dietary supplements and candy manufacturing, which is slated to positively impact industry growth.
Stearic acid acts as a lubricant in injection molding applications, thus generating a significant demand in the industrial sector. Niche applications include the production of candles, coatings, plasticizer alcohols, cleaners, and paints. Personal care is projected to be the fastest-growing application segment on account of rising product scope in emerging economies such as India, China, and Japan.
Regional Insights
Asia Pacific was the major regional market in 2014, accounting for over 40.0% share of the total demand. The region is projected to witness the fastest growth on account of rapid industrialization. The growth is attributed to the growing demand for personal care, detergents, and plastics. Emerging economies such as India, China, and South Korea are slated to emerge as major consumers, thus complementing the market growth.
Asia Pacific is expected to be one of the promising regional markets on account of the growing demand for personal care products in emerging countries such as China and India due to increasing disposable income and changing lifestyles. The emergence of Malaysia and Indonesia as manufacturing hubs for oleochemicals such as stearic acid due to increasing availability of vegetable oils is expected to have a positive impact on market growth in the near future.
Mature regional markets such as North America and Europe are anticipated to generate significant revenue on account of rising demand in countries such as the U.S. and Germany respectively. Middle East and Africa are projected to witness high demand on account of rising population and expanding application scope as plasticizers and lubricants. Central and South America are anticipated to witness high growth in the product market owing to rising demand from various end-use industries including personal care, soaps and detergents, and rubber processing.
Central and South America are anticipated to be one of the fastest-growing regional markets in terms of revenue with a CAGR of 5.9% over the forecast period. Population growth, along with increased disposable income, has driven demand for soaps and detergents. A shift in trend towards bio-based surfactant usage is expected to drive the stearic acid demand in soaps and detergents application segments in the region.
Stearic Acid Market Share Insights
The industry participants are involved in continuous strategic collaborations in the form of mergers & acquisitions and joint ventures (JVs). Market leaders such as BASF, AkzoNobel, and Wilmar are taking ardent steps to expand their product portfolio and gain a competitive advantage in the rapidly growing regions such as Asia Pacific.
The industry exhibits a high threat of new entrants and a medium threat of substitutes. Major companies operating in the market include The U.S. Chemical Company LLC., BASF, AkzoNobel, Emery Oleochemicals, Wilmar International, Godrej Industries, Oleon, Pacific Oleochemicals Sdn Bhd, Kao Chemicals, and Kuala Lumpur Kepong (KLK).