Industry Insights
The surface vision and inspection market size was valued at USD 7.36 billion in 2014 and is expected to witness a strong growth owing to rapid technological advancements over the next seven years. Increasing quality demand and customer expectations, manufacturers are implementing this technology into various applications.
Advanced solutions such as machine vision (MV) enable manufacturers to optimize efficiency in the production process, by providing equipment the ability to perform inspection automatically. Machine vision solution are largely being adopted by manufacturers as it assures most reliable scrutiny results, high efficiency, superior quality control and ensures a high level of customer satisfaction.
Manufacturers prefer MV for visual inspections which require high magnification, high speed and repeatability of measurements. It performs tasks such as reading serial numbers, counting objects, identifying errors and surface defects. For instance, this technology is highly crucial in the semiconductor industry for fabrication. They inspect processor chips, silicon wafers and components such as capacitors and resistors with accuracy and precision at very high speed.
U.S. Surface Vision and Inspection Market Revenue by Component, 2012-2022, (USD Million)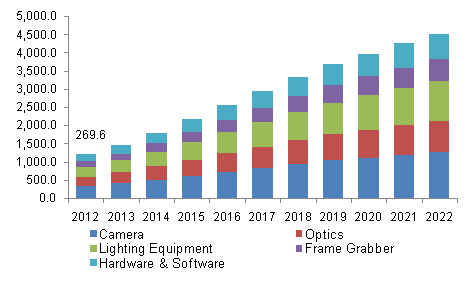 The industry participants have been offering multiple solutions at reduced cost and increased efficiency in order to increase their market presence. Solutions such as 3D vision using laser triangulation is getting popular across various industries such as automotive, solar cells, printing, semiconductor, etc. It uses a single camera at a certain angle and provides critical dimensional measurement data. It is a cost effective method as most solutions use multiple cameras, which makes them expensive.
The technology significantly reduces the production cost with increased speed and high accuracy, which further improves quality. Recently, electronic printing has started implementing this technology for inspecting RFID circuitry and patterns on flex circuits.
Component Insights
The industry is segmented on the basis of components including camera, optics, lighting equipment, frame grabber, and hardware & software. Cameras accounted for the largest share in the industry with over 25% of overall revenue share in 2014.
Continuous improvement in micro-chips and LEDs used in cameras are facilitating the production of reliable, smaller and economical products. Manufacturers use smart and digital cameras as they produce more efficient results than analog cameras.
Software and hardware systems are anticipated to observe significant growth with a CAGR of over 8% over the forecast period, owing to increasing demand for sophisticated and advanced software solutions. These solutions improve integration with other automation products.
Application Insights
The market can be segmented by application into automotive, electronics & electrical, medical, food & beverages and logistics & postal sourcing. Electronics and electrical industry accounted for over 20% of overall revenue share. Electronics & electrical segment is expected to witness growth due to a large number of testing applications across fabricated systems and chips.
Moreover, the demand of vision and inspection systems is increasing in automotive sector owing to complex designs of automobiles that increase the possibility of production errors and defects. To avoid such defects and errors manufacturers are implementing such systems to detect cosmetic and functional flaws.
Regional Insights
North America dominated the market with a revenue share of over 25% in 2014 and is expected to grow at a CAGR of over 10% from 2015 to 2022. Overall growth in consumption is depicted from the large volume of sales of machine vision and components which includes cameras and application specific machine vision (ASMV) systems.
Asia Pacific surface vision & inspection industry is expected to witness the considerable growth with a CAGR of over 14% over the forecast period. This growth can be attributed to several factors such as emergent factory automation, rising level of manufacturing activities, increasing investments in assembly line automation and production mainly in China, India, Japan, and Korea. Increasing focus on attaining operational efficiency and product quality is also contributing to the regional growth.
Competitive Market Share Insights
Major industry participants include Baumer Inspection, Adept Technology, Inc, Cognex Corporation, Edmund Optics Inc, ETS SuperVision BV, Industrial Vision Systems Ltd., Microscan Systems Inc., Matrox Imaging, Vitronic GmbH, Omron Corporation. Cognex Corporation, a key player in this industry, announced that AMETEK Inc. will acquire its Surface Inspection Systems Division (SSID) of Cognex for USD 160 million.