Industry Insights
The global synthetic paper market size was over USD 240.0 million in 2015. It is expected to grow owing to excellent chemical and physical properties. The high quality of print on the surface is likely to propel its demand in non-label applications. Rising concerns regarding greenhouse gas emissions, deforestation, and safety of flora & fauna worldwide are expected to have a positive impact on demand. The market is projected to witness increased demand for the products to promote environmental sustainability and conserve natural resources.
Synthetic paper is being increasingly used in food & beverage industry for labeling application. Non-toxicity of the product has led to increased use in wide range of applications. Folding cartons and blister packaging are some of the niche applications of the product and are expected to witness significant growth over the forecast period on account of high safety levels of packaging and pilferage resistance.
Europe synthetic paper market revenue, by product, 2013 - 2024 (USD Million)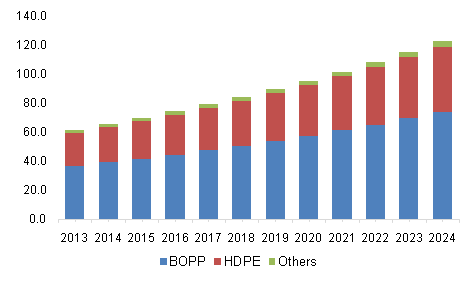 Polypropylene, polybutylene, and polyethylene are the most commonly used materials for manufacturing of synthetic paper. Fluctuating raw material prices, on account of unstable oil prices, are likely to hinder market growth over the coming years.
Product Insights
Biaxially Oriented Polypropylene (BOPP) dominated the market with over 60.0% of the volume share in 2015. Versatility and low cost of the product are expected to be the key factors for growth of this segment. In addition, technological know-how, ease of manufacturing, and high moisture resistant properties are projected to propel the demand over the next eight years.
HDPE synthetic papers are expected to witness considerable growth over the forecast period owing to its increasing utilization in chemical and textile industry. Other synthetic paper products including polyester and polystyrene are likely to foresee sluggish demand as they are unsuitable for high-temperature applications.
Application Insights
Non-label applications account for the significant share of over 61.0% in the market. These applications include maps, banners, graphic arts, and charts. Growing awareness regarding advantages of synthetic paper in the broad range of industries is likely to propel its demand in label applications over the forecast period. These applications include stack labels, in-mold labels, pressure sensitive labels, shrink labels, and wrap-around labels. Growing utilization of synthetic paper in food & beverage, household goods, and cards is expected to augment growth. Resistance to oil, water, and chemicals coupled with government support for using the product in passports is likely to have a positive impact on demand.
 
Regional Insights
Asia Pacific accounted for over 38.0% share in 2015, on account of rapidly growing demand for packaged food & beverages and cosmetic products. China, Japan, and India are the key consumers of the product in the region. Growing advertisement sector on account of rising market competition in various industries is expected to promote the use of synthetic paper for promotion activities. These are also being utilized for tourism guides and military application which is expected to have a positive impact on growth over the forecast period.
The Middle East and Africa is projected to witness CAGR of over 7.0% on account of increasing utilization of synthetic paper in the printing applications. In September 2015, Agfa and Blue Rhine signed an agreement for distribution of Agfa's synthetic paper, known as Synaps, in the UAE. The market has witnessed a rapid increase in demand for utilization in xerography and offset, which is expected to have a positive impact on growth over the forecast period.
Europe accounted for over 25.0% of the share in 2015 on account of the presence of key synthetic paper manufacturers in the region. In addition, the market has been witnessing technological advancement and innovation fulfilling growing demand. For instance, Mobil Plastics Europe has been investing increasingly in developing label film for numerous applications. In addition, growing demand for BOPP films in the region is expected to have a positive impact on growth.
Competitive Market Share Insights
Key companies include American Profol, Arjobex, DuPont, Hop Industries, Nan Ya Plastics Corporation, PPG Industries, Tagleef Industries, and Yupo Corporation. The market is characterized by high level of competition among the key companies. New product development is the key strategy being adopted to strengthen position and develop product differentiation. Arjobex designed digital labels & prints, in 2012, which are highly durable and have low wear & tear. Similar strategies have been adopted by DuPont and Nan Ya Plastic Corporation over the past years.