U.S. In Vitro Diagnostics (IVD) and Laboratory Developed Tests (LDT) for Autoimmune Diseases Market Size and Trend
The U.S. IVD and LDT for autoimmune diseases market was valued at USD 4.0 billion in 2015 and is expected to reach USD 4.74 billion by 2024. The market growth is attributed to rising occurrence of autoimmune diseases & cancers and technological advances in diagnostic techniques. The IVD market in the U.S. is one of the largest due to the high investments made in the R&D, sophisticated healthcare facilities, and increasing awareness about the early diagnosis of these diseases.
The American Autoimmune Related Diseases Association, Inc. (AARDA) estimates that around 50 million Americans suffer from autoimmune disorders. It is amongst the top cause of deaths in women in the U.S. There are around more than 80 autoimmune diseases and some commonly occurring ones are rheumatoid arthritis, psoriasis, Grave's disease, systemic lupus erythematosus, type-1 diabetes, etc. The occurrence of such ailments is expanding, acting as a driving force for the growth of the market in U.S.
U.S. LDT for autoimmune disease market, by Application, 2013 - 2024 (USD Million)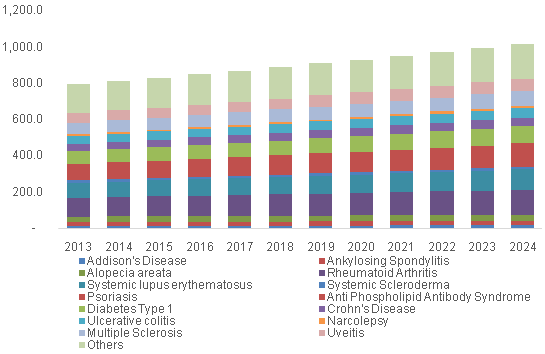 These conditions occupy a significant portion of the rising healthcare costs in the U.S. There is a growing need for early diagnosis and preventive screening for these health hazards. The expanding research in molecular diagnostics and adoption of advance technology in diagnosis are further driving growth. The market is anticipated to further witness growth due to FDA oversight pertaining to the quality and consistency of these tests and several changes in the standards pertaining to the Next-Generation Sequencing (NGS) based tests.
Application Insights
The U.S IVD for rheumatoid arthritis held majority of share of 14.1% in 2015 and the LDT for diagnosis of rheumatoid arthritis held a share of 13.2%. Rheumatoid arthritis is common disorder affecting the Americans. The Arthritis Foundation estimates that around 1.5 million people in the U.S. suffer from this condition. The cause is yet to be known, though, new research in the field is providing greater insight into the factors that trigger the immune system to attack the body's own cells. Availability of large number of diagnostic tests pertaining to arthritis also contributes to the large share.
The U.S. IVD for psoriasis is expected to be the fastest growing segment with a CAGR of 3.2%, and LDT for diagnosis is fastest growing with a CAGR of 3.4%. The occurrence of psoriasis is on rise and it is another factor adding heavily to the economic burden of autoimmune diseases in the U.S. Psoriasis results in higher utilization of resources and leads to loss of work productivity. Furthermore, awareness campaigns and activities conducted by the International Federation of Psoriasis Associations, such as World Psoriasis Day, to increase the public awareness and improve medical care are anticipated to contribute to the growth.
Technology Insights
The clinical chemistry segment occupied majority of the market share of IVD, accounting for 35.6% and LDT market accounting for 34.1%. Common samples tested in clinical chemistry are blood and urine. The measurement of autoantibodies is a widely used test for diagnosis of autoimmune diseases. Molecular diagnostics are projected to be the fastest growing segment with a CAGR of 2.9% for IVD diagnostics and 3.1% for LDT diagnostics.
U.S. LDT for autoimmune disease market, by Technology, 2013 - 2024 (USD Million)
The increasing demand for NGS technology and other advancements in molecular diagnostics are expected to contribute to growth. The next-generation multiplexing tools along with strong classifiers enable early diagnosis and improve prognosis of the patients.
Regional Insights
U.S. is a large market for IVD and LDT diagnosis of autoimmune diseases. The large share of the region is attributable to the upsurge in the occurrence of autoimmune diseases, rising demand for technologically advanced tests, increasing investment in research, and increasing demand for high performance products. Traditionally, the tests performed were manual and time consuming. The key players are now focusing on development and redefining the laboratory processes and investments on research to focus on developing enhanced tests.
Competitive Insights
Some key industry participants include. Abbott, Roche Diagnostics; Siemens Healthcare GmbH; SQI Diagnostics; Bio-Rad Laboratories, Inc.; Omega Diagnostics Group PLC; Beckton Dickinson & Company; and others. These players focus on developing technologically advanced screening and diagnostic tests for various diseases. The focus is also on identifying treatment for growing rare diseases.