Industry Insights
The global x-ray security screening systems market is expected to witness considerable growth over the forecast period. This may be attributed to increased adoption to screen people and products/baggage for the detection of weapons, explosives, drugs, chemicals, etc. The x-ray security systems are used in the government sector, aviation industry, and commercial areas such as banks, institutes, shopping malls, hotels, etc. X-ray security screening devices can scan and detect an object inside baggage or underneath a person's clothing effectively, and are highly adopted across the aviation sector.
Security checkpoints play a crucial role in ensuring safety and security at border crossing points, which is often the first line of defense against the infiltration of illegal immigrants, weapons, drugs, contraband, explosives, and threats. Further, border security has gained significant importance owing to global terrorist activities and is also expected to fuel market demand over the forecast period.
Global X-ray Security Screening Market by end-use, 2012 - 2020 (USD Billion)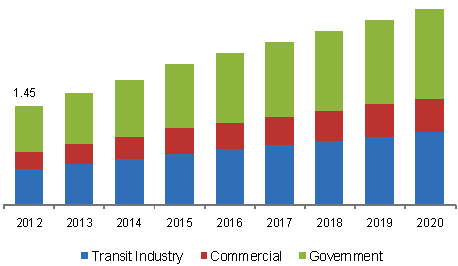 The x-ray security screening market has evolved rapidly, and the integration of new technologies has made x-ray security screening easy-to-use, fast, and safe. The aforementioned factors have broadened the scope of x-ray security screening systems beyond industrial applications. Technological advancements in hardware such as detectors, sources, and tubes as well as software upgrades have contributed significantly towards enhancing the efficiency of x-ray security systems. Presently, upgrading existing security screening installations provides avenues for market growth.
In order to improve security owing to several terrorist threats, x-ray security screening devices have been developed to complement existing hand searches and metal detectors. However, ionizing radiations are known to be carcinogenic and may hamper the market. Skin cancer is expected to be the primary concern. As each time a passenger receives a backscatter scan, there exists a small risk associated with low-dose radiation.
End-use Insights
The transit segment is expected to witness significant growth over the forecast period owing to the increasing number of passengers. The aviation sector is expanding with the increase in the number of passengers worldwide and takes efforts to keep pace with evolving travel environments by adopting several security measures, which is also expected to drive the x-ray security screening market over the next few years. The development of flexible x-ray security screening systems in order to address terror threats is also anticipated to fuel market demand. The surge in demand for air travel has resulted in government and aviation enforcement authorities adopting stringent safety measures to counter risks and threats while reducing the inconvenience caused to the passengers. Furthermore, the civil aviation sector growth across the Middle East, Asia Pacific, and Russia offers avenues for the x-ray security screening market growth.
Application Insights
Product screening segment emerged as the dominant application segment in 2013 and accounted for over 60% of the overall market revenue in the same year. Product screening primarily includes cargo, baggage, mail/ parcel screening. Product screening systems are increasingly used across the aviation sector as well as seaports. Rising incidences of the drug, human, and weapon trafficking pose to be a serious threat and provide opportunities for the x-ray security screening market.
Regional Insights
North America emerged as the dominant regional market over the forecast period. This trend is expected to continue over the forecast period due to the rapid adoption across the government sector and the installation upgrades. X-ray scanners are most popular with the Defense Department, which is expected to catapult the regional demand over the forecast period. Europe is also expected to witness considerable growth over the forecast period. The need to safeguard the population from any terror attacks as well as improving border security provides opportunities for market growth.
Competitive Insights
The global market is consolidated with a few key players accounting for around 55% of the overall market share in 2013. The key industry participants include OSI Systems (Rapiscan), Smith Detection, American Science and Engineering, Morpho Detection and Analogic Corporation. The industry faces several challenges owing to government policies, supply-related delays, and production disruptions. Technological advancements, increased R&D investments, and vertical integration are a few key market growth strategies adopted by market participants. Manufacturers also focus on expanding their distribution activities globally through a network of independent distributors.