Industry : Bulk Chemicals
Solvents are chemicals that are used to dissolve materials. They can be made from natural sources or can be derived from petroleum and other such synthetic sources. They can be distinguished into two types, namely, protic and aprotic.
Solvents that contain a hydrogen atom and can donate it during chemical reactions are known as protic. On the other hand, aprotic solvents do not have the ability to donate a hydrogen atom during chemical reactions. However, as compared to protic solvents, aprotic are more reactive.
Raw materials required for manufacturing aprotic solvents include acetylene, methylamine, ethanol, acetic acid, and propylene. Acetylene is manufactured by combustion of methane. Apart from making aprotic solvents, it is used in other applications such as welding and cutting.Ethanol, also known as ethyl alcohol, is a flammable and volatile liquid with a chemical odor. It is also used as a fuel additive.
N-Methyl-2-pyrrolidone (NMP), toluene, benzene, acetone, chloroform, and ether are some of the widely used aprotic products. Among these, toluene was the most extensively used product, followed by benzene. In fact, toluene is also used as a raw material in the manufacturing of benzene. Besides, it is used in cosmetics, disinfectants, and in the production of pharmaceuticals.
Global Aprotic Solvents Market, 2015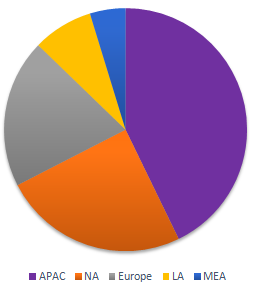 As seen above, the global aprotic solvents market was dominated by the Asia Pacific region in 2015. This region has witnessed steady growths of pharmaceutical, electronics, and paints & coatings industries. It was the least affected region from the financial crisis of 2007. Besides, growing demand from emerging economies such as Indonesia, China, South Korea, and India has resulted in increased consumption of aprotic solvents, further boosting the market.
The North American region held the second largest share in 2015. The market in this region is expected to be driven by growing oil & gas and pharmaceuticals industries over the forecast period. Europe, led by Germany and UK, is a matured market. Since this region is yet to completely recover from the economic depression from 2007 to 2009, it is expected to witness a sluggish CAGR over the forecast period.
Aprotic solvents find applications in various industries such as oil & gas, paints & coatings, electronics, and pharmaceuticals. The oil & gas segment held the largest share in 2015, followed by the pharmaceutical sector. Growing demand for petroleum products throughout the world is expected to be the biggest driver of the market in this segment.
Key players in this industry have adopted growth strategies in order to increase their market share and grow further. Through extensive R&D, they aim at consolidating their positions in the industry. This was evident from the fact that Eastman Chemical Company spent USD 251 million on R&D activities, which accounts for nearly 3% of the overall revenue of the company in the same year.

In-depth report on global aprotic solvents market by Grand View Research:
https://www.grandviewresearch.com/industry-analysis/aprotic-solvents-market