Industry : Bulk Chemicals
Fertilizer additives are chemicals or materials that are used to inhibit the loss of essential macro and micronutrients such as nitrogen, phosphorus, potassium, calcium, manganese, and iron from fertilizers. Loss of these nutrients can result in deterioration of the quality of the fertilizers used on the soil, eventually affecting its productivity.
Additives can also be used as corrosion inhibitors and anti-caking, anti-dusting & hydrophobic agents for fertilizers. Anti-caking was the most important function of fertilizer additives in 2015. This function is of particular importance during storage of fertilizers.Anti-dusting was another essential function performed by additives. Dust accumulation can result in loss of nutrients in fertilizers, affecting its quality and effectiveness.
Growing population has resulted in increase in demand for food grains, while the arable land has shrunk significantly. This has resulted in extensive use of chemical and bio-based fertilizers. According to the Food and Agriculture Organization (FAO), the global arable land per capita decreased from 0.29 hectares in 1990 to 0.22 hectares in 2010. Adoption of new technologies by farmers, as well as conduction offertilizer nutrient management programs by several agricultural organizations are expected to drive the fertilizer additives market over the forecast period. Also, rising prices of fertilizers has resulted in growing awareness regarding wastage, further boosting the demand for additives during storage.
Global urea production capacity, 2015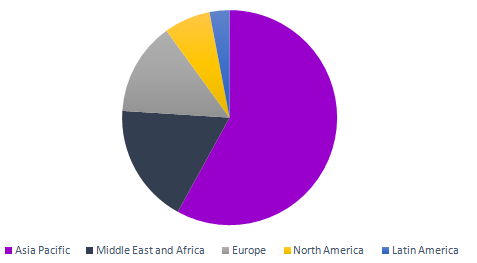 Urea, ammonium phosphate, ammonium sulfate, and ammonium nitrate are some of the commonly used fertilizers that require additives to preserve their nutrient content. Urea, the most widely used fertilizer, has high nitrogen content. Using additives while transportation of urea from warehouses to fields, the nitrogen, phosphorus, and potassium content can be maintained. Also, flaking and dusting problems of fertilizers can be overcome by using additives.
Asia Pacific is expected to witness the highest demand for fertilizer additives over the forecast period with countries such as India, China, and Bangladesh at the forefront. The economies of some of the countries in this region are dominated by agriculture and agro-based industries. Besides, due to hot and humid climatic conditions, storage of fertilizers can prove a challenge to farmers and fertilizer retailers alike. Population explosion in several countries in this region have increased the pressure on farmers and governments to produce crops, further fueling the demand for additives.The market is projected to grow at the highest CAGR in India over the forecast period, followed by China.
Major chemical and fertilizer manufacturers such as KAO Corporation, Novochem Group, Clariant, Solvay are the market leaders in this industry. Some of the other manufacturers include Filtra Catalysts & Chemicals Ltd., ChemSol LLC, Forbon Technology, Chemipol, Michelman, Tolsa Group, and Amit Trading Ltd. These players, in order to consolidate their positions in the market, resorted to expansions of their manufacturing and distribution facilities around the world.

In-depth report on global fertilizer additives market by Grand View Research:
https://www.grandviewresearch.com/industry-analysis/fertilizer-additives-market