Industry : Renewable Chemicals
Isosorbide is diol derived from the bio-based feedstock, and it has immense potential to replace various synthetic polymers. The quest to replace synthetic plastics with bio-based plastics has been prompting capacity additions. This trend has gained significance over the past few years with rising environment concerns regarding toxicity of synthetic polymers and shifting consumer preference towards green alternatives.
A major consequence of the isosorbide market is witnessed in the steady supply of key raw materials owing to its over lapping with other vital application, which has hampered the profit margins of producers. However, the novel application of isosorbide in PET, polycarbonate, and polyurethane has been perceived as a huge opportunity for the manufacturing companies to expand their production. Recently, Roquette announced the commencement of isosorbide production at its new facility in Lestrem, France with an annual production capacity of 20 kilo tons.
"Abundant raw material supply to further enhance production capabilities"
Isosorbide is a bio-product derived from starch extracted from various sources such as corn, maize, wheat, potatoes, etc. Various companies further utilize their self produced starch to manufacture a wide range of bio-based products. Sorbitol is one of the most widely used starch derivatives and is a major starting feedstock for isosorbide. Roquette is the largest producer of isosorbide which is present across the value chain.
Procurement of raw material is done through production contracts with farmers in regions where processing plants are located. Roquette is engaged in the production of starch, isosorbide, as well as biopolymers based on isosorbide for various end-use applications.
Isosorbide replacement potential

The high potential of isosorbide to replace synthetic intermediates is expected to boost the demand of the product in the coming years. Isosorbide can also be used to replace bisphenol-A (BPA) in plastics made from polycarbonates. Isosorbide diesters finds application in polymer such as PVC and has excellent plasticizing properties and the potential to replace phthalates in the coming years.
Isosorbide replacement potential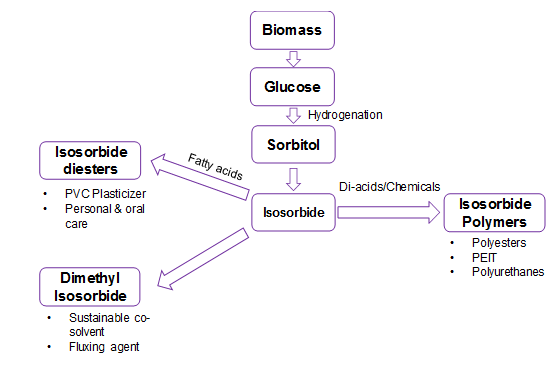 "PEIT- The application of focus for industries"
Ongoing research of PEIT has proven its potential to reduce the petroleum feedstocks as well as harmful emissions. Hence, the PEIT market is considered to be the most attractive market in the coming future.
Extensive ongoing R&D is expected to boost PEIT demand over the next six years. According to a research done under Iowa corn promotion board, introduction of isosorbide in polyethylene enhances its rigidity and strength. Increasing focus on bio-based chemicals has been leading to high investments in research and development and product innovation with environment friendly properties.
"Global isosorbide market- favorable scenario for new entrants"
Major chemical companies such as Mitsubishi Chemicals and SK Chemicals have been focusing on production of polymers based on isosorbide. Growing environmental concerns regarding the use of synthetic polymers has been prompting the EPA to implement stringent regulations, which in turn has been pushing leading biotechnological and polymer companies to develop new technology using eco friendly raw materials.
Major chemical and biotechnology companies such as Roquette have been shifting their manufacturing bases to low cost countries such as China, India, Thailand and Indonesia. Incessant research on isosorbide applications in functional polymers has been prolific and has resulted in a number of companies adopting methods for efficient use of isosorbide as a monomer or additive.

In-depth report on global isosorbide market by Grand View Research:
https://www.grandviewresearch.com/industry-analysis/isosorbide-industry