Industry : Paints, Coatings & Printing Inks
The worldwide medical device coatings market will witness growth owing to rising usage in various sectors including cardiovascular, general surgery, neurology, dentistry and gynecology owing to its biocompatibility, excellent lubricity, and low friction.
Medical device coatings are commercially available in different product types that include hydrophilic, antimicrobial, drug-eluting, and anti-thrombogenic. Hydrophilic coatings aid in improving patient comfort when applied to guidewires, catheters, and other short-term implanted devices, which is expected to witness significant growth over the forecast period.
Unhealthy lifestyle and the ignorance of oral hygiene are expected to increase the prevalence of teeth and cavities related disorders, thereby increasing the demand for dental surgeries, which will fuel industry growth over the next nine years. The introduction of silver nanoparticles as a coating material will drive the medical device coatings market over the forecast period.
Germany medical device coatings market revenue, by product, 2015 (%)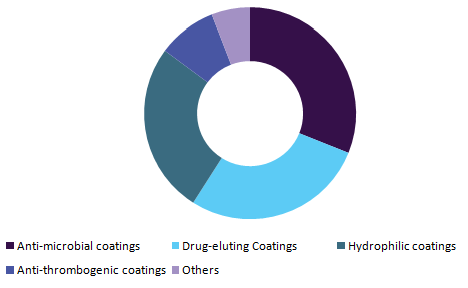 The growing population and increasing health awareness coupled with the occurrence of hospital-acquired infections are expected to drive the usage of the product in various medical equipment such as surgical lasers, sutures, vascular grafts, pacemakers, orthopedic pins, and catheters. Increasing demand for implantable devices to replace, support, and enhance damaged biological structures in human beings will aid in the market development.
The rising demand for antimicrobial coatings in catheters, implantable, and surgical instruments as they are biocompatible, non-toxic, and biostable will promote industry development over the next nine years. Furthermore, the presence of the main medical equipment players including GE Healthcare Technologies, Johnson & Johnson, Baxter International Inc., Medtronic, and Stryker Corporation is likely to increase industry size.
North America was the dominant market and will show a steady rise in light of rising medical sector owing to aging population, high per capita income, and modernized healthcare infrastructure in the U.S. over the upcoming years.
Asia Pacific is expected to witness significant gains over the forecast period on account of rising healthcare sector in various countries including India, China, Singapore, and Thailand. Improving healthcare facilities, consumer healthcare awareness levels, and rising disposable incomein emerging economies of China and India will promote growth over the next nine years.
Favorable government initiatives such as the "Healthcare Service System (2015–2020)" in China will encourage the development of healthcare sector in the country, which in turn, will create growth opportunities over the next nine years. Furthermore, cheap labor cost along with the presence of hydrophilic coatings players in the country will augment market growth.
Medical device coatings market players are investing heavily in research and development to maintain its overall share. Key industry players include Hydromer Inc., Materion Corp., DSM Biomedical, Sono-Tek Corp., Biocoat Inc., SurModics Inc., Specialty Coatings Systems Inc., Bayer Material Science LLC, and AST Products Inc. In January 2016, Vention Medical Partners entered into a partnership with DSM to offer hydrophilic lubricious coatings for catheters.

In-depth report on global medical device coatings market by Grand View Research:
https://www.grandviewresearch.com/industry-analysis/medical-device-coatings-market