Organic trace minerals are added to animal feed in order to improve its quality. They are made by connecting minerals to organic molecules such as polysaccharides and amino acids. Organic trace minerals are also referred to as chelates.
A large number of raw material suppliers are present in the market. Korea Zinc Group, Nyrstar, Codelco, and BHP Billiton Ltd. supply raw materials, such as zinc, copper, iron, and manganese, to this industry. The market is driven by the growing demand for animal feed.
Increasing per capita consumption of meat was one of the major factors propelling the growth of organic trace minerals. In 2016, Australia was the largest consumer of meat with 93 kg per capita, followed by the U.S. which recorded a consumption of 91.1 kg per capita.
Global animal feed organic trace minerals market, by region, 2016 (%)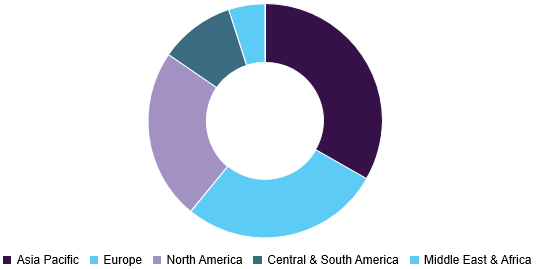 Asia Pacific witnessed the highest demand for organic trace minerals in animal feed in 2016 owing to high demand from the poultry and swine segments. This region was characterized by the availability of cheap labor and abundant raw materials. An increase in the demand for organic trace minerals from China, India, and Japan has played a key role in the growth of the market in this region.
North America, which accounted for 23.6% of the global demand, was one of the largest consumers of compound feed in the dairy cattle segment in 2016. Major organic trace mineral manufacturers, including Alltech, Inc.; Archer Daniels Midland Company; Cargill, Inc.; and Kemin Industries, are headquartered in this region.
The dairy cattle segment is projected to grow at a CAGR of 4.8% from 2017 to 2025. Certain factors such as production efficiency, cost control, and scale of operation determine the profitability of this industry. New technologies and systematic supply chain management have driven the dairy industry globally. Growing market for products such as butter, yogurt, ice cream, and cheese has provided a boost to this segment, which, in turn, has positively impacted the demand for organic trace minerals.
The market is characterized by the presence of a large number of manufacturers having a strong technical know-how and dense distribution networks. Biochem; Tanke Biosciences Corp.; Kemin Industries, Inc.; Mercer Milling Co., Inc.; Novus International, Inc.; Royal DSM NV; and Zinpro Corp. are some of the well-known players competing with the global manufacturers, such as Archer Daniels Midland Co. and Cargill, Inc., which dominated the market in 2016.

In-depth report on global animal feed organic trace minerals market by Grand View Research:
https://www.grandviewresearch.com/industry-analysis/animal-feed-organic-trace-minerals-industry