Industry Insights
The global lysine market size was valued at USD 745.2 million in 2014 and is expected to expand at a CAGR of 7.2% over the forecast period. Lysine is a type of amino acid that is vital for both humans and animals. However, human/animal bodies are not capable of producing lysine naturally, which is expected to increase the product demand. It is essential for proper growth and development of monogastric organisms.
Lysine plays an important role in animal nutrition as it is a part of many metabolic processes. Microbial fermentation of sugar substrate is the industrial method of lysine production. However, feedstock supply shortage has been forcing manufacturers to consider the potential of other raw materials, such as cassava and methanol, for production of lysine.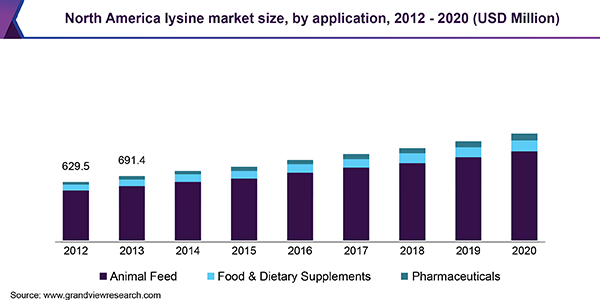 Rise in global meat consumption, especially in emerging countries, along with booming population and increased wealth, will drive the demand for lysine in the animal feed sector. In order to meet these requirements, animal feed will be required for quick growth of animals. This is well supported by lysine as it helps animal gain weight faster by drawing nutrients from limited feed and still be delivered as quality meat.
Bone meal and blood meal bans in many regions, coupled with increasing feed prices, have helped in the growth of the global market. This has resulted in increased lysine usage as a substitute in animal feed. Moreover, lysine provides an economical and efficient substitution for costly feeds to both farmers and animals and has less environmental after-effects concerning nitrous excretion. Due to growing lysine demand, it is unable to make available sufficient raw material for the production to meet the demand, turning it into a sellers' market.
Tight feedstock supply leading to increasing prices is expected to affect demand, and government intervention may be encountered, affecting the profitability of market participants. This situation can also lead to consideration of other available options of amino acids feeds like tryptophan, methionine, and threonine. Manufacturers have been focusing on increasing their R&D expenditures to maximize capacity and minimize costs to overcome such challenges. In addition, the slump in demand for meat due to outbreaks (avian flu and swine flu) can affect the demand for lysine in sluggish feed market.
Application Insights
Animal feed emerged as the largest application segment for lysine and accounted for 92.5% of total volume in 2014. The segment is also expected to be the fastest growing application segment at an estimated CAGR of 6.2% over the forecast period. This can be attributed to the low cost and efficient substitution that lysine provides in place of costlier crude proteins like soybean and corn.
Food and dietary supplements are expected to penetrate the market at a considerable rate over the next couple of years. Increasing health awareness, coupled with ageing population, is expected to fuel demand for food and dietary supplements and in turn, augment lysine market growth. Rising demand for sports nutrition supplements from athletes is expected to remain a major driving factor for the application segment. Population expansion, coupled with rising living standards in emerging economies, is likely to positively impact the demand for food and dietary supplements, thus augmenting market growth.
Livestock Insights
In the year 2014, the swine/hog segment held a share of about 57.9% of total volume. In addition, the segment is expected to be the fastest growing livestock segment for lysine at an estimated CAGR of 6.5% over the forecast period. Growing demand for pork meat, mainly in China, is expected to boost the segment growth.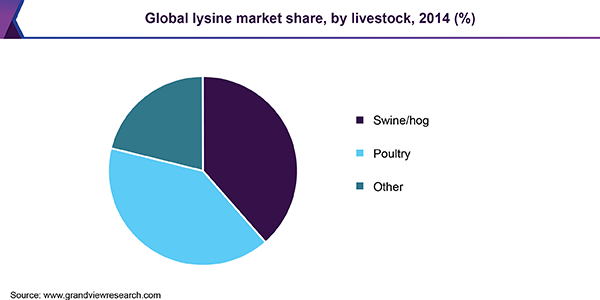 Poultry emerged as the second largest livestock segment in the year 2014. Lysine is extensively used in poultry diet to improve flock performance and ensure balanced nutrition. Supplementing lysine to poultry promotes the meat quality and weight gain. One of the major factors contributing to the growth of this segment is increasing poultry meat consumption around the world. Increasing demand for processed chicken meat, coupled with necessity for meat quality improvement, is projected to foster the industry growth over the forecast period.
Regional Insights
In 2014, China was the largest consumer of lysine, accounting for a 31.0% share of total consumption. In terms of consumption, China was followed by Europe and North America. China is also expected to be one of the fastest growing markets at an estimated CAGR of 7.0% over the forecast period.
Growing meat consumption in Brazil and Mexico is expected to fuel demand for lysine in Latin America. Brazil is the leading feed producer in Latin America and is the third largest globally. The country currently produces nearly 70 million tons of feed, which is primarily used in poultry and cattle. However, recent stagnation in feed production might hamper the product demand in the near future, while the long-term growth is highly positive considering increasing poultry and beef exports.
Mexico's trade relations with U.S. and Canada have significantly influenced production landscape of the country, which also includes production of animal feed products. The country is the world's fourth largest feed producer and has been expanding through exports to other American countries. The country's feed production increased to nearly 14 million tons in 2014, with the landscape dominated by integrators. Such factors are expected to positively influence the market growth over the forecast period.
Lysine Market Share Insights
Companies in the industry serve diverse end-use industries such as animal feed, food and dairy sector, and pharmaceuticals. Few of these companies have highly integrated supply chain that enables them to reach a broader customer base. They ensure an established network of supplier and distributor that have good reputation and high regional presence to cater to the niche markets.
The market is concentrated with top four manufacturers: Global Bio-Chem Tech, Ajinomoto Ltd., Cheil Jedang Corp., and Archer Daniel Midland (ADM) capturing over 60.0% of the market share in terms of production capacity. Other participants accounting for 40.0% share include Evonik Industries, COFCO Biochemical (Anhui) Co. Ltd., Shandong Shaouguang Juneng Golden Corn Co. Ltd., and Changchun Dacheng Group.