Thermal insulation helps to cut down energy consumption in buildings by eliminating heat gain or loss through the building envelope. They are widely used as construction materials and are known to have low thermal conductivity, often lower than 0.1W/mK. The main purpose of these materials is to conserve energy and facilitate comfort to occupants. Thermal insulation for building comes in various shapes, forms, etc. and are widely used for roof, floor, walls, etc.
Apart from variations in colour, texture, surface finish, etc., thermal insulation materials also vary in performance. Even though the material specification is mostly dependent upon the nature of the application, it is important for manufacturers and contractors to study the peripheral factors which are likely to influence the final installation decision.
Building thermal insulation market volume share by product, 2015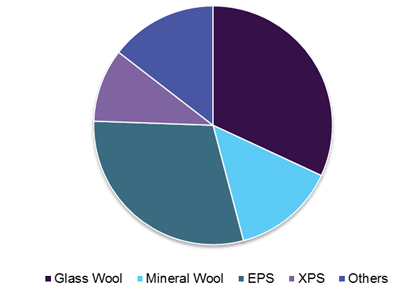 With technological development, thermal insulation materials have undergone subsequent changes resulting in products facilitating improved thermal efficiency. Implementation of legislations focusing on energy efficiency has played a key role in developing thermal insulation materials that are in accordance with carbon reduction targets set by governments and mainly driven through programmes such as BREEAM, the Code for Sustainable Homes, etc.
How does this technology aid socio-economic development and environmental protection?
The primary aim of thermal insulation products in buildings is to provide the occupants with thermal comfort. This results in healthy living conditions thus resulting in improved productivity at workplaces. Thermal insulation also reduces unnecessary heat loss or gain resulting in reduced energy demand for cooling as well as heating requirements for buildings and thus lowering the GHG emissions.
Implementation of thermal insulation in buildings has provided the necessary economic stimulus in various regions across the globe. For example, In Europe alone, there were over 200,000 employees, actively involved in the value chain for materials derived from cellular plastic products such as ISOPA, Polyurethanes, etc. Business opportunities in developed countries will be dependent on the implementation of energy efficiency codes which till date have been limited to high rise buildings. Also, if programmes such as North-South transfer, South–South transfer are implemented then it will positively impact the employment scenario in emerging markets.
Future Scope of the Technology
Thermal insulation products have seen an increasing demand in temperate regions. In most of the developed countries, regulations with an onus on improving the energy efficiency and cutting down GHG emissions results in constant demand for these materials and thus the market is likely to register a steady growth in coming years.
In regions with hot and humid conditions, the demand is limited as in these regions natural ventilation is used as an appropriate strategy to achieve thermal comfort. In context with above mentioned climatic conditions, application of thermal insulation is not widespread and thus the use of an air gap to prevent heat gain from the sun is found to be adequate. Technologies such as aerogels, evacuated panels are known to facilitate better performance, but owing to their higher costs are limited to niche applications.

In-depth report on global building thermal insulation market by Grand View Research:
http://www.grandviewresearch.com/industry-analysis/building-thermal-insulation-market