Home is where the love resides, memories are created, friends and family belong and laughter never ends.
A home has a very special place for each and every person in the world. It is one place where you can be as you are and be comfortable with it. Talking about comfort, it is of utmost importance that home has a comfortable atmosphere; and to make that happen, among several other things maintaining the temperature of the house in the apt range is of great significance.
To maintain the temperature of the house in the comfort range, several appliances are used such as heaters, air conditioners among others, leading to increase in the consumption of energy and spurt in the energy consumption cost. These downsides can be alleviated by the usage of special building materials, which can thermally insulate the buildings, doing away with the usages of the appliances. These causes has driven the demand in the Building Thermal Insulation Market and it is expected to reach USD 38.95 billion by 2025, at a CAGR of 4.8%, according to a new report by Grand View Research, Inc.
Types Of Thermal Insulation Material
Thermal Insulation is the reduction in transfer of thermal energy between two or more objects in thermal contact or radiative influence, having differing thermal temperature. This phenomenon helps to reduce the loss or gain of heat by the building, which leads to maintaining the apt temperature even in challenging conditions. It also helps reduce the dependency on Heat, Ventilation, and Air Conditioning (HVAC), thereby lowering the overall energy consumption. To accomplish this, several types of insulation materials are used for construction of the buildings. Those materials are:
Apart from variations in color, texture, surface finish, etc., thermal insulation materials also vary in performance. On the basis of all the factors taken into consideration, Expanded Polystyrene (EPS) has highest demand in the market, due to its excellent thermal insulation properties, long life span, non-toxic, rot-proof and recyclable nature. Market share of building thermal insulation market, according to its materials can be better understood by the pie-chart below.
Building thermal insulation market volume share by product, 2015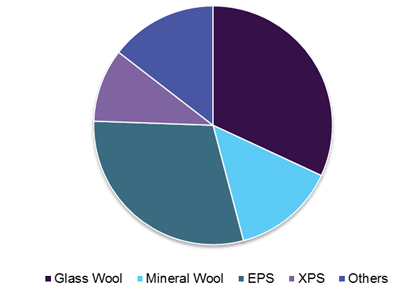 Factors At Play
Thermal insulation has been gaining grounds in the world, riding on many factors. Some of these factors contribute to the ever growing demand; others pose an inhibiting effect of the market.
Environmental changes in the years have been proved to be a great booster to the demand for the materials. Stricter regulations by several countries of North America such as U.S (EPA), Canada and European countries have proved to be helpful.

Less carbon footprint goes a long way in saving our environment by halting the imminent danger of climate change in its path.

Cost reduction in the energy usage, due to less energy consumption is one of the most important factors for the major shift towards the thermal insulation.

Being recyclable adds onto the fact that these materials are pro-environment and their usage will go a long way to save Mother Nature. Increasing preference for green, biodegradable and recyclable products by homeowners, architects, and businesses, owing to increasing environmental awareness is expected to boost the growth of the market.

High costs of certain materials prove to be a hindering factor for the growth, as those materials are only used in the niche applications.
How Does This Technology Aid Socio-Economic Development And Environmental Protection?
The primary aim of thermal insulation products in buildings is to provide the occupants with thermal comfort. This results in healthy living conditions thus resulting in improved productivity at workplaces. Thermal insulation also reduces unnecessary heat loss or gain resulting in reduced energy demand for cooling as well as heating requirements for buildings and thus lowering the GHG emissions.
Implementation of thermal insulation in buildings has provided the necessary economic stimulus in various regions across the globe. For example, In Europe alone, there were over 200,000 employees, actively involved in the value chain for materials derived from cellular plastic products such as ISOPA, Polyurethanes, etc. Business opportunities in developed countries will be dependent on the implementation of energy efficiency codes which till date have been limited to high rise buildings. Also, if programs such as North-South transfer, South–South transfer are implemented then it will positively impact the employment scenario in emerging markets.
Future Scope Of The Technology
Thermal insulation products have seen an increasing demand in temperate regions. In most of the developed countries, regulations with an onus on improving the energy efficiency and cutting down GHG emissions results in constant demand for these materials and thus the market is likely to register a steady growth in coming years.
In regions with hot and humid conditions, the demand is limited as in these regions natural ventilation is used as an appropriate strategy to achieve thermal comfort. In context with above mentioned climatic conditions, application of thermal insulation is not widespread and thus the use of an air gap to prevent heat gain from the sun is found to be adequate. Technologies such as aerogels, evacuated panels are known to facilitate better performance, but owing to their higher costs are limited to niche applications.

In-depth report on global building thermal insulation market by Grand View Research:
http://www.grandviewresearch.com/industry-analysis/building-thermal-insulation-market