I believe that the greatest gift you can give your family and the world is a healthy you. - Joyce Meyer
Health is and will always be considered as the most important wealth a person can have. Good health makes a person fully capable of enjoying every wonderful moment of his or her beautiful life. However, it's also a truth that people fall sick and get bereaved of some of those beautiful moments of their lives. Sickness and ill health takes a large toll on people's lives, quite evident from the COVID-19 pandemic. In these times, healthcare facilities like clinical laboratory testing boost the doctor's ability to help the patients.
Clinical Tests: The Base For Diagnosis And Prevention Of Fatal Disorders
Clinical laboratory tests form an integral part of the healthcare industry, as approximately 80% of diagnoses by healthcare professionals are laboratory-based. The shortened length-of-stay at hospitals and reduced contact between a patient and the concerned physician has increased the demand of clinical laboratories. Rising demand for early detection, especially for gynecological, oncological, and endocrinological diseases, is expected to drive Clinical Laboratory Tests Market growth, such that from its market size of USD 176.7 billion in 2019, it is expected to grow to USD 304.9 billion by 2027 at a CAGR of 7.1%, according to a new report by Grand View Research, Inc. Other drivers are growing global geriatric population base and the introduction of various innovative solutions.
Importance Of Clinical Tests In Healthcare
Clinical laboratory tests are a set of individual and panel of tests for diagnosis of various diseases occurring due to irregular cell count, electrolyte deficiency, dyslipidemia, and chemical imbalance. A wide range of clinical tests that provide medical practitioners with the ability to detect disease progression include blood and urine tests ranging from simple to complex, and various medical chemistry panels to molecular expression genetic analysis.
A global increase in the demand for clinical laboratory tests is a direct consequence of the need by medical fraternity to gather and process patient-related medical information for use by physicians and healthcare providers, to impart accurate preventive measures and treatments. Hence, clinical tests are an indispensable part of all medical diagnostic techniques and almost all medical diagnoses are dependent on the results of clinical laboratory tests.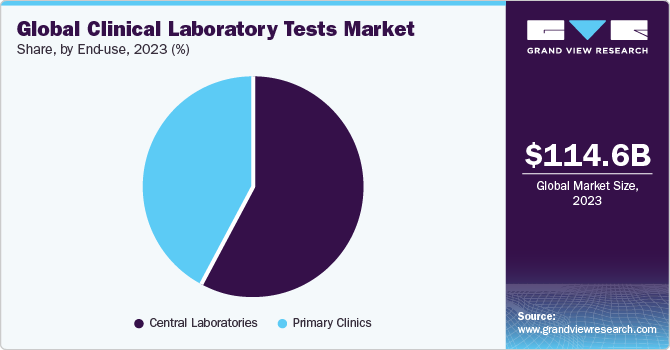 One Panel For Many Applications
The Basic Metabolic Panel (BMP) is a bundle of seven or eight blood tests, which provides information about the body's metabolism. It provides key information regarding kidney functioning, electrolyte status, blood sugar level, and response to medications. This panel also helps in finding the blood level of calcium, blood urea nitrogen, chloride, carbon dioxide, creatinine, potassium, glucose, and sodium.
On the contrary, Comprehensive Metabolic Panel (CMP) includes tests such as kidney function assessment, protein test, and liver function assessment, in addition to BMP. Hence, depending on the need of diagnosis, a medical practitioner can ask for CMP, a group of 14 tests inclusive of BMP.
Rising blood cholesterol levels amongst adults and a consequential increase in the body disorders caused by abnormal lipid levels and cardiac problems is the major factor contributing to the growth of lipid panel. Moreover, rapidly increasing penetration of lipid diagnostic tests in the emerging Asia Pacific and Latin American markets is expected to drive growth during the forecast period.
Regional Insights
North America has dominated the clinical laboratory tests market in 2019 and is expected to continue dominating it in the future, owing to the growing penetration of the advanced diagnostics market, increasing geriatric population and increasing rate of cancer.
Asia Pacific has been growing at the fastest rate on the back of increasing healthcare infrastructure and the boost in healthcare investment by the countries like China and India. Along with it, advances in the diagnostic techniques, presence of untapped opportunities in the form of unmet medical needs, positive economic growth, and increasing avenues of scientific research are some of the primary drivers in the regional market.
Lucrative Competitive Landscape
The global clinical laboratory tests market is dominated by key market players like Abbott; ARUP Laboratories; OPKO Health, Inc.; Bioscientia Institut für Medizinische Diagnostik GmbH; Charles River; NeoGenomics Laboratories, Inc.; Genoptix, Inc.; Healthscope Ltd.; Labco; Laboratory Corporation of America Holdings (LabCorp); Fresenius Medical Care; QIAGEN; Quest Diagnostics; Siemens Healthcare Private Limited; Tulip Diagnostics (P) Ltd.; Sonic Healthcare; Merck KgaA; and Biosino Bio-technology and Science Inc.. The companies are focused on mergers and acquisitions with an aim to enhance their product portfolio. For instance, Charles River acquired MPI research in 2018, a premier non-clinical contract research organization that provides comprehensive testing services to different biopharmaceutical and medical devices companies. Moreover, the companies are expanding geographically to cater to the clinical testing market. For instance, BioSino Bio-Technology & Science Inc. collaborated with Abbott to increase market penetration in Canada
Industrial Advancements
Charles River Laboratories has agreed to acquire HemaCare for $380 million, in a deal designed to expand the buyer's capabilities by offering cell therapy developers and manufacturers a solution taking them from basic research through commercialization.

NeoGenomics, Inc., a leading provider of cancer-focused genetic testing services, announced that it has completed the acquisition of the parent company of Genoptix, Inc. for $125 million in cash, as adjusted by working capital and other adjustments, and 1 million shares of NeoGenomics common stock.

NeoGenomics, Inc., a leading provider of cancer-focused genetic testing services, announced that the company has acquired the Oncology Division assets of Human Longevity, Inc. for $37 million.

Brookfield Business Partners L.P. together with its institutional partners, announced that it has closed the previously announced acquisition of Healthscope Limited, the second largest private hospital operator in Australia and the largest pathology services provider in New Zealand, for approximately $4.1 billion.

In-depth report on global clinical laboratory testing market by Grand View Research:
https://www.grandviewresearch.com/industry-analysis/clinical-laboratory-tests-market