Fragrance & flavor fixatives are widely used in different sectors such as cosmetics, skincare, haircare and homecare products. Fixatives restrict the volatility of fragrance components and help prolong the longevity of the aroma in perfumes, which is a crucial factor determining the product's success in an increasingly competitive world.
Fixatives possess characteristics such as high rate of diffusion, high solubility & chemical inertness. They also help equalize vapor pressure of the raw ingredients used in a perfume and extend their tenacity, which is expected to contribute to industry growth.
The accelerated expansion in the cosmetics & personal care industry has had a major impact on the market in recent years. Increasing per capita income has translated directly into higher spending on luxury goods & prestigious brands.
Furthermore, rising standard of living in emerging economies across Asia Pacific, Latin America and Eastern Europe has contributed to the demand for perfumes, cosmetics and other products that utilize fixatives to a large extent.
Nowadays, people are more conscious about their personal appearances. Perfumes have become a part of self-reliance, confidence, and pride of an individual. This has led to product diversification in the cosmetics and personal care industry introducing a variety of body washes, moisturizers, nourishment creams, body soaps, laundry detergents of different scents.
The men's fragrance segment is also expected to witness rapid growth as personal grooming has become a priority for all men. In the past, the men's market was restricted to aftershave scents; However, innovative products are being designed for specific occasions for men, leading to an increase in market share in recent years.
People are also becoming aware of the therapeutic and aesthetic benefits of cosmetic products. The growing demand for celebrity, exotic fragrances, floral and youth-oriented perfumes is expected to accelerate market expansion over the near future.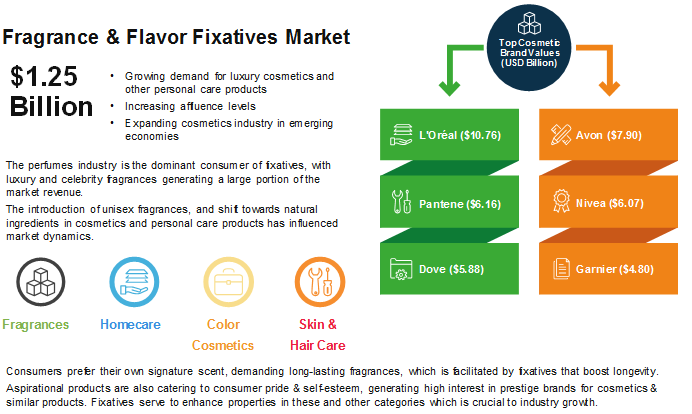 Such boosters & enhancers were conventionally prepared using natural ingredients from animal-derived sources such as compounds from sperm whale intestines. However, such ingredients have recently attracted the wrath of environmentalists and other agencies that seek to preserve & protect such endangered species. This has driven the shift in trend towards synthetic substitutes manufactured from chemical sources, leading to a decline in the share of natural fixatives.
Men's Premium Fragrances Revenue, 2012-2014, USD Billion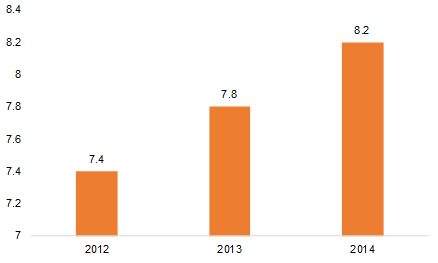 In-depth report on global fragrance fixatives market by Grand View Research:
https://www.grandviewresearch.com/industry-analysis/fragrance-fixatives-market