Healthcare - A critical sector. Internet of Things - A technology growing exponentially. Internet of Things in Healthcare - A winning combination?
Imagine you have an appointment with your doctor, let's say, for a routine check-up or follow-up. However, there are certain circumstances which may not allow you to travel on that particular day. The doctor tells you, "Well, Sir, I am sorry but I won't be available for a month from now on, so your follow up might be too late." Well, unlucky you that you will miss the appointment. If only there was a way that the doctor could have remotely monitored you….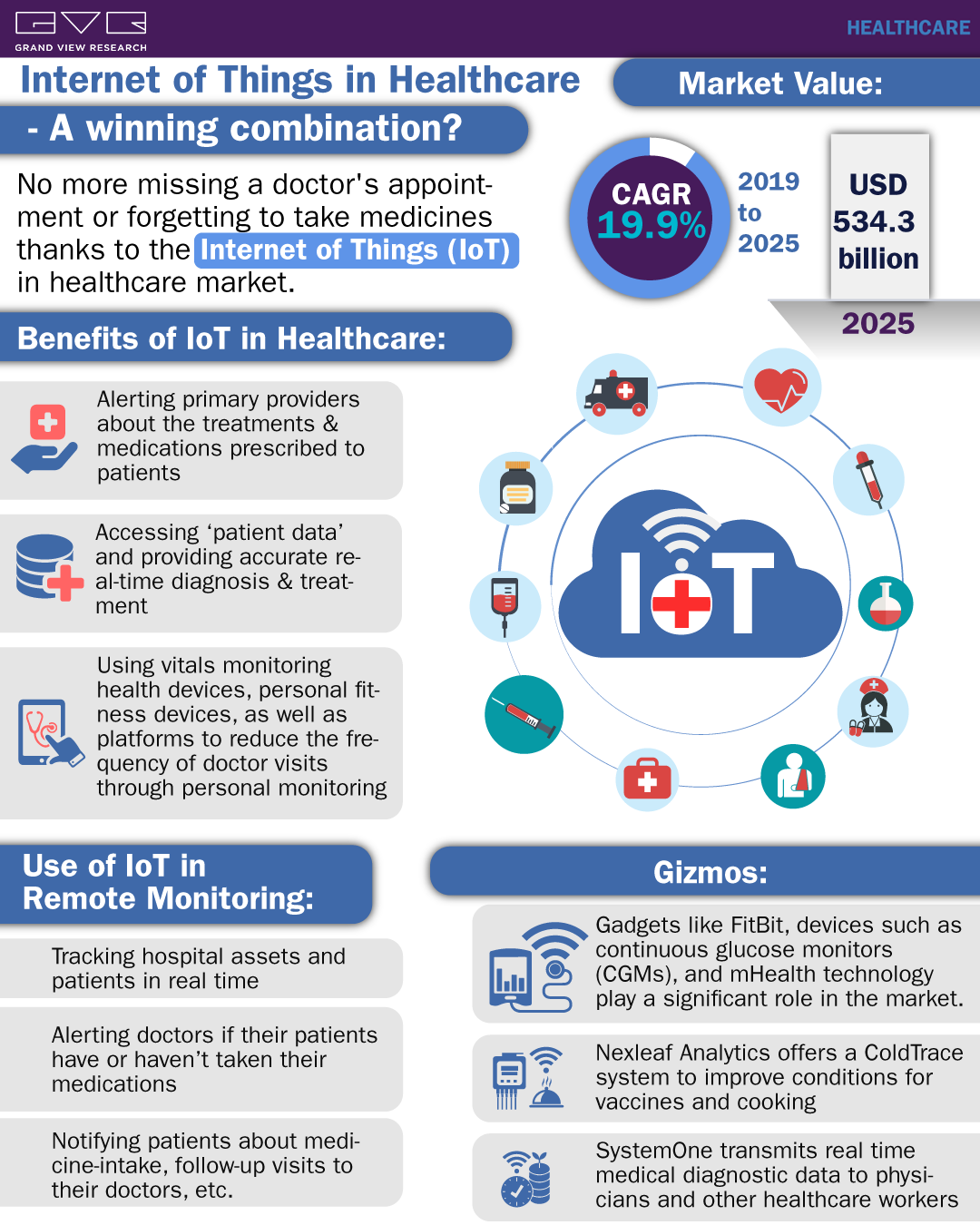 Oh wait, there is a way! That comes in the form of the all-too familiar term of IoT (Internet of Things), that technology buzzword that has pervaded every possible sector around the globe, to varying degrees of success. Healthcare remains one of THE most critical sectors, and it's only natural that Internet of Things in healthcare will be having a huge impact. Another example: Some people (correct that to most!) forget to take their medicines on time and rarely remember their doctor's appointment. This often slows down their recovery. How to tackle this issue? Again, IoT! The functioning of medical institutions has gotten simpler and more streamlined, with the Internet of Things (IoT) in healthcare market reaping rewards from its extensive usage in the field.
What is IoT?
Let us first have a brief understanding of IoT. Internet of Things is a network of interconnected devices. These interlinked devices are embedded with sensors, network connectivity, software, & other electronics that allow them collect & exchange data, making them communicable & responsive. IoT can carry out a lot of duties, in a lot of key industries, from a biochip transponder in a livestock, to a heart monitor implant in a person, or even a 'built-in' sensor in a tire (alerting the driver of tire pressure).
Internet of Things in healthcare profits every stakeholder in the system, i.e., the physicians, the hospital, the health insurance companies, and most importantly, the patients. For physicians, helping in keeping track of the patient's health; for hospitals, the real-time tracking of medical equipment and supplies; for insurance companies, the use of data from health monitoring devices regarding underwriting and claims operations, which ensures transparency; and for the patient, personalized attention and constant health tracking.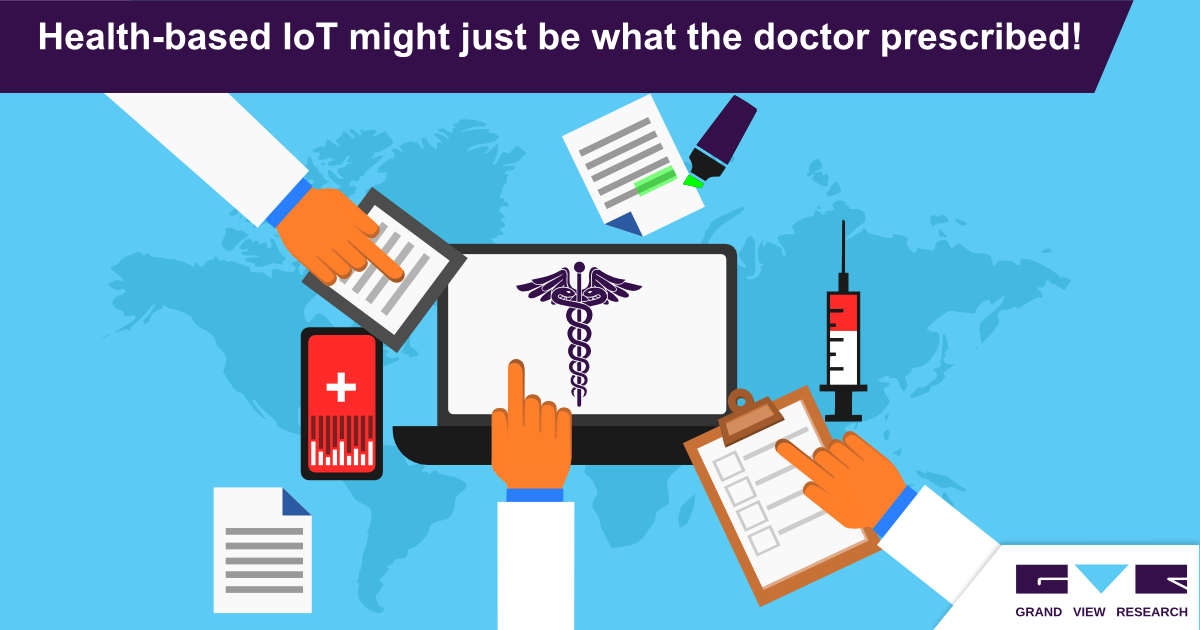 Use of IoT in Healthcare & Accurate Prognoses
Records are made every time patients visit healthcare facilities, hospitals, or doctors. Limited access to these records can cause loss of some integral data. Internet of Things in healthcare alerts primary providers about the treatments & medications prescribed to patients. The internet is witnessing innovations and has abundant information. It connects patients and medical professionals with others worldwide. IoT can access 'patient data' and provide accurate real-time diagnosis & treatment.
Consumer healthcare involves vitals monitoring health devices, personal fitness devices, as well as platforms to reduce the frequency of doctor visits through personal monitoring. A recent Pew Research survey found that 1 in 5 Americans use a smart watch or fitness tracker to monitor their health, and this number rises to 1 in 4 when considering the working population in the age group of 18-49 years. This, along with the growing usage of mHealth, has made it easier for doctors and physicians to understand the current health conditions of their patient.
Remote Monitoring
Apart from giving out diagnosis and treatment on time, Internet of Things in healthcare also tracks hospital assets and patients in real time. Wearable medical devices are used to identify & monitor patients' medical data. They also remind & alert patients & those around, of their medications or unnatural health emergencies.
Moreover, the use of IoT in healthcare alerts doctors if their patients have or haven't taken their medications. It can record & track patients' glucose levels. Transparency between doctors and patients helps avoid health risks. It notifies patients about medicine-intake, follow-up visits to their doctors, etc.
Remote monitoring also provides better safety and security to the patient, in terms of the digital data. This is made possible through sophisticated network protection tools and techniques. Additionally, with the rising usage of FitBit and mHealth technology, patients demand that they be given this mobility option, which can help in better customer satisfaction.
Gizmos
'Internet of Things' entails the use of electronic gizmos to track patients' health. Adoption of gadgets, like smartphones & other smart devices assists in maintaining, tracking, & sharing health history, and this is a critical aspect ensuring the success of IoT in healthcare sector.
With the number of diabetic and heart ailment patients on a continued rise, and WHO stating that 2016 saw approximately 1.6 million deaths from diabetes globally, there is an urgent need to make use of gadgets that can monitor health conditions among such patients. Devices such as continuous glucose monitors (CGMs) prove of huge help in this regard.
Telemedicine was the biggest application segment for the IoT in healthcare industry in 2017. Use of technology has seen doctors being able to contact and monitor their patients through high quality video-conferencing tools. The successful implementation of IoT and telemedicine can be achieved through operability testing and updating, gauging site readiness via communications, anticipating downtime and maintenance, proper device selection, security, and device testing and support.
Market Outlook
The Internet of Things in healthcare market is expected to be worth USD 534.3 billion by 2025, according to Grand View Research, Inc. North America dominated the market in 2018, with the region largely driven by its technological advancements, medical infrastructure, legislative initiatives and high disposable incomes.
Many organizations are implementing IoT in healthcare in unique ways, such as Nexleaf Analytics, a California based company that offers a ColdTrace system to improve conditions for vaccines and cooking; SystemOne, a barcode and label systems specialist that transmits real time medical diagnostic data to physicians and other healthcare workers; and Aclima, which has teamed up with Google, the Environmental Defense Fund and the University of Texas researchers to deeply understand the air quality patterns in towns and cities across the globe.
Competitive Analysis
Philips, Microsoft, IBM, Cisco, and Cerner are some of the major players in the global Internet of Things in healthcare market. Specialized product developments, research collaborations, and acquisitions are the key strategies adopted by market competitors to gain an edge over others.
Some of the recent developments in the Internet of Things in healthcare market include:
In March 2020, Philips launched the 'HealthSuite Systemof Engagement', which offers cloud-based managed AI workflow and DICOM interoperability through an integrated and modular set of standards. The system offers IoT, HIPAA-compliant Data Management and Identity and Access Management capabilities.

In February 2020, CyberMDX, which provides medical cybersecurity solutions, completed an integration certification for the Microsoft Azure Security Center for IoT, which would integrate detection and visibility capabilities of the former to receive intelligent clinical context security analytics.

In December 2019, Cerner partnered with Medigate, a specialist in medical device security and asset management, to assist the healthcare customers develop a stringent network security and manage security demands on different devices.

In-depth report on global internet of things (IoT) in healthcare market by Grand View Research:
https://www.grandviewresearch.com/industry-analysis/internet-of-things-iot-healthcare-market