Industry Insights
The global air compressor market size is expected to exceed USD 37 billion by 2022. Increasing adoption of remote sensing technology to monitor performance is expected to contribute to market growth over the forecast period. Strong demand from food & beverage industry, mainly due to mandates on food safety and health requirements is projected to drive growth. Low maintenance, retrofitting of existing systems, efficient operation at lower costs, and rising adoption of variable-speed systems are some of the other factors driving demand across key end-use industries.
China air compressor market by technology, 2012 - 2022 (USD Million)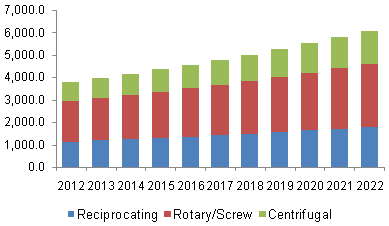 Emergence of next-generation compressed air systems with low-maintenance and eco-friendly features is foreseen to encourage the end-users to shift from traditional equipment to modern technology. There is an increasing demand for oil-free systems, which come with increased capacity. They can offer higher accuracy and efficiency along with easy installation and maintenance.
Single phase and two phase compressed air systems are increasingly accepted in the oil & gas, and home appliances industries. Additionally, there can be a significant cost saving by eliminating supplementary devices that balances out the higher investments in these instruments, which is expected to provide immense growth opportunities. However, prices of raw material are significantly mounting which has negatively impacted the air compressor market and this trend is expected to continue over the forecast period.
Technology Insights
Key technologies prevalent in the industry include reciprocating, rotary and centrifugal. Rising demand for portable products mainly in mining & construction activities is expected to drive demand over the next seven years. The centrifugal technology segment is expected to grow at a CAGR of over 4.5% from 2015 to 2022. Various features of these systems include built-in thermal overload for additional motor protection, cooler running pump, cast iron cylinder and oil-lubricated pump.
Reciprocating systems with dual cylinders and oil-free scroll offering improved productivity and performance is further projected to positively influence global air compressor industry growth. Technologically advanced receivers and dryers offer less system failure and also play a vital role reducing carbon footprints leading to the introduction of these products in varied industries.
Product Insights
Portable products are mainly used in mining and construction activities. Portable air compressors and generators are a reliable power source for machines and tools in the construction industry as well as for various industrial applications due to their convenience in transporting the equipment. The ease in handling these products has driven adoption in low-duty applications. They also require low maintenance as they have few wearing parts.
Lubrication Method Insights
Industry segmentation on the basis of lubrication includes oil filled and oil free. Oiled products require a form of lubricant to cool, seal or lubricate internal components. Proper lubrication ensures less electrical energy consumption by maintaining optimum temperature. Lubrication requirements vary considerably based on the type of gas that is being compressed, compressor and the environment in which it is used.
Principle of operation and limitation of technology used is crucial to the success of a correct application. Oil-free air is directly used in various locations in plants as power for manufacturing machines. In steel manufacturing, direct air is blown into the furnace for heating the steel and for cooling the rolled steel. In semiconductors and electronic, these products supplies air pressure for use in automatic control systems, for removing fine dust from the liquid-crystal screen surfaces, and for measuring instruments.
Application Insights
On the basis of application, the market segmentation includes semiconductors & electronics, food & beverage, healthcare, home appliances, energy, oil & gas, manufacturing and others. Other applications mainly include chemical, metal & mining and construction.
Manufacturing was the largest application in 2014 and is expected to continue dominating the industry over the forecast period. Suppliers mainly focus on products with oil-free, variable speed and other advanced features, which is critical to reinforce their competitive position in light and chemical industries.
Regional Insights
Asia Pacific air compressor market is expected to exhibit high growth on account of growing manufacturing facilities and infrastructure spending. Latin America and Middle East & Africa are expected to witness significant growth over the forecast period owing to changing regulatory scenario and growing awareness towards eco-friendly products.
North America and Europe markets are anticipated to decrease owing to end-use industry saturation. Widespread financial crisis and economic slowdown in Europe has adversely impacted the demand in this region.
Competitive Insights
Atlas Copco, Ingersoll Rand, Chicago Pneumatic, GE Energy, Bauer Group and BelAire dominate global air compressor market share. The industry is expected to remain innovation-led, with frequent acquisitions and strategic alliances. Application development, price competition along with competent distribution channels will be vital for competitive advantage.
Several vendors and manufacturers are concentrating on developing application specific systems, which are in sync with the requirements of the end users. Companies operating in the air compressor industry focus on establishing a wide distribution network and new product development initiatives. Strategic partnerships and acquisitions are also used for business expansion.