Industry Insights
The transition towards advanced safety systems is expected to drive the global automotive electronics market over the next six years. Accident data recorder systems, alcohol ignition interlocks, and emergency call systems are an example of technologies where future demand is expected to spur market growth.
Global automotive electronics market by application, 2012 – 2020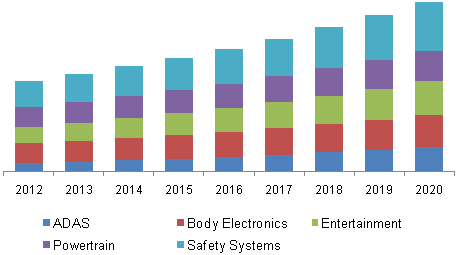 The European Union is expected to mandate a number of applications within the next few years. Low-speed collision avoidance systems and driver's assistance systems are anticipated to be among the popular technologies. Integration of map-enabled systems also provides diverse application options leading to advantages such as lane departure systems, driver assistance systems and intelligent front lighting systems enabled by united adaptive front lighting. Safety technologies also include usage data transmission, collision warning, speed alert, and map-supported adaptive front lighting. Lack of awareness about the overall understanding of the interplay of subsystems and difficulty of OEMs in maintaining and managing the process with embedded controllers that are manufactured by tier-1 suppliers is expected to challenge market growth.
Application Insights
Key application segments include safety, ADAS, powertrain, infotainment and body electronics. In order to curb the number of fatalities resulting from road accidents, regulatory boards of several countries have taken steps for incorporating safety devices in vehicles. Some of the essential devices used to ensure the safety of passengers include airbags, on/off switches for air bags, backup sensing system, electrochromatic mirror/auto dimming mirrors, energy-absorbing steering system, head restraints, heads-up display, padded knee bolster, and passenger sensing system.
Suppliers such as Continental AG along with OEMs are focused on providing low-cost ADAS for the compact and medium-sized car segments. The company introduced affordable ADAS systems such as driver monitoring systems, traffic sign recognition, and lane departure warning system. New Car Assessment Program (NCAP) in regions such as Europe and China has been mandating Automatic Emergency Braking (AEB) and Lane Departure Warning (LDW) systems for large-scale adoption of active safety systems.
Regional Insights
Asia Pacific is expected to continue accounting for the majority of the global market over the next six years. The government in China has promoted C-NCAP's safety assessments encouraging buyers to see a five-star rating as a guide to vehicle's quality. The U.S. Department of Transportation has mandated safety equipment such as a backup camera in all new vehicles, increasing vehicle costs by USD 200 for the new base models. The DOT also maintains Federal Motor Vehicle Safety Standards and Regulations (FMVSS), which prescribe crash-avoidance components hence reducing environmental pollution and gas consumption. Growing demand for more interactive systems such as embedded vision systems capable of real-time image tracking has gained prominence. There has been an increase in adoption of green technologies owing to stringent government regulations leading to decrease in modular platforms.
Competitive Insights
Continued pervasion of electronics into almost all of the main systems in vehicles is expected to drive market growth. Automakers are expected to increase the adoption of intelligent electronics which makes their vehicles environment-friendly and safe to drive. Key industry participants include Continental, Bosch, Denso, Delphi, TRW, Johnson Controls, etc.
The competitive nature of the industry has given rise to an emphasis on establishing strategic alliances with channel partners. Telematics features provide opportunities for tie-ins with insurers including discount offers for customers who drive safely. OEMs such as Mercedes are focusing on collecting vehicle and consumer data, which is a package of customer services covering financing, servicing, and vehicle purchasing along with short-term rentals available on multiple digital platforms.