Industry Insights
The global battery market size was USD 62.00 billion in 2014 on account of high demand from the automotive application. The automotive application includes rechargeable batteries used in electric vehicles and non-rechargeable batteries. Rising popularity of consumer electronics on a global level is expected to result in high lithium ion batteries over the forecast period. High demand for portable electronics including smart phones, LCD displays, tablets and wearable devices such as fitness bands propel battery market growth. The market is expected to witness significant growth on account of technological advancements in terms of product innovation, enhanced efficiency, and cost-effectiveness.
In 2015, electric vehicle batteries from Tesla and Nissan saw a price cut reaching USD 300 per KWH, hinting a cost parity with conventional vehicles. Stringent emission norms by governments of developed nations including the U.S. and the UK coupled with rising focus towards fuel efficiency is expected to propel market demand. Depleting fossil fuel reserves along with high CO2 emissions and favorable government initiatives are expected to drive battery market in the next eight years. Primary non-rechargeable batteries are widely used in light beacons, children's toys, remote controls, electronic keys, and watches. These are expected to witness a loss of share to rechargeable secondary batteries on account of enhanced lifespan and efficiency of the later. Emerging markets of Asia Pacific and Africa are expected to propel battery demand in electric bicycles and storage applications. Storage applications include load leveling in renewable energy sources including solar and the wind. Increasing automobile and aircraft production in emerging economies of Asia Pacific including India and China is expected to provide immense potential for market growth.
North America battery market revenue by product, 2013 - 2024 (USD Billion)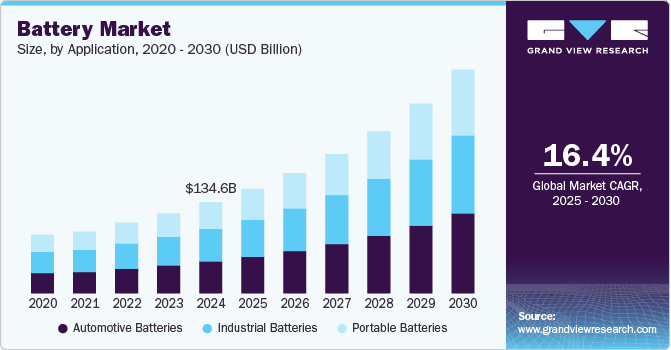 Product Insights
Lead acid battery accounts for a significant share of over 50% in 2015 on account of rising application in automotive, UPS, telecommunication, electric bikes and transport vehicles. High use of UPS devices in healthcare, chemical and oil & gas sector for continuous power supply will propel lead acid market demand. These batteries are used in critical applications on account of high reliability and low cost. However, lithium-ion batteries are expected to capture a significant portion of the lead acid battery over the forecast period on account of low energy density and high lead content.
Lithium-ion batteries are expected to penetrate lead acid battery applications including electric vehicles, plug-in electric vehicles, storage and automobiles thus, gaining a majority market share by 2024.
Application Insights
Automotive was the largest application on account of rising demand from electric vehicles, hybrid vehicles, and plug-in hybrid vehicles. SLI application in the automotive sector has contributed to high battery demand for starting, lighting and ignition of the vehicle. Industrial applications include forklifts and other material handling equipment; telecom, UPS, energy storage, emergency lighting, security, road signs, control & switchgear and medical. Rising population of the above-mentioned applications will directly result in high battery demand over the forecast period. Portable applications include high demand consumer electronics which are expected to result in significantly driving the market. This segment is projected to witness significant growth in terms of shipments, however, with small size and low revenues it does not contribute to a major portion of the market.
Regional Insights
Asia Pacific is a major consumer of batteries on account of rising automobile production coupled with rapid industrialization generating high demand. China and India are key manufacturing countries in the consumer electronics segment owing to the availability of skilled labor and low production and setup costs. North America and Europe are expected to witness significant growth on account of rising electric vehicle production. Nissan Leaf and Chevrolet Volt accounted for over 50% percent of the electric vehicles sold in the U.S. in 2014.
Ford Fusion and C-Max Energi along with Toyota Prius are leading plug-in hybrid electric vehicles in the U.S. Electric Vehicle Initiative encourages the adoption of electric vehicles on a global scale. It was launched in 2010 under the Clean Energy Ministerial with participating countries including UK, France, Spain, Portugal, U.S. South Africa, Denmark, Netherlands, Sweden, Finland, Germany, Italy, China, India, and Japan.
Competitive Insights
Lead acid battery market involves key players including Johnson Controls, Exide, GS Yuasa, Panasonic Corp and EnerSys. Johnson Controls is engaged in the manufacturing of lead acid batteries for various applications including automotive, aerospace, marine and industrial. The company also caters to application specific markets in different countries. It has established a number of brands such as Optima, MAC, Heliar, LTH and Varta in specific regions as per the specifications and requirements.