Industry Insights
Global conductive silicone rubber market size was worth USD 3,486.7 million in 2014. Electronic industry growth, particularly in Asia Pacific, is expected to fuel the demand for lighting as well as wire applications. In addition, rising importance of anti-static packaging for dust control during electric charge is expected to augment further industry growth over the next seven years.
Rising demand for lightweight automobile parts owing to improved fuel efficiency and lower emissions is expected to drive the conductive silicone rubber demand. The product is used in manufacturing plastic and rubber modifiers in the interior parts on account of exhibiting superior anti-wear and anti-blocking properties.
Industrial and infrastructure growth in emerging economies including China, India, Brazil, and other North African countries is expected to impact positively market growth. In addition, favorable regulatory policies such as the FDI and the free trade agreement are likely to propel the demand for the compound over the forecast period. Growing use of conductive silicone polymers in manufacturing rings, seals, gaskets, and coupling materials in packaging and oil & gas industries is expected to augment growth.
Rising consumer awareness regarding the benefits of bio-based chemicals as compared to its synthetic counterparts is expected to hamper growth over the next seven years. Furthermore, rising application scope of silicone in manufacturing lubrication oil and greases is expected to pose a major threat towards raw material availability, which in turn is expected to increase the overall product cost over the forecast period.
Germany conductive silicone rubber market volume, by application, 2012-2022, (Kilo Tons)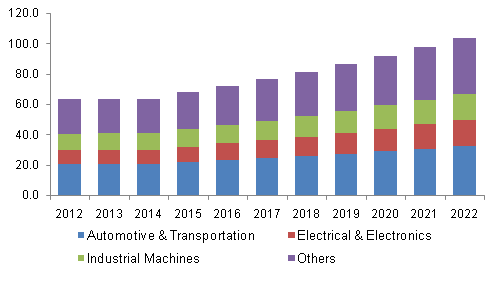 Technological advancements in hydraulic fracturing along with the incorporation of enhanced oil recovery in the U.S. and Canada have resulted in increasing the production of unconventional sources such as shale gas and tight oil. As a result, rising production of unconventional sources is likely to ensure access of petrochemical as a feedstock for the production of silicone.
Product Insights
Thermally conductive silicone rubber was the largest product segment accounting for 48.4% of the global market volume in 2014. The product finds applications in manufacturing various components used in automotive vehicles, personal computers, and home appliances on account of exhibiting superior heat dissipation properties.
Electrically conductive rubber is expected to remain the fastest growing segment in terms of volume growing at a CAGR of 7.4% from 2015 to 2022. Rising miniaturization of electronic products has led to the need for protecting these parts from Electromagnetic Interference (EMI) and Electrostatic Dissipation (ESD). The increasing use of conductive silicone rubber for ESD and EMI protection is expected to have a positive impact over the forecast period.
Application Insights
Automotive & transportation segment was the second largest application segment and accounted for over 30.5% of the global market volume. The increasing use of conductive silicone rubber for interiors of automobiles owing to its flame and weather resistance properties is expected to have a favorable impact.
It is used in manufacturing a wide range of automotive parts including engine bay components, wiring harness, sealants, gaskets, connectors, and spark plugs on account of exhibiting excellent electrical insulation, weather ability, heat and chemical resistance, tear strength, and adhesive properties. These products provide reliable protection against moisture, dirt, and water spray, thus, finding applications in spark plugs.
Electronics & Electrical segment is expected to remain the fastest growing application segment in terms of volume growing at a CAGR of 8.3% from 2015 to 2022. It finds application as adhesives, sealants, and in coatings of wires & cables along with acting as an anti-static packaging agent for electronic components. Industrial machines, such as hydraulic packaging machine, incorporate the use of the compound as sealants and gaskets accounting for 15.0% of the market volume in 2014.
Construction application consumed over 200 kilo tons of the global demand in 2014. The compound is used in construction coating agents for water proofing mortar, metal surfaces, and concrete. These rubbers maintain elasticity over a wide range of temperatures and exhibits UV and ozone resistance properties. The increasing use of these rubber compounds for water proofing, flame resistant, and airtight gaskets in the construction industry are expected to have a positive impact towards growth over the next seven years.
Regional Insights
Asia Pacific was the largest region accounting for 54.4% of the global volume in 2014. Robust electronics industry manufacturing in Taiwan, Japan, China, Korea, and India is likely to be a favorable factor over the next seven years.
Supportive government regulations, such as Draft National Chemical Policy by Government of India in February 2014, intended for increasing country's chemical output from 3% in 2014 to 6% by 2020. This policy is expected to open new opportunities for manufacturers in future, thus, enabling easy access to raw material for conductive silicone rubber production.
Europe market was valued over USD 750 million in 2014, and it is expected to present a lucrative opportunity in light of rising expenditure on healthcare industry towards innovation of biocompatible medical devices such as medical sensors. The robust manufacturing base of the automobile in countries of Germany, France and Italy are expected to drive the market over the forecast period.
In 2014, GM and Ford restructured their operations in Europe and planned to launch new products. In the same year, Opel announced the launch of 27 models and 17 new engines between 2014 and 2018. These developments and new launches are likely to augment the market demand over the forecast period.
Competitive Insights
Major manufacturers include Wacker, Shin Etsu, Momentive, Dow Corning, Saint-Gobain, China National BlueStar (Group) Co., Ltd., Western Rubber & Supply, KCC Corporation, Mesgo SpA, Jan Huei Industry Co., Ltd., and Reiss Manufacturing, Inc. Manufacturers are expected to opt for forward integration in light of rising application scope of conductive silicone rubber. Growing demand for silicone in lubricants and greases is expected to induce price hike for the market players in future.