Industry Insights
The global construction chemicals market size was valued at USD 39.17 billion in 2015 and is projected to witness substantial gains over the next eight years owing to its rising requirement from various end-use industries including residential and non-residential & infrastructure. The growth of these end-use industries is expected to further fuel market growth over the forecast period.
Growing focus towards infrastructure development in emerging economies and rapid shift towards urbanization in these countries will fuel market expansion over the next eight years. Construction chemicals are chemical compounds that are added to materials such as mortar and concrete to improve compatibility with the building structure, performance and protect structures.
Owing to the presence of stringent environmental regulations, players in this market have been focusing on R&D activities to launch new products which comply with guidelines set by different regulatory bodies. Usage of biochemicals as construction chemicals is in introductory stage. This factor could prove to be a breakthrough technology in coming years.
U.S. construction chemicals market revenue, by product, 2013 - 2024 (USD Million)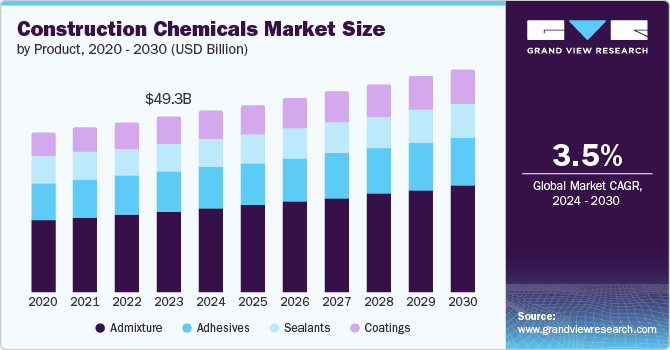 Economies including China and India are expected to drive the market on account of numerous upcoming infrastructure projects to connect and develop cities. China was the world's largest construction market alone accounting for approximately 20% of the share in 2015.
Agreements and partnerships by key players are expected to stimulate market growth over the projected period. Also, technological advancements have resulted in the increased usage of other specialty chemicals including structural adhesives, chemical flooring compounds, surface coating chemicals, and grouting compounds.
Product Insights
Concrete admixtures are widely used in concrete to enhance its physical and chemical properties, accounting for 64.7% of the market volume share in 2015. They are largely utilized in all types of constructions such as residential, non-residential and non-buildings/infrastructure. Construction chemicals improve the strength of the building structure by offering chemical resistance, enhanced durability, and significantly lowering water and cement requirement.
Plasticizers and super plasticizers are widely used as concrete admixtures. The majority of the super plasticizers are chloride free, which makes them suitable for pre-stressed concrete. Chloride results in an oxidation reaction with metals, which results in corrosion, making the building structure weaker.
End-use Insights
Non-residential & infrastructure industry contributed to more than 60% of the market revenue share in 2015. In the non-residential segment, construction chemicals are used in the erection of warehouses, manufacturing and industrial buildings, hotels, retail and office spaces.
Government initiatives in emerging economies, including China, Brazil, Mexico, and India, are driving the growth for infrastructure activities. Moreover, an increasing trend towards urbanization has resulted in an increasing need for more residential buildings, which is expected to fuel further the market growth.
Growing per capita income coupled with strengthening economic policies in the developing economies are resulting the expansion of the residential and non-residential sector. Foreign investments have increased over the past few years in Asia Pacific, which is also fuelling the growth.
Regional Insights
Asia Pacific was estimated as the largest market for construction chemicals globally, with a share exceeding 45% in terms of value in 2015. China and India are the major countries in this region accounting for more than 50% of the market size in Asia Pacific.
The global construction industry is slowly recovering post the recession in 2008 and 2009, and numerous European construction companies gained considerable profits in 2015. The development of the construction chemicals industry is directly associated with the growth of construction industry.
According to the Asia Development Bank, Asia is expected to witness an investment of approximately USD 8 trillion by 2020. Ongoing urbanization trend and rising disposable income of population in countries such as China, India, Vietnam and Indonesia has generated a need for better transport systems, buildings and water and sanitation facilities. Besides, many global investors are focusing to re-allocate their capital in Asia Pacific.
Since the launch of 2011-20 Economic Transformation Program (ETP) by the Malaysian government, construction, and infrastructure activities have grown rapidly in the country. The construction industry in Vietnam was estimated at USD 24 billion in 2012. This industry is projected to reach USD 25 billion by 2025. All these factors are expected to result in the healthy growth of construction sector in Asia Pacific, which in turn will lead to a high growth of construction chemicals in this region.
Competitive Insights
The global construction chemicals market is highly competitive in nature with major companies involved in R&D and product innovation. Key players include BASF SE, Pidilite Industries Limited, FOSROC Chemicals India Private Limited, Sika AG, W.R. Grace & Company, Dow Chemical Company, RPM International Inc., Arkema S.A. and Mapei S.P.A.
Market participants are trying to expand their customer base through strategies including new product launches and exhibitions. For instance, U.S. based Dow Chemical Company is a major player in this market. The company manufactures a broad range of adhesive and sealant products. The company has made strategic agreements and launched innovate products to maintain their position in the global construction chemicals market.