Industry Insights
The global construction chemicals market size was valued at USD 39.17 billion in 2015. It is expected to grow with a CAGR of 6.3% from 2016 to 2024. Growing infrastructural developments and rising demand, especially from Asia Pacific region, will propel the market growth in the coming years. The global market is expected to witness considerable growth on account of rising building and construction and other infrastructure activities.
Furthermore, rapid urbanization in many developing regions would also boost market expansion over the forecast period. As the industry is highly affected by several regulations, major companies have been focusing on R&D activities to develop new bio-based products. The fluctuation of prices and supply of raw materials is likely to hinder market development. However, a growing number of residential and non-residential buildings and construction activities across the globe will drive the product demand over the forecast period.
Asia Pacific region was the largest consumer for construction chemicals globally. China and India are the major countries in this region accounting for more than 50% of the overall market size. The growth of this market is directly associated with the development of the construction industry. Thus, growing spending on infrastructure development is expected to drive the global market. The infrastructure spending in Europe is expected to grow at around 3% annually reaching USD 508 billion by 2025. This will also have a positive impact on market expansion.
The infrastructure spending in Latin America is expected to cross USD 550 billion by 2025. Countries such as Brazil, Chile, and Columbia account for most of the investments in this region. North America has always remained as the key region for the infrastructure industry. Infrastructure investments in the U.S. are expected to surpass USD 100 billion by 2023, while Canada will reach USD 16 billion in the same year.
Product Insights
The concrete admixture was the largest product segment with a share of 64.7% in 2015. Cement is the major binding material used in the construction industry. Concrete is created by mixing cement with crushed rocks (aggregate), sand, and water. Concrete admixtures are added to the concrete to obtain better finish and strength. Admixtures are basically used for reducing water content in concrete and enhance the durability. The major admixture types used are lingo-based admixtures, Sulfonated Naphthalene Formaldehyde (SNF), and Sulfonated Melamine Formaldehyde (SMF). Among these types, lingo-based admixtures were the first to be used in concrete.
Construction adhesives are expected to witness lucrative growth during the forecast period. They are made of high-quality materials. They enhance the durability and bonding span of adhesives. Adhesives are created using cement, epoxy, and polymer formulation. Cement-based adhesives are largely used in floor and wall tiles. They compose of water-resistant cement and polymer-modified cement, which is useful in internal and external applications. Epoxy adhesives are cold-curing adhesives, which are resistant to water, oil, alkalis, and many other solvents.
Protective coatings are used widely in new constructions and repair works. Protective coatings offer resistance from oil, acids, solvents, and other fuels. Epoxy, urethane, polyester, polyurea, are some of the major chemicals used in protective coatings. The protective coating products include water-borne, solvent-borne, and solvent-less coatings for floors, walls, and structural steel.
End-Use Insights
Construction chemicals are widely used in non-residential and infrastructure sectors, accounting for over 67.0% of the global volume in 2015. Non-residential & infrastructure are generally used in sealing purposes such as joints and cracks. In addition, the sealants are also used in proofing purposes to prevent the building from moisture, dust, and heat. Sealants are widely used in different commercial and residential applications.
Upcoming projects such as Panama Canal expansion is expected to foster the segment growth over the forecast period. Expansion of ultramodern offices and workspaces along with rapid urbanization and enhanced lifestyles has led to market growth.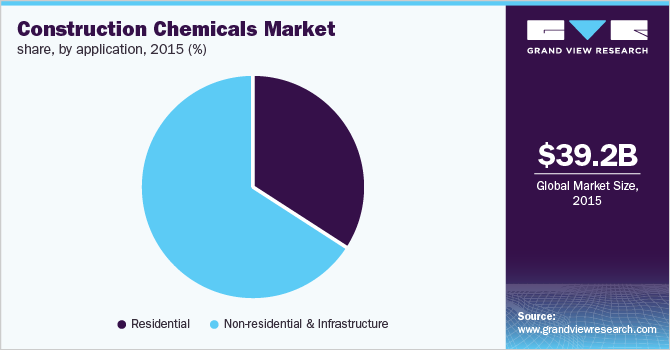 The positive outlook towards housing sectors in emerging markets including China, India, South Africa, and Turkey along with Middle East countries is expected to fuel the market growth in the near future. Rising demand for single-family housing projects coupled with growing spending capacity of consumers in developing markets including Nigeria, Mozambique, and Zimbabwe would propel construction chemicals demand over the coming years.
Regional Insights
Asia Pacific was the largest regional market for construction chemicals owing to the rapid expansion of the construction sector over the past few years. North America and Europe are relatively mature markets and are characterized by new product development and high preference for bio-based chemicals. Asia Pacific is expected to witness substantial growth over the forecast period on account of increasing investments in infrastructure development coupled with rising consumer disposable income levels.
The economies of South East Asian countries such as Indonesia, Philippines, and Malaysia are experiencing rapid economic growth, which is likely to have a positive impact on the construction industry. These countries are witnessing a strong demand for infrastructure projects, which, in turn, will fuel the demand for construction chemicals in Asia Pacific, thereby driving the regional market.
In Europe, the construction chemicals are driven by the growth of the construction industry. Western European countries, such as the U.K., Germany, the Netherlands, Germany, France, and others, are expected to have moderate growth during the forecast period. Economic policies and political policies in these countries are further expected to have a strong impact on the growth of the construction chemicals market.
Construction Chemicals Market Share Insights
The global market is highly competitive with a few leading companies holding the majority of the market share. Due to stringent environmental regulations, these companies are focusing on the development of new alternatives such as bio-based construction chemicals.
Key construction chemical manufacturers include Sika AG, Chembond Chemicals Ltd., RPM International Inc., Cera-Chem Private Limited., MAPEI Corporation, Fosroc International Ltd., Bostik, Inc., H.B. Fuller, Henkel AG & Company, BASF SE, The Dow Chemical Company, and Pidilite industries among others.