Industry Insights
The global digital patient monitoring devices market size was valued at USD 16.9 billion in 2015. Increasing attention towards fitness and healthy lifestyle is anticipated to support market growth. Lifestyle-associated diseases such as hypertension and diabetes are highly prevalent as a consequence of sedentary lifestyles of people, rising stress levels,and increasing incidences of smoking. These diseases demand round-the-clock surveillance of patients.
Wearable devices and wireless sensors assist in real-time patient monitoring. Moreover, utilities like mHealth and Telehealth allow data integration with portable devices, thus increasing the demand for overall digital patient monitoring devices. Increasing awareness about these utilities and higher acceptance amongst physicians and healthcare professionals are anticipated to result in substantial growth for this industry.
North America digital patient monitoring devices market share, by type, 2012-2022 (USD Billion)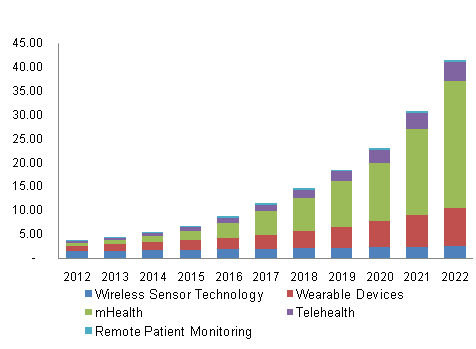 Companies such as Fitbit, Garmin, Google, and Apple, Inc. are striving to launch innovative products; these products are expected to boost the demand for the overall industry. Smart bands and smart watches are trending products, enhancing market attractiveness.
However, increasing incidences of hacking and data theft demand for healthcare cyber security. Data privacy issues are anticipated to limit the growth of the industry over the forecast period. Additionally, lack of supporting infrastructure in developing regions is expected to impede industry growth.
Type Insights
The types of digital patient monitoring analyzed in this study include wireless sensor technology, mHealth, telehealth, wearable device, and remote patient monitoring. Wearable devices dominated the market with over 25.0% share in 2015. Features such as water and dust resistibility, easy operating, and attractive designs spurred the demand for these products.
mHealth is expected to grow over the forecast period with a CAGR of over 45.0%. Rising penetration of smart mobile phones and availability of faster internet connectivity through 3G and LTE are expected to help mHealth to penetrate further.
Product Insights
The market based on product is segmented into diagnostic and therapeutic equipment. Diagnostic equipment is further sub-segmented into vital sign recorders; sleep trackers, fetal monitors, neuromonitors, and other devices.
Neuromonitors held a substantial share in 2015. Rising prevalence of neurological disorders coupled with increasing geriatric population helped this segment grow. According to the data published by the Organization for Economic Co-operation and Development (OECD) report, over 30 million people suffer from Alzheimer's disease globally. The report also estimates that this number is expected to increase to 115 million by 2050. Moreover, according to the WHO data, over 50 million people currently suffer from epileptic seizures. Globally, it is estimated that around 2.4 million people are expected to be diagnosed with epilepsy annually.
The therapeutic devices are divided on the basis of applications, which include insulin, respiratory, and other equipment. Insulin tracking held predominant shares of around 40.0% in 2015 and is expected witness lucrative growth.
Regional Insights
Geographically, the digital patient monitoring devices industry is divided into North America, Europe, Asia-Pacific, Latin America, and the Middle East & Africa. North America dominated this industry with over 35.0% share in 2015, due to their advanced healthcare infrastructure, supportive government initiatives, suitable reimbursement policies,and rising geriatric population.
Asia Pacific is anticipated to register lucrative growth over the forecast period, owing to the rising purchasing power, increasing awareness level, and increasing the prevalence of chronic conditions. Moreover, improving healthcare infrastructure with the assistance of government initiatives is facilitating the usage of advanced techniques.
Competitive Market Share Insights
Key players operating in this market include Omron Corporation, AT&T Inc., Phillips Healthcare, Airstrip Technologies, Athenahealth, Inc., St. Jude Medical, Welch Allyn, Medtronic Plc, GE Healthcare, Fitbit, Inc., Garmin, Jawbone, Vital Connect, ResMed, and Zephyr Technology Corporation. These players are undertaking various initiatives to sustain the competition. These initiatives include collaborations, mergers, acquisitions, and new product launches.
For instance, Covidien acquired Zephyr Technology Corporation in May 2014; this acquisition is anticipated to provide cost-efficient patient monitoring products. Moreover, HealthPatch, a product of Vital Connect was launched in March 2014. The product is an adhesive 115 X 40 mm patch that maybe placed anywhere on the chest and is used to regulate biometrics such as skin temperature, heart rate, body posture, and activities such as steps walked.
Analyst Perspective
The study ''Digital Patient Monitoring Devices Market" gives complete comprehension in terms of its types and various diagnostic and therapeutic products. Market estimates and forecasts are based on multiple approaches and models. The bottom-up approach is one such approach being utilized. Individual mHealth, wearable sensors, telehealth, and remote patient monitoring market sizes were determined and the final market value was concluded by following a bottom-up approach.
The study provides a complete representation of key trends, consumer demand attributes, government initiatives, and competitive strategies. This would assist in understanding the industry thoroughly and take a sound business decision.
This industry is highly competitive and dynamic, and it involves extensive R&D initiatives. The study focuses on a wide scope and includes representation on most technology and product types. Regional scope, however, is kept limited in an attempt to ensure study proportions. Customization on any segment of this study will be available upon request.