Industry Insights
The global fatty acid ester market size was USD 1.83 billion in 2014 and is projected to expand at a CAGR of 4.3% from 2015 to 2022. The market is characterized by increasing demand for natural ingredients with low calorific content to promote weight loss and to adhere to the changing perceptions of beauty and appearance.
Technological advancements have paved the way for higher efficiency and sustainable production of these esters, owing to genetic engineering, the introduction of high-yielding crops and evolving fatty profiles of canola, sunflower, and other vegetable oils. Additionally, the advent of sustainable emulsifiers and stabilizers created from Fatty Acid Esters (FAEs) has revolutionized the personal care products and cosmetics industry.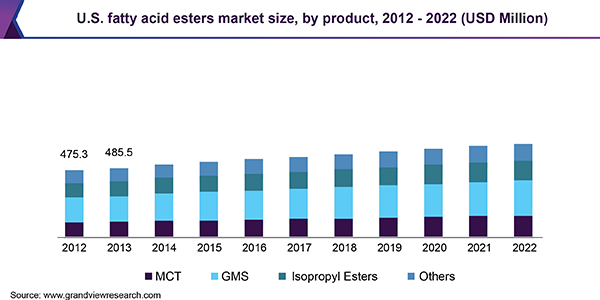 Several creams and lotions for skin, hair, and even infant care contain these esters as a sustainable, dermatologically safe alternative to toxic synthetic chemicals and ingredients. Fatty acid esters are also widely used in industrial lubricants, detergents, and surfactants owing to high thermo-oxidative stability, viscosity, biodegradability, hydrolytic stability, and lubricity. These detergents are largely utilized by industries and consumers alike, owing to foaming, stability, moisturizing, and cleansing properties.
Fatty acid esters manufactured from natural ingredients are inexpensive as compared to synthetic, petroleum-based chemicals. Consumers and manufacturers are increasingly adopting these products to combat climate change, high production costs, and to ensure overall long-term benefits. Declining edible oil prices, rising standards of living, and increasing embedded oil consumption owing to the proliferation of processed fried foods are also driving their demand in food and other end-use industries.
Countries such as U.S., India, China, and Brazil are the key markets for fatty acid esters, where their adoption rate is quite high, particularly in food products to combat growing obesity levels. As per the World Health Organization (WHO) statistics, the prevalence of obesity in the U.S. reached 35.1% in 2014 while the percentage of the overweight population in the country was more than 69%. Increasing governmental support and initiatives to promote health and fitness coupled with the influence of social media are also playing an important role in terms of promoting fatty acid esters for weight loss and beauty enhancement.
Product Insights
On the basis of product, the global fatty acid esters market has been categorized into Medium Chain Triglycerides (MCT), Glycerol Monostearate (GMS), isopropyl palmitate and isopropyl myristate (isopropyl esters), and other esters such as emollient, polyol, and sucrose.
GMS was widely used in food processing application, mainly for ice-creams and other frozen foods. The market value for GMS was estimated at USD 727.7 million with the U.S. accounting for over 26% of it in 2014. Increasing demand for organic thickening agents and emulsifiers in the food industry has boosted GMS sales globally in recent years.
MCT emerged as the fastest growing segment at a CAGR of 5.3% in terms of volume in 2014. Low calorific content and reduced chain length of the product promotes quicker metabolism, contributing to its demand in several weight loss programs across the globe.
Application Insights
Major fatty acid esters applications include personal care and cosmetics, lubricants, food processing, surfactants and detergents, pharmaceuticals, and others such as drug delivery, coatings, and adhesives and construction. Personal care and cosmetics segment was the largest application segment and accounted for over 34% of the overall market share in terms of volume in 2014. Positive eco-profile and increased functionality of the product has led to high demand in niche applications such as thickening, anti-irritant, water solubility, and pigment wetting agent.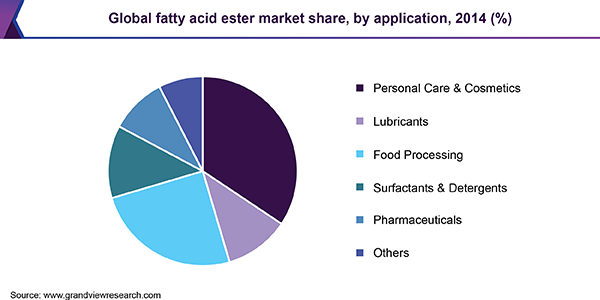 Food processing segment shall provide immense growth opportunities in the future, owing to fatty acid esters consumption as emulsifiers and stabilizers in various processed foods. One of the main factors that can be attributed to the segment can be tremendous growth of processed foods industry in Asian markets.
Regional Insights
North America held the largest market share of over 36% in term of revenue in 2014. Asia Pacific is anticipated to be the fastest growing market for fatty acid ester, outstripping other regions to expand at an exponential CAGR of 5.3% in terms of volume in the forthcoming years. Expanding end-use industries such as personal care and cosmetics, food, lubricants, pharmaceuticals, and others such as detergents and surfactants, adhesives, and coatings, is likely to generated high regional demand.
High personal disposable income has led to increasing intake of processed, fatty foods which in turn boosted regional obesity levels. Increasing consumer awareness regarding health, beauty and appearance with positive intentions to contribute environmentally have promoted their demand in U.S. and Canada. Expanding end-use industries in emerging economies such as China, India, Thailand, and Indonesia have fostered their market demand in Asia Pacific.
Fatty Acid Ester Market Share Insights
The global market is characterized by increasing strategic alliances among existing players, coupled with increasing entry of new participants to tap significant opportunities, especially in emerging regions. Major players include Cargill, DuPont, Estelle Chemicals, P&G (Procter & Gamble) Chemicals, The Seydel Companies, Fine Organics, KLK Oleo, World Chem Industries, and Stepan Company. Other independent players profiled in the report include Oleon N.V., Faci Asia Pacific Pte. Ltd., Stéarinerie Dubois, Metroshen International Corp., A.B. Enterprises, and Zhengzhou Yi Bang Industry Co. Ltd.
Key market participants are involved in developing products, packaging, and related solutions. Recent innovations include the development of a unique heated tote that efficiently manages sterol esters (40% fatty acids) to be added in butter spreads while packaging, to reduce wastage and promote cost savings. Moreover, major organizations dominant in Europe and North America are steadily shifting their production capabilities to cater to high potential markets in South America and Asia Pacific. This factor is expected to drive product consumption in the respective regions.