Industry Insights
The global oleochemicals market size was USD 19.07 billion in 2015. Growing biodegradable products demand on account of decreasing dependency on petrochemicals is expected to remain a major factor driving growth over the next eight years.
Favorable government policies in terms of tax benefits and financial incentives for bio-based chemical producers are expected to have a positive impact on the market growth. The application development coupled with product innovation is expected to yield opportunities for companies operating in the market over the forecast period. The consistent raw material supply, particularly in the Southeast Asian countries such as Indonesia and Malaysia, is expected to remain a key concern for industry participants.
U.S. oleochemicals market revenue by product, 2014 - 2024 (USD Million)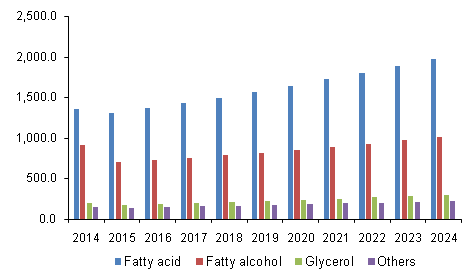 Oleochemicals are used in wide range of applications including surfactants, personal care, soaps, detergents, and food additives. Major chemical manufacturers such as Lanxess, Arkema, BASF DSM, Solvay, and DuPont have shifted their preference towards utilizing-based chemicals for manufacturing polymers. This is anticipated to have a positive influence on the companies for developing the downstream potential of various oleochemicals such as fatty acid esters, alcohols, and glycerol.
The increasing bio-diesel demand may cause a hike in biofuel prices which are mostly affected by changes in the government regulations and blending norms. These factors are expected to affect the overall economics of oleochemical-based products, which are anticipated to hinder the market growth over the forecast period.
The raw materials used for manufacturing oleochemicals include vegetable and animal oils & fats or are derived from petrochemical feedstock. The polyols which are key feedstock for polyurethane production can also be produced using oleochemical routes which are anticipated to steer growth in the near future.
Oleochemicals derived from vegetable oils, such as soybean oil, castor oil, and linseed oil, are used to develop polyamides which are widely used in automotive and textile applications. The high rate of commercialization of bio-based polyamide in the above applications is further anticipated to stimulate product demand over the forecast year.
The presence of a large number of domestic manufacturers in Southeast Asian countries such as Malaysia and Indonesia coupled with high demand in the domestic markets has been a major factor driving the regional oleochemicals market growth. Government support in terms of tax benefits particularly in the emerging markets of China and India with an aim to promote manufacturing of biodegradable chemicals are expected to complement the growth in next eight years.
Product Insights
Fatty acids emerged as the leading product category and accounted for over 55% of the overall demand in 2015. Growing fatty acid application in soaps & detergents and personal care industry is expected to increase fatty acid demand in next eight years. Asia Pacific fatty acid market in soaps and detergents was valued at USD 1,799.1 million in 2015 and is estimated to grow at a CAGR of 4.9% from 2016 to 2024.
The global fatty alcohol industry has witnessed significant capacity additions over the past decade particularly in Western Europe and South-East Asia owing to its increasing demand in soaps & detergents, lubricants, personal care and in other downstream chemical industries. The global fatty alcohols demand is expected to exceed 3.2 million tons by 2024.
Glycerol is anticipated to witness the fastest growth over the next eight years on account of growing demand as an important ingredient in various food & beverages, personal care and detergents products. The European glycerol market is expected to grow at an estimated CAGR of 5.3% in terms of revenue.
Glycerin derivatives such as glycerol monostearate have gained prominence in the wide range of food & beverage applications including confectioneries, bakery, and protein drinks. Food & beverage is anticipated to emerge as the fastest growing glycerol application over the forecast period. The segment is expected to grow at a CAGR of 7.7% to reach a net worth exceeding USD 340 million by 2024 globally.
Regional Insights
Asia Pacific was the leading oleochemicals market and accounted for over 40% of total volume in 2015. In addition to being the largest consumer, the region is also the leading producer of oleochemicals. The presences of a large number of domestic manufacturers in Southeast Asian countries such as Malaysia and Indonesia have been a major factor driving the regional market.
Large Asian plantation firms have invested in downstream chemical capabilities to restrict oleochemical overcapacity in the region and to win over reduced profitability. For strengthening Asia as a major hub for downstream products and base oleochemicals, these plantation companies have also teamed up with chemical companies in the last few years.
Oleochemicals market in Europe is expected to witness considerable growth over the next six years. Growing importance for biodiesel as an alternative to petroleum-based fuels has been a major factor driving the industry growth in the region. Fluctuating petroleum prices and favorable policies such as blending norms are expected to drive the biodiesel demand, which in turn is expected to positively impact the European market over the next eight years.
Competitive Insights
Manufacturers have taken a realistic approach to replace bio-based chemicals from petrochemicals in an attempt to minimize the re-equipping and reformulation time and cost. The market has significant opportunities for diversification and had witnessed a large number of mergers and acquisition by industry participants over the past few years to increase the market share.
The significant integration across the raw materials suppliers for manufacturing oleochemicals has further intensified the industry competition. Over 60% of fatty acid and 25% of fatty alcohol capacities are owned by raw material suppliers globally, this has lead to increased profit margins and meeting economies of scale.
The market has immense potential for new entrants and established manufacturers. The existing companies can explore the oleochemicals and derivatives based on the feedstock, either by forward or backward integration which will allow these firms to manufacture downstream products that add value to their existing process.
Major companies operating in the global industry include SABIC, BASF, Cargill, AkzoNobel, TerraVia, Wilmar International, Evonik, Emery Oleochemicals, Evyap, Godrej Industries and Ecogreen Oleochemicals.