Industry Insights
The global fermentation chemicals market size exceeded 55.00 million tons in 2015. Significant reduction in time, as well as cost due to the employment of fermentation chemicals as catalysts, is expected to drive the growth. A golden opportunity is foreseen in the fermentation chemical industry in the light of increasing demand for bio-based feedstock in industrial biotechnology.
Huge demand for fermentation chemicals for ethanol & methanol production to satisfy demand from various industrial and chemical applications is anticipated to propel the fermentation chemicals demand. Huge demand for organic acids from plastic & fiber manufacturers will have a significant impact on the demand growth over the forecast period.
Increasing enzymes demand from various industrial applications such as paper, personal care and starch are expected to have considerable effects on the industry growth. Stringent regulations from EPA, European Union, etc. will influence the fermentation chemicals market positively on account of environment-friendly nature of the fermentation chemicals.
High industrialization rate in emerging economies such as China, India, South Korea, Mexico, etc. is anticipated to be responsible for the market growth. Development of new medicaments will drive the antibiotics demand, which in turn is expected fuel the demand for fermentation chemicals.
U.S. fermentation chemicals market revenue by product, 2014-2024, (USD Million)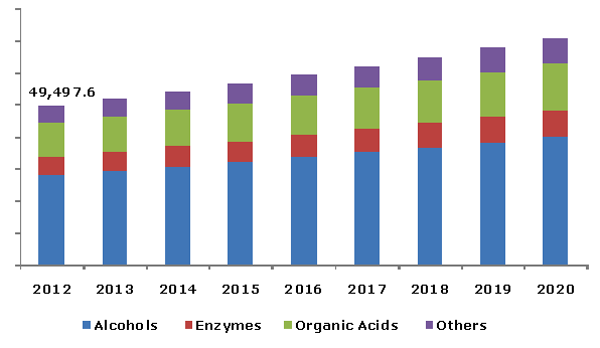 Fluctuating production due to intermittent supply of raw materials such as nutrients, microorganisms, etc. will probably pose a challenge to the progression. Complexity in the manufacturing process in addition to high production cost is also expected to add to the restraints.
Product Insights
Alcohols has emerged as the largest product segment and is likely to account for 55% of market share. Fermentation process being an essential part of alcohol production will propel the demand for these chemicals in the alcoholic beverage industry.
Organic acids are expected to be the fastest growing product segment. The segment will probably grow at an estimated CAGR of over 5% from 2016 to 2024. Organic acids such as acetic and formic are used in oil & gas well treatments. Increasing oil exploration is supposed to trigger the product demand.
These acids are also used in food preservation, nutritional food and animal feed. Increasing demand for preserved and nutritional supplement is expected to further trigger the product demand. Increasing demand for amino acids in various pharmaceutical and food & beverage industry is also expected to foster the market growth.
Application Insights
Plastic & fibers are expected to be the fastest growing application with revenue anticipated to grow at an estimated CAGR of over 6.0% over the forecast period. Increasing environmental awareness has triggered bio-plastic demand from various end-use industries. Fermentation chemicals are used in the bio-plastic and fibers production.
Fermentation chemicals are also widely used in various other applications such as industrial, food & beverages, pharmaceutical, animal food & feed, etc. Increasing industrial production coupled with high industrial growth in developing countries is expected to foster the demand. Industrial applications are estimated to hold the largest share in 2015.

Increasing production of steroids and antibiotics owing to rising expenditure on developing effective medicines is likely to hike the demand for fermentation chemicals. Animal feed additives are another application where steady growth rate is likely to be observed, as fermentation chemicals are used as key raw materials in pet food production.
Demand for microbial pesticides, single cell protein has been rising in agricultural applications. Application base for fermentation chemicals is on a rise as these chemicals enhance the flavor, texture, aroma and nutritional value of the product.
Regional Insights
North American fermentation chemicals market led the global industry and is expected to retain its dominance over the forecast period as well. High demand for alcohols and organic acids from industrial and food & beverage applications will probably drive the regional growth. Stringent regulations by EPA has supported the industry growth in the region.
Asia Pacific fermentation chemicals market is likely to emerge as the fastest growing region. Increasing population, changing food consumption trends and rising demand for ready to eat as well as bakery products are likely to drive the regional demand. The market is expected to grow at an estimated CAGR of 5.6% over the forecast period. The high rate of industrialization coupled with numerous initiatives undertaken by China and India to support various industries is expected to support the market growth.
Europe is expected to grow at a sluggish rate owing to strict regulations related to food and beverage industry. France and the UK are major consumers within the region. Various initiatives taken by the European Union, such as Europe 2020 strategy is expected to aid the industry growth over the next eight years. Insufficient political commitment and lack of proper direction will influence the growth in the European market.
Competitive Insights
Product development is an important strategy which will probably be implemented by most of the key industry participants. The market is expected to witness increasing expenditures in research and development of new products to expand the business territories. Industrial applications being a major consumer segment, the majority of buyers in the market are expected to be price sensitive.
Major players in the market include BASF SE, Amano Enzyme Inc, The Dow Chemical Company, Cargill Inc, Archer Daniels Midland, DuPont Danisco A/S, Ajinomoto Company Incorporation, Evonik Industries, etc.