Industry Insights
The global fructooligosaccharides market size was estimated at 134.0 kilotons in 2015 and is expected to witness considerable growth over the next few years. The product is being increasingly used in food & beverages, dietary supplements, animal feed, and pharmaceuticals. It stimulates the growth of bifidobacteria and lactobacilli in the human gut and produces short chain fatty acids. These acids further stimulate the growth of colorectal mucosal cells, slow down atrophy of the mucosa, and reduce the risk of harmful changes to the colon. This is expected to have a positive impact on the market over the forecast period.
The low calorific value of the product helps in reducing levels of phospholipids, triglycerides, and cholesterol and aid absorption of calcium and magnesium in the body, thus augmenting demand over the next eight years.
U.S. fructooligosaccharides (FOS) market volume, by application, 2013 - 2024 (Kilo Tons)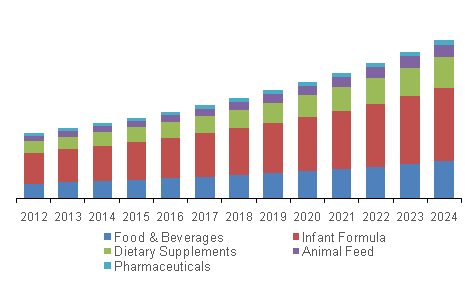 With increasing knowledge related to the product among consumers and a better understanding of its functions, the demand for fructooligosaccharides (FOS) is expected to increase rapidly over the forecast period. Moreover, changing lifestyle coupled with rising concerns regarding health is expected to augment market growth.
Increased prebiotic demand coupled with rising government support is expected to augment growth over the forecast period. Rising concern regarding gut health and increased demand for low-calorie sweeteners is expected to fuel product growth over the next eight years.
Market players are increasingly investing in the introduction of cost-effective production routes to increase product yield. In addition, FOS yields a lower carbon footprint as opposed to other prebiotics and hence is widely used. However, regulations governing fructooligosaccharides quantity in food products and infant formula coupled with high price is expected to restrain growth.
Application Insights
On the basis of applications, the FOS market can be segmented as food & beverage, dietary supplements, infant formula, animal feed, and pharmaceuticals. Infant formula dominated the global industry, accounting for over 40% of global volume in 2015. Increasing product demand for infant formulas is due to properties including infection prevention, memory enhancement, brain development, prebiotic effects, and improvement of gut health.
Product demand in food & beverages was estimated over 31 kilotons in 2015. Fructooligosaccharides act as prebiotic in the human body and help in maintaining gut health. They promote bacterial growth in the human gut, which helps in improving metabolic activity in the human body. In addition, incorporation of the product in food & beverages not only promotes the growth of useful bacteria but also eliminates such bacteria including salmonella and campylobacter. This is expected to fuel product demand in the food & beverage sector over the forecast period.
High infant mortality rate and increasing R&D expenditure by various companies for development of a nutritional formula for infants who cannot be breastfed have resulted in increasing demand for the product over the past few years. This trend is expected to continue over the forecast period in light of growing demand for nutritional products particularly in Asia Pacific and North African countries.
Source Insights
The global fructooligosaccharides market has been segmented on the basis of the source into inulin and sucrose. These sources indicate the materials from which the products are synthesized. The product is an oligosaccharide, which provides prebiotic properties and is used in numerous nutritional and biomedical applications. It is manufactured naturally using inulin and synthetically by use of sucrose.
Sucrose fructooligosaccharides were the most widely employed in various applications on account of easy availability of raw materials. Sucrose FOS accounted for over 50% of the total market in 2015. Resources for producing sucrose FOS are cultivated majorly in North America, Asia Pacific, and Latin America. Easy availability of the raw material results in low manufacturing cost thus increasing production of sucrose fructooligosaccharides.
Regional Insights
The U.S., China, Japan, and Germany dominated the market over the past few years owing to increased demand from the dietary supplement application. In East Asia, Europe, and North America, the product is primarily employed as a dietary fiber and nutritional supplement.
Europe was the largest market for FOS, accounting for 39.9% of global volume share in 2015. Rising demand for baby food coupled with the presence of numerous infant formula manufacturers in the region is expected to augment industry growth.
North America product demand was estimated at 13.4 kilotons in 2015. Dairy products especially beverages account for the major market in the U.S. functional food & beverage industry. Rising concern regarding aging, heart health, weight management, gut health, and immune function is likely to augment product demand in the U.S. over the next eight years.
Competitive Insights
FOS substitute numerous sweeteners in the food sector such as xylitol, aspartame, and sucralose in light of cost effectiveness and superior properties. In addition, the product is less harmful when added to products as compared to their counterparts. The School of Food Science and Technology in China has been conducting extensive R&D to introduce cost effective production routes, which are expected to open new market avenues for the product over the forecast period.
One of the key players in the market is Meiji Seika Kaisha Ltd. that is largely engaged in product manufacturing under the brand Meioligo. The company joint ventured with a France-based player Beghin-Meiji Industries to produce FOS under the brand name Actilight.