Industry Insights
Global geosynthetics market was estimated at 6,124.0 million square meters in 2014. Infrastructure development in China, India and Middle East in light of rising government expenditure is expected to drive the industry. Geosynthetics industry usage includes costal engineering, construction, civil and environmental applications on account of properties such as separation, filtration, soil reinforcement and erosion control. The product is expected to witness rising demand in waste water treatment and landfills on account of growing awareness regarding environment conservation.
Increasing expenditure on hydraulic fracturing has resulted in rising production of unconventional sources such as shale gas. Rising manufacturing output of shale gas at a global level is expected to promote the importance of geotechnical products in lining systems in upstream energy sector. Positive mining business outlook in China, Australia, South Africa and Chile is likely to favor market growth.
Rising petrochemical production in Middle East due to regulatory support for promoting investments in downstream energy sector may result in increasing availability of raw materials such as polypropylene and polyethylene. As a result, Middle East is expected to emerge as a manufacturing hub for geotechnical products in light of growing application in construction industry in the near future.
Europe geosynthetics market volume, by product, 2012-2022, (Million square meters)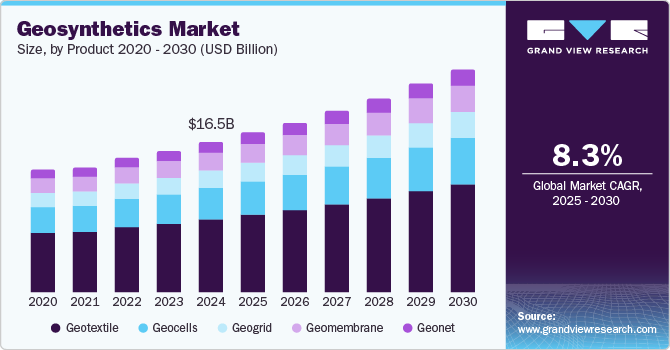 Product Insights
In terms of product, geotextiles market segment dominated the global geosynthetics industry with over 70% of volume in 2014. Rising adoption of geotextiles in soil reinforcement and erosion control in light of exhibiting properties such as flexibility and permeability is likely to have a positive impact on demand. The product is expected to witness fastest growth, at a CAGR of 5.2% from 2015 to 2022 owing to its emergence as an alternative to other granular materials and reduced installation cost.
Geomembranes demand was estimated over 750.0 million square meters of global volume in 2014. Increasing deployment of these membranes in containment and waste water treatment on account of good permeable property is likely to be a favorable factor for industry.
Geogrids find application in road construction for reinforcing the base of structure over soft soils on account of high bearing capacity. Rising importance of geonets for providing surface impoundment and controlling soil erosion is expected to increase its application in check dams for irrigation in the near future.
Application Insights
Geosynthetics were majorly used in roads & pavements, accounting for over 30% of global volume in 2014. Increasing geotechnical materials use for facilitating the process of soil compaction in road construction is expected to drive the industry growth over the next seven years.
Containment & waste water is expected to witness fastest growth at a CAGR of 5.6% from 2015 to 2022. Increasing geosynthetic applications in heap leaching process during mining for liquid containment and leak detection is expected to have a favourable impact.
In January 2012, U.S. based Maryland Department of the Environment (MDE) announced new regulations for erosion and sediment control. In addition, EPA has announced policies intended for controlling soil erosion and sedimentation. Stringent regulations in the U.S. meant for controlling soil erosion at domestic level are likely to increase application of geosynthetics in the near future.
Regional Insights
Asia Pacific geosynthetic market accounted for over 35% for global volume in 2014. Positive construction industry outlook in China, India, Indonesia and Thailand in light of regulatory support to promote investments is expected to increase the application of geotechnical solutions. Robust mining base in China and Australia is likely to remain favorable factor over the forecast period.
North America market was estimated over 1,600.0 million square meters in 2014 and is expected to witness growth in light of favorable regulations for promoting the application of products at domestic level. The government of Mexico announced National Infrastructure Program (2014-2018), aimed at enhancing construction output and may open new avenues in the near future.
Upcoming events such as Summer Olympics 2016 and implementation of PAC Program in Brazil are expected to augment construction industry and may fuel market demand. Over Abundance of mineral reserves including copper and silver in Peru and Brazil has compelled companies such as BHP and Rio Tinto for investment in domestic mining industry. Rising mining sector in Latin America is likely to positively impact the market.
Competitive Insights
Key manufacturers with geosynthetics market share include TenCate, Agru America Inc., GSE, NAUE, Low & Bonar, Officine Maccaferri and Asahi-Kasei. In May 2014, GSE Environmental Inc inaugurated new manufacturing facility in Suzhou, China.
The manufacturing facility has an annual production capacity of 20,000 metric tons of GSE product offerings. Expansion of production capacity in Asia Pacific and new product developments are expected to remain critical success factor for the manufacturers in the near future.