Industry Insights
The global glucosamine market size was 29,087.3 tons in 2014. An increasing number of arthritis cases globally coupled with rising obese population is expected to propel product demand over the forecast period. The product helps in relieving joint pain which is anticipated to propel its utilization among the geriatric population over the next seven years.
India, Czech Republic, Austria, China, and the Netherlands have been witnessing high demand for bone & joint positioned food & beverages, which is expected to augment product need over the next seven years. The shift towards sedentary working lifestyle in developed, as well as developing economies, is expected to facilitate product utilization which in turn is expected to have a positive impact on the industry over the forecast period.
U.S. glucosamine market volume, by application, 2012 - 2022 (Tons)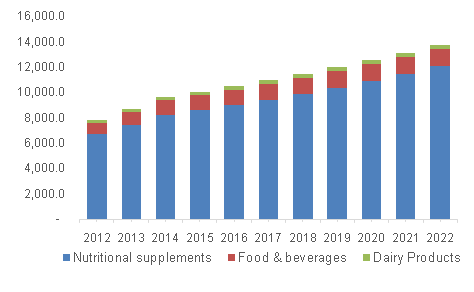 The product has been increasingly used in the manufacturing of dietary supplements. Rising focus towards the production of vegetarian glucosamine, as these are considered safe for consumption in food & beverages, is expected to propel industry growth over the next seven years. The products are also being used in therapeutic goods in Australia.
National Institute of Health sponsored Glucosamine/chondroitin arthritis intervention trial (GAIT) states the benefits of the product in joint health which is expected to be one of the key factors for market growth. However, shifting market trend from standalone formulations to combination dietary supplements wherein other ingredients are added to increase the value of the final product is expected to result in lower concentrations of the active ingredient resulting in decreased demand which is expected to act as a restraint to the industry.
Omega 3 fatty acids, collagens and fish oils coupled with herbal ingredients such as turmeric and amla (Indian Gooseberry) are potential substitutes which could hamper market growth over the forecast period. Concerns related to chondroitin sourcing will adversely affect the industry further decreasing the popularity of chondroitin sulfate over the next seven years.
The industry has been witnessing increasing concerns regarding the quality of the product and supply of raw materials. Traceability and control of supply chain is one of the major concerns for manufacturers as most of the ingredients are sourced from Asia especially China and India. This is expected to challenge demand over the next seven years. Stringent regulations by various organizations including U.S. FDA regarding the use of the product for medical purposes and in food & beverages is expected negatively impact market growth.
Application Insights
The global market is segmented into three applications including nutritional supplements, food & beverages and dairy products. Nutritional supplements are the largest market for the product and was estimated at over 22,000.0 tons in 2014 on account of its widespread use in the maintenance of joint and bone health. The product is mainly manufactured from crustaceans including shrimp and crabs, however, increasing instances of allergy and rising number of vegans, particularly in the U.S., has led manufacturers to develop the product from fungi and other plant sources.
Food & beverages is a comparatively new application for the glucosamine market along with dairy products and hence is expected to witness moderate penetration over the forecast period. These applications are popular in Europe and Japan in comparison to the U.S. where supplements are employed at a higher rate.
Regional Insights
The U.S. was one of the largest glucosamine markets accounting for over 30.0% in terms of volume in 2014. The product has been used as an unregulated dietary supplement in the economy over the past few years. Growing dietary supplements consumption on account of rising prevalence of arthritis among consumers coupled with growing geriatric population is expected to fuel product demand over the forecast period.
Europe market for the product was valued over USD 70.0 million in 2014. Approval of glucosamine as a food ingredient as well as a prescription drug in European economies is expected to propel demand over the forecast period. Government support and high R&D investments related to the product are expected to play a major role in industry growth over the next seven years. The product has been widely accepted for treatment of osteoarthritis in Europe which will positively impact industry growth over the forecast period.
Competitive Insights
The glucosamine market is fragmented with numerous small-scale manufacturers and distributors catering to various domestic markets. Numerous market players have been trying to develop glucosamine based on consumer preference which is expected to propel growth.
Cargill developed a vegetarian glucosamine "regenasure" to meet rising demand from vegan consumers. Similar initiatives are being taken by companies namely DNP International, Hygieia Health, and Ethical Naturals. Government support to facilitate consumption of glucosamine in food & beverages is expected to propel growth in the coming years.