Report Overview
The global healthcare specialty enzymes market size was valued at USD 2.4 billion in 2019 and is expected to expand at a compound annual growth rate (CAGR) of 6.2% from 2020 to 2027. The rising prevalence of diseases associated with metabolism has been witnessed in recent years wherein an appropriate understanding of enzyme abnormality has led to the increasing use of enzymes as disease markers in clinical examinations. The specificity of enzymes to certain tissues or organs aids in identifying the site of damage, which helps in disease diagnosis. Changing levels of Lactate Dehydrogenase (LDH) in the blood is a preferred approach adopted for detecting the onset of cardiovascular diseases; this enzyme is specifically found in the heart and skeletal muscle in two distinguished forms.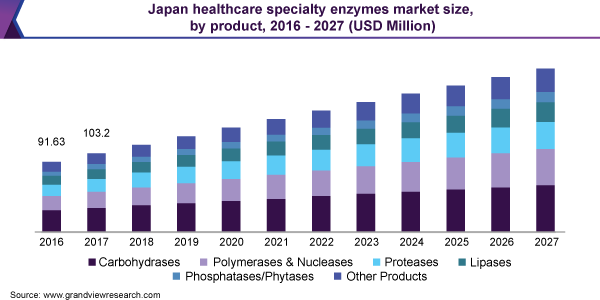 Enzyme-based biosensors have gained significant traction with healthcare professionals over the years. This, in turn, is set to increase market penetration across diagnostic and research applications. For instance, the development of amperometry-based enzyme biosensors is on the rise which is attributed to their interdisciplinary approach involving materials science, electrochemistry, enzymology, polymer synthesis, and biological chemistry. Rising research activities are being targeted towards exploring the potential and accuracy of such biosensors for research as well as diagnostic applications.
Healthcare specialty enzymes have witnessed significant demand across clinical applications as well as diagnosis via increasing use of assays and techniques. For instance, ß-galactosidase, peroxidase, and alkaline phosphatase are extensively incorporated in the Enzyme-Linked Immunosorbent Assay (ELISA) protocols. The immense demand for ELISA in infectious disease diagnosis is set to boost the growth of the market for healthcare specialty enzymes. These are also being incorporated in the detection of analytes such as hormones, drugs, serum components, and oncofetal proteins.
In addition, effective analysis of causative agents such as bacteria, viruses, mycotic or parasitic organisms can be performed via the ELISA technique. Lysozyme and malate dehydrogenase are being largely used in the enzyme multiplied immunoassay technique (EMIT). Moreover, urea, glucose, cholesterol, and uric acid content in the blood can be effectively detected using EMIT.
Product Insights
The carbohydrases segment accounted for the largest revenue share of approximately 30.0% in 2019 as they are utilized on a wide scale in the biotechnology and diagnostics industry across the globe. Several companies offer amylase suitable for lab-based complications. For instance, Amano Enzyme Inc.; American Laboratories, Inc.; Analyticon Biotechnologies AG; Angstrom Biotech Pvt. Ltd.; and Lab Care Diagnostics (India) Pvt. Ltd. offers amylase that can be used in the diagnosis of pancreatic disorders or lab-scale research protocols.
The transition from laboratory-based diagnosis protocols to molecular diagnostics has been witnessed in recent years. This is attributed to the need to avoid labor-intensive microbiology diagnostic tests across laboratories and diagnostic centers.
In addition, molecular diagnostic tests serve to be potent alternatives for conventional diagnostic modalities as they offer faster results. This is set to contribute to the revenue generated by this segment in the market for healthcare specialty enzymes as both polymerases and nucleases play a pivotal role in molecular diagnostics.
Source Insights
The microbial enzymes segment accounted for the largest revenue share of 46.1% in 2019 among the other sources available in the market for healthcare specialty enzymes. This is attributed to unique characteristics induced in the enzymes derived from microbes. Fermented microbial enzyme products offer several advantages including broad ranges of pH, temperatures, and varied specificities regarding the substrate. The use of microbes for the production of proteases has increased considerably over the years as present demand for proteases cannot be sufficed by the plant as well as animal-derived proteases. Thus, microorganisms serve to be the potent alternative for the manufacturing of proteases on large scale.
Enzyme engineering aids in the manufacturing of an effective and diverse array of products that have useful implications in diagnostics. Thus, organism/source selection plays a pivotal role in maintaining the functionality of the enzyme. The source selection is done based on the potential of organisms to give the desired yield in shorter durations with minimal requirements for secondary metabolites.
Technique Insights
The clinical chemistry segment dominated the market for healthcare specialty enzymes and accounted for over 28.0% of revenue share in 2019 owing to the higher usage of these enzymes in the clinical analysis. Enzymes are largely used as reagents in the clinical chemistry applications whereas, the significant potential of polymerases and nucleases in diagnosis, as well as for biotechnology research, has highly contributed to the revenue generated by molecular diagnostics in the market for healthcare specialty enzymes.
Immunodiagnostics and immunoassays are anticipated to witness the fastest growth in the market for healthcare specialty enzymes in the coming years. Several market players are keen on integrating enzyme-based products with diagnostic immunodiagnostic techniques, for instance, Thermo Fisher Scientific Inc. offers enzyme-based products that can be used in immunodiagnostic applications.
Healthcare specialty enzyme products have gained immense importance in molecular cloning techniques and have become an integral part of routine laboratory applications. This has propelled various manufacturers to develop products from different origins that can create and modify nucleic acids. Hence, it is important to select apt enzyme that is suitable for a certain task. The most applied enzyme products in the molecular cloning research activities are polymerases, ligases, nucleases, phosphatases, methylases, and topoisomerases.
Usage Insights
Healthcare specialty enzymes find tremendous applications in the research as well as clinical space, thereby accounted for the largest revenue share of 64.7% in 2019. In addition, this sector is expected to witness rapid growth supplemented by robust funding in the biotechnology industry from national organizations as well as corporate companies. A shift towards products that are derived from biological compounds is a recent trend observed among the drug manufacturers in the U.S.
This industry is set to witness spurring growth over the coming years, with the specialty sector displaying the highest growth as compared to the moderately growing industrial sector. These enzymes are categorized as a low volume with high value-added usages. Factors such as declining costs of DNA sequencing, rising awareness regarding novel healthcare specialty enzyme products, and the demographic transition has propelled the utilization of healthcare specialty enzymes across diagnostic as well as research activities.
Application Insights
Infectious diseases dominated the market for healthcare specialty enzymes with the largest revenue share of 28.0% in 2019. The application of enzyme biomarker tests has led to the estimated dominance of the segment. In addition, the current pandemic outbreak of COVID-19 across the globe is further set to result in an exponential growth rate of this segment from 2020 to 2027. For instance, an Indian biotechnology company namely, Richcore Lifesciences is set to introduce 2pivotalenzyme components, applied largely across theCOVID-19 diagnostic kits based on Reverse Transcription Polymerase Chain Reaction (RT-PCR).
Also, a U.S. based manufacturer - Creative Enzymes has expanded the portfolio of healthcare specialty enzymes, acknowledging the present use of Nucleic Acid Test (NAT) and serological tests for COVID-19 diagnosis. However, oncology-based applications are set to witness the fastest growth as a result of increasing adoption in R&D for the disease etiology studies.
End-use Insights
Laboratories held the maximum revenue share of 44.8% in 2019 in the market for healthcare specialty enzymes. This is due to the substantial usage of enzymatic products in research operations. Laboratories are keen on adopting healthcare specialty enzyme products for chronic disease diagnosis such as infectious diseases, inflammatory disorders, and myocardial infarction. Research targeted towards exploring the potential of healthcare specialty enzyme products in designing effective therapies is also on the rise.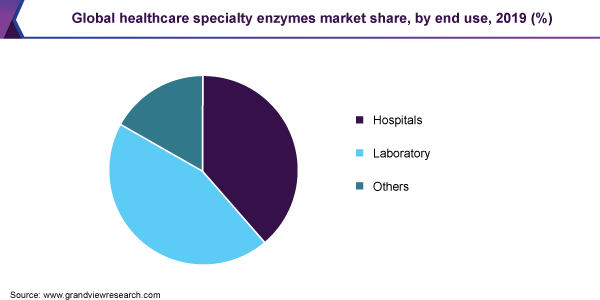 Enzyme based diagnostic tests are largely adopted across hospitals to design effective therapy, especially for the treatment of cardiac and oncology patients. For instance, the troponin enzyme test is one of the most preferred cardiac enzyme tests in recent years. Hospitals prefer to measure troponin post 4 to 6 hours of the symptoms. In some cases, hospitals may also perform the test again after around 12 hours.
Regional Insights
North America dominated the market for healthcare specialty enzymes and accounted for the largest revenue share of 38.2% in 2019. The region displayed the highest contribution of more than USD 900.0 million to the market, attributed to the high penetration of enzyme technology. In addition to this, expanding sales and distributors observed in the region are anticipated to boost the demand for healthcare specialty enzymes in the region.
The presence of key players operating across the U.S. has created easy access to emerging enzymes that can be incorporated in diagnosis and research. For instance, Creative Enzymes, based in the U.S., offers enzymes useful in medical research, chemical industry, and environment protection. Moreover, the company produces enzymes suitable for cell biology applications, chemical processing, and antibody research. In the Asia Pacific, the market for healthcare specialty enzymes is expected to grow at the fastest pace owing to the presence of a large consumer base for diagnostic consumables and reagents.
Key Companies & Market Share Insights
Over the years, the market for healthcare specialty enzymes has witnessed a substantial number of consolidations. Novel protocols have been developed for the evaluation of clinical SARS-CoV-2 samples to carry out direct RTqPCR without RNA extraction. One of the protocols for this involves the pretreatment of clinical samples with Proteinase K. Pretreatment with Proteinase K removes the requirement for performing the entire standard protocol for purification and extraction of a sample. The technique has also proved to be efficient, as 91.0% of results are in accordance with the standard RT-qPCR method for COVID-19 diagnosis. Some of the prominent players in the healthcare specialty enzymes market include:
Advanced Enzymes Technologies Ltd

Amano Enzymes, Inc.

Amicogen

BBI Solutions

biotechrabbit GmbH

Brain AG

CPC Biotech

Creative Enzymes

EKF Diagnostics

F. Hoffmann-La Roche Ltd

Merck KGaA

Sekisui Chemical Co., Ltd.

Thermo Fisher Scientific, Inc.
Healthcare Specialty Enzymes Market Report Scope
| | |
| --- | --- |
| Report Attribute | Details |
| Market size value in 2020 | USD 2.6 billion |
| Revenue forecast in 2027 | USD 3.8 billion |
| Growth rate | CAGR of 6.2% from 2020 to 2027 |
| Base year for estimation | 2019 |
| Historical data | 2016 - 2018 |
| Forecast period | 2020 - 2027 |
| Quantitative units | Revenue in USD million and CAGR from 2020 to 2027 |
| Report coverage | Revenue forecast, company share, competitive landscape, growth factors, and trends |
| Segments covered | Product, source, technique, usage, application, end use, region |
| Regional scope | North America; Europe; Asia Pacific; Latin America; Middle East & Africa |
| Country scope | U.S.; Canada; Germany; U.K.; Japan; China; India; Brazil; South Africa |
| Key companies profiled | Advanced Enzymes Technologies Ltd.; Amano Enzymes, Inc.; Amicogen; BBI Solutions; biotechrabbit; Brain AG; CPC Biotech; Creative Enzymes; EKF Diagnostics; F. Hoffmann-La Roche Ltd; Merck KGaA; Sekisui Chemical Co., Ltd.; Thermo Fisher Scientific, Inc. |
| Customization scope | Free report customization (equivalent up to 8 analyst's working days) with purchase. Addition or alteration to country, regional & segment scope. |
| Pricing and purchase options | Avail customized purchase options to meet your exact research needs. Explore purchase options |

Segments Covered in the Report
This report forecasts revenue growth at global, regional, and country levels and provides an analysis of the latest industry trends in each of the sub-segments from 2016 to 2027. Grand View Research has segmented the global healthcare specialty enzymes market report on the basis of product, source, usage, application, technique, end use, and region:
Product Outlook (Revenue, USD Million, 2016 - 2027)

Source Outlook (Revenue, USD Million, 2016 - 2027)

Micro-organisms

Animals

Plants

Technique Outlook (Revenue, USD Million, 2016 - 2027)

Usage Outlook (Revenue, USD Million, 2016 - 2027)

Research & Biotechnology

Diagnosis

Application Outlook (Revenue, USD Million, 2016 - 2027)

Infectious Diseases

Diabetes

Oncology

Cardiology

Nephrology

Autoimmune Diseases

End-use Outlook (Revenue, USD Million, 2016 - 2027)

Hospitals

Laboratory

Others

Regional Outlook (Revenue, USD Million, 2016 - 2027)

North America

Europe

Asia Pacific

Latin America

Middle East & Africa
Frequently Asked Questions About This Report