Industry Insights
Global High Resolution Melting (HRM) analysis market size was valued at over USD 62.0 million in 2014 and is expected to grow at a CAGR of 9.8% over the forecast period. Key factors attributing to market growth include the increasing prevalence of numerous chronic diseases such as cancer, COPD, cardiovascular diseases and other infectious diseases.
Increasing government budget allocation for research and development in applied life sciences, pharmaceuticals and biotechnology is a key factor boosting the demand for various diagnostic techniques and tools. For instance, increasing demand for HRM applications in epigenetics, mutation scanning, cancer and HIV diagnostics, and other research areas are important factors reinforcing the growth of this technology.
North America High Resolution Melting analysis market by product, 2012 - 2022 (USD Million)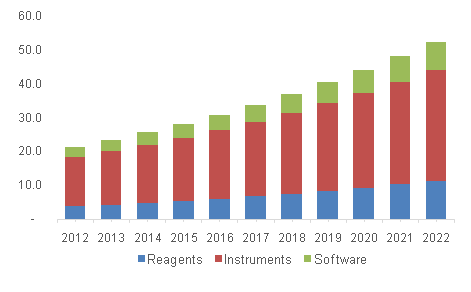 Key benefits associated with HRM analysis such as early disease diagnosis, cost savings on multiple treatments, drug safety, patient compliance, and optimization of therapies are few factors expected to boost the demand for DNA testing services.
Furthermore, growing awareness regarding the applications of HRM analysis techniques for DNA mapping, mutation discovery and HLA typing are additional factors that are expected to drive the HRM analysis market over the forecast period.
Product Insights
The HRM analysis market is segmented on the basis of product into instruments, reagents, and software. In 2014, instruments segment held the largest share owing to the growing demand for specialized instruments with HRM capabilities such as high intensity illumination, faster data acquisition rate and high sensitivity optical detection Few HRM instruments available in the market include Rotor-Gene Q, Idaho Technology LightScanner (384 well),Applied Biosystems 7300,and Roche LightCycler 480 (96- and 384-well models).
However, reagents are expected to be the fastest growing segment till 2022. Reagents constitute various molecular diagnostic kits used for gene mutation, DNA sequencing and PCR techniques. Key reasons attributed to the high growth rate are increasing usage of reagents for detection and analysis of mutations, and in development of personalized drugs. Some of the diagnostic reagents used in this market include LightCycler 480 High Resolution Master, LCGreen Plus Melting Dyeand MeltDoctor HRM Reagent Kit.
Application Insights
HRM analysis is a technique used for analyzing melting curve plots of the amplified gene. This technology is mainly used for methylation profiling, microbial species identification, gene mutation scanning and other PCR based diagnostics. Some diseases widely targeted by kit and instrument manufacturers of HRM analysis include Tay-Sachs disease, sickle cell disease and cystic fibrosis, cancer and some conditions related to neurofibromatosis.
In 2014, detection of acquired mutations/mutation scanning/SNP typing held the largest share and is expected to grow at a significant rate over the forecast period. Key factors attributed to this are increasing prevalence of genetic disorders, technological advancements in molecular biology, increasing awareness regarding SNP typing techniques such as dynamic allele specific hybridization, molecular beacon, SNP microarrays and other enzyme based techniques. However, methylation profiling is expected to be the fastest growing segment over the forecast period.
End Use Insights
In 2014, academic research dominated the overall market with nearly with 77.01%. Key factors attributing for the segments high share include increasing interest among the researchers regarding the applicability of DNA melting in genotypic methods such as gene scanning, DNA fingerprinting, DNA mapping, and rising demand for fast and powerful genotype analysis of larger samples. However, clinical diagnostics is expected to be the fastest growing segment over the forecast period owing to increasing adoption of this technology for routine clinical testing.
Regional Insights
In 2014, North America HRM analysis market accounted for the maximum share of over 25%. Key factors attributed include high R&D expenditure, presence of advanced healthcare, and presence of large number of academic research institutes, research labs, government funding and active collaboration between various stake holders in the field of drug discovery, biotechnology and applied life sciences.
Asia Pacific is expected to be the fastest growing region over the forecast period. Asia is reported to be most affected region for genetic epidemiology of BRCA1 and BRCA2 which mainly causes breast and ovarian cancer. Moreover, growing government initiatives and increasing interest among the academic researcher regarding genotypic analysis are some of the key factors boosting the technology penetration in this region.
Competitive Market Share Insights
Key players operating in the HRM analysis market include BioFire Diagnostics LLC., Roche Molecular Systems, Thermo Fisher Scientific Corporation and Qiagen. Increasing competition is driving the number of acquisitions in the diagnostics sector. For instance, in 2008, Corbett Life Science got acquired by Qiagen. In January 2014, BioMerieux announced that the company has acquired BioFire Diagnostics, LLC. In February 2014, Thermos Fisher Scientific acquired Applied Biosystems, Inc.