Industry Insights
Global isostearic acid market demand was 46.0 kilo tons in 2012. Growth of personal care industry particularly in emerging markets of Asia Pacific and Latin America is expected to remain a key driving factor for the global isostearic acid market. Isostearic acid's oxidation and odor stability make them a suitable ingredient for personal care products.
Global isostearic acid market volume by application, 2012 - 2020 (Kilo Tons)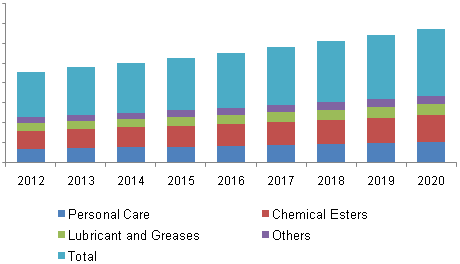 Myriad isostearic acid applications for personal care products include skincare, hair care, liquid soaps, bath & shower products, sun protection creams, and lip color cosmetics. Isostearic acid ingredient acts as cleaning agents, emollient, or emulsifier depending upon the type of personal care product manufactured. Growing consumer awareness regarding bio-ingredient based products coupled with rising health concern is also expected to augment isostearic acid market over the forecast period. Increasing natural products demand on account of potential harm caused due to the use of toxic agents produced by petrochemical products has prompted the use of isostearic acid. It includes numerous chemical ester derivatives used in personal care and cosmetics products. This factor is also is expected to drive isostearic acid market. Chemical esters based on isostearic acid include isostearyl isostearate, isopropyl isostearate, glycerol monoisostearate, tri-isostearin, pentaerythrityl tetraisostearate, sorbitan isostearate, ethyl isostearate, and trimethylolpropane tri-isostearte. These chemical esters functions in cosmetics and personal care products include dispersion, adhesion pigment promoters, solubilizer, emollient, effective solvent, plasticizer, and water repellent. Isostearic acid is also used as feedstock for manufacturing bio-lubricant. The high price of Isostearic acid on account of its limited supply is expected to pose a major challenge for market penetration. Increasing R&D expenditure to raise isostearic acid manufacturing capacity and to commercialize new plants is expected to provide key growth opportunities for industry participants. Opening up new production facilities may help in lowering its prices.
Application Insights
Chemical ester was the leading application segment and commanded over 35% of the total market volume in 2013. Chemical esters are used as ingredients for manufacturing products such as deodorants, skin care, hair care, lipsticks, and sun protection creams. Personal care was the second largest application segment in 2013. Isostearic acid is used as an ingredient to manufacture personal care and cosmetics products. Lubricant & greases are expected to be the fastest-growing application over the forecast period. Growing biodegradable product demand is expected to increase the isostearic acid market for lubricants & greases over the forecast period. Other isostearic applications include in the end-use industries of textile and packaging.
Regional Insights
Europe was the leading regional market and accounted for just below one-third of global consumption in 2013. Increasing cosmetics demand in Germany, the U.K., France, and Italy coupled with the growth of the personal care industry in East European countries such as Poland, Russia, and Ukraine is expected to remain a major driving factor for the regional market. Stringent government regulations to reduce dependency on petrochemical-derived products are also expected to fuel isostearic acid demand in Europe. Major isostearic acid manufacturers have production based in European countries which in turn is expected to augment market growth in this region. Significant demand is expected from emerging markets of Asia Pacific. High-growth countries such as China and India are expected to witness higher growth rates owing to increasing personal care product demand coupled with per capita increase in spending capacity.
Competitive Insights
Global isostearic acid market is highly consolidated with the top two manufacturers accounting for over three-fourth of the market. Industry participants compete on the basis of services offered in the market according to applications of cosmetics and bio-lubricant applications Key industry participants include Croda International and Arizona chemicals. Other major industry participants operating in this segment include Nissan Chemicals, Olean NV, Emery Oleochemicals, and Jarchem Industries, Inc.