Industry Insights
The global IVD infectious disease market was valued at over USD 13 billion in 2014 and is expected to grow at a CAGR of 8.2% over the forecast period. Rising prevalence of infectious diseases, growing base of geriatric population, lower immunity levels, and rising awareness among people about communicable diseases are estimated to be high impact rendering drivers.
According to the WHO, over 36 million people around the globe were suffering from HIV infection in 2014. Demand is increasing for rapid diagnostic devices pertaining to qualitative analysis of such infections to take further preventive measures. For instance, OraQuick by OraSure is a PoCT, which has received the FDA approval in late 2012 for home use. It is reported to provide accurate results in less than 40 minutes.
Rising base of the geriatric population with decreasing immune levels is expected to provide a wide base for growth of this market. The Global Health and Aging report by the NIH states that geriatric population accounts for a major share of infectious disease in low-income countries. Older people are already suffering from various infections and are more vulnerable to additional infectious diseases.
Application Insights
In vitro diagnostic devices find applications in the testing of various infectious diseases. Some infections widely targeted by kit and instrument manufacturers include HIV, hospital-acquired infections such as MRSA, streptococcus, influenza, and hepatitis virus.
HIV is reported to be the most widely present infection in both developed as well as low-income countries. According to the WHO, around 2.0 million new cases of HIV were detected in 2014 worldwide. Of the affected population, over 17 million people are unaware of being affected and future dangers associated with HIV.
IVD infectious disease market by incidence, 2014, (number of cases)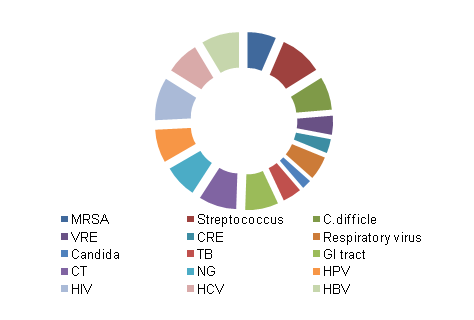 HIV is also anticipated to grow at a very fast rate owing to increasing prevalence rate, the introduction of technologically advanced and self-testing kits, and high levels of unmet clinical needs in developing nations. Rising awareness levels and favorable government initiatives are further estimated to fuel market growth.
Product Insights
The products are categorized into instruments, reagents, and software. Reagents constitute various molecular diagnostic kits and immunoassays used for in vitro diagnosis of infections. Reagents held the largest share in 2014 owing to the presence of a wide range of kits and extensive usage of immunoassays in communicable disease testing.
Instruments are expected to witness lucrative growth over the forecast period. Instruments are specially used for detection and analysis of blood samples for infection causing micro-organisms. Some of the diagnostic instruments used in this market include cobas 4800 by Roche and BD Max from BD biosciences.
Technology Insights
The immunoassay was one of the dominating segments in 2014 with revenue generation of over USD 4.5 million. ELISA and chemiluminescence immunoassays are the widely used forms of immunochemistry over the forecast period. Cost-effective procedures, user-friendliness, and high acceptance rates in clinical laboratories are key factors attributing to the largest market share.
Owing to associated benefits of molecular diagnostics such as improved accuracy, rapid results, and higher levels of specificity is estimated to grow at a significant growth rate over the decade.
Kit development companies are collaborating with molecular instrument manufacturers for the development of assays for detection of infectious diseases. For instance, BD assay for MRSA detection is used in combination with Cepheid SmartCycler.
Test Location Insights
Central laboratories segment dominated the overall IVD infectious disease market in terms of revenue share over USD 7.3 million in 2014. High procedure volumes, the presence of skilled labor, and established infrastructure in handling infectious samples are factors responsible for the aforementioned market share.
Increasing demand for rapid tests, growing initiatives for reducing healthcare spending by reducing hospital stays, and rising level of health conscious population are anticipated to increase market share of POC at lucrative growth rate. The CAGR of PoC testing for the infectious disease over the forecast period is expected to be around 10.3%.
Regional Insights
In 2014, North America was highest revenue generating region with a revenue share of over 35%. Major factors accounting for largest market share include a high level of R & D activities, the presence of sophisticated healthcare infrastructure coupled with high levels of disposable income, and technological advancements in the field of IVD infectious disease testing.
Developing regions such as Asia Pacific and MEA are estimated to offer a huge platform for potential growth of this market. Sub-Saharan Africa is reported to be the most affected region for HIV infections and HBV prevalence is highest in East Asia and Africa. Economic growth over the decade coupled with changes in lifestyle habits in this region is anticipated to provide epidemiologic transition boosting the growth of IVD infectious disease market.
Competitive Market Share Insights
The industry is oligopolistic in nature by the dominance of major players such Roche Diagnostics, Abbott Laboratories, Alere, Gen-Probe, Inc. (a part of Hologic, Inc.), Becton Dickinson (BD) Company, Inc., Bio-Rad Laboratories, Siemens Healthcare, and bioMeriux SA.
Key players in an attempt of gain stability are adopting strategies such as the development of specialized products. For example, Becton Dickinson and Company is developing BDViper system for diagnosis of CT/GC and HPV infection, which is expected to drive market growth.
Analyst Perspective
The scope of study encompasses key IVD instruments and kits used for infectious disease testing. The study includes insights from manufacturers, distributors, clinical laboratory experts, and new entrants in the industry.
Consumer preference attributes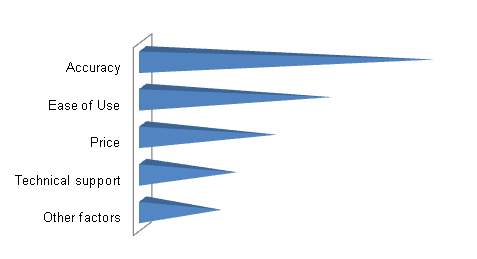 Estimates and forecasts are based on a compilation of information acquired and analyzed using three models. Primary research was extensively conducted to validate results. Target respondents included end-users, manufacturers, researchers, and distributors.
Consumer preference attributes
The above illustration represents buyer perspectives and preferences. Most important factors affecting end-user preferences include accuracy and ease-of-use. Some other key factors include price and post-sale technical support.