"Growing global food and beverage industry to drive product demand"
The global malic acid market size was over 70 kilo tons in 2015. It is one of the most preferred acidulants and flavorants in food processing industry. Growing global food pH regulators demand along with a high requirement for naturally/synthetically derived flavorants and acidulants in various applications in the food and beverage industry is anticipated to drive growth over the forecast period.
Increasing scope in ciders & wines and frozen desserts along with innovations in doughnut processing including the addition of exotic fruit fillings, savory flavors, and chocolate variants has created new avenues for future investments. Approval of malic acid as GRAS from FDA has further promoted commercialization of food grade product and demands innovations and R&D spending in this sector.
U.S. malic acid market revenue by end-use, 2014 - 2024 (USD Million)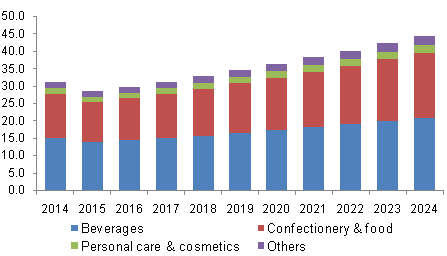 Positive outlook on food & beverage industry growth, particularly in BRICS and the Middle East, is anticipated to remain a major factor driving food acids demand. Growing domestic consumption of food & beverage products in light of the expansion of the retail network, new product launches, and population growth is anticipated to promote industry growth in BRICS.
The primary raw materials include maleic anhydride and fumaric acid which are petroleum derivatives. Globally, a majority of the acidulant is produced from maleic anhydride.
The global malic acid average prices have been relatively stable over the last few years owing to stable supply and demand regime. Current maleic anhydride spot prices throughout the world are estimated to continue the downtrend on account of slump in crude oil prices along with the decrease of alternate feedstock (butane and benzene) prices. This trend is estimated to continue over the next few months till crude oil prices recover.
The global industry witnessed a high level of price volatility from 2008 to 2014. Average spot prices in the period were as high as USD 2,415 per ton and as low as USD 1,768 per ton. North American average spot price was USD 1,790.0 per ton in 2010 and witness a steep increase during 2013 to 2014 owing to high crude oil prices and low malic acid production capacity utilization. A similar trend was observed in other regions.
"Beverage was the leading end-use segment in 2015"
Beverage dominated the overall industry while accounting for over 49% of the total revenue in 2015. The end-use segment is anticipated to grow at a CAGR of 5.1% from 2016 to 2024. Beverage segment includes both carbonated and non-carbonated beverages including flavored drinks as well as alcoholic ciders. Increasing liquid and powdered beverage consumption along with surging artificial flavorant demand in carbonated drinks is estimated to drive product demand in beverages over the next few years.
Regional preferences in confectioneries and beverages play an influential role in the industry growth of certain flavor blends such as ethnic and exotic varieties. Increasing processed food demand globally along with rising pH regulators demand in bakery products and confectioneries such as chocolate and hard candies is expected to augment the demand growth over the next six years. The confectionery & food sector is anticipated to account for over 41% of the total demand by 2024.
The introduction of innovative products and flavors in confectionary & food industry is expected to drive malic acid demand over the forecast period. Young consumers looking for newer format and flavors in confectionery are expected to drive innovative product demand over the forecast period.
The global increase in cosmetics product demand is expected to augment industry growth over the forecast period. The product also finds significant use in various skin care products which improve appearance and rejuvenates facial skin.
"Asia Pacific was the leading regional market followed by North America in 2015"
Asia Pacific malic acid market dominated the global demand and is estimated to grow at a CAGR of 6.4% over the forecast period. Growing processed food and ready-to-drink beverage segments in economies of India, China, and Japan is anticipated to steer product demand over the forecast period.
The growth of the Indian market can be attributed to various factors including the evolving consumer preference towards processed food and flavored beverages. This trend is providing scope for differentiation and ample opportunities for industry penetration in both urban and semi-urban sectors. This is anticipated to increase R&D investment for innovations in product formulations and enhance competition among manufacturers over the next few years.
North America followed Asia Pacific in terms of market valuation and accounted for 25.3% of the total revenue in 2015. Rising confectionery and bakery products demand along with shifting consumer trend towards specialty personal care and cosmetic products in the region especially in the U.S. and Mexico is anticipated to drive demand over the forecast period.
The regional industry has witnessed a rising trend in consumption of beverages such as ready to drink tea, carbonated drinks, energy drinks, and sports drinks. The introduction of low-calorie beverages in the market is also expected to augment North American demand over the next eight years.
Central & South America is estimated to witness sluggish growth owing to the insignificant regulatory scenario. Brazil was the frontrunner in the region with a net worth exceeding USD 2.85 million in 2015.
"Innovative product development to drive industry competitiveness"
The global malic acid industry is moderately fragmented owing to the presence of various small and medium scale regional industry participants. Some of the key manufacturers include Bartek Ingredients, Thirumalai Chemicals, Polynt, Lonza, and Fuso Chemicals.
The presence of regional and small players dominates the global industry. The leading players are investing in R&D and are focusing on increasing application scope as their main strategy to tap the local markets. Further, they are also focusing on increasing their product portfolio to meet the specific client requirements for different product grades.
Some of the companies have expanded their production capacities and increasing in export quantities. The big players are also focusing on acquisitions and mergers as their important strategy in expanding their global customer base. For example, Fuso Chemicals Co. Ltd and Mitsui Chemicals entered into an agreement where the later decided to transfer the organic acids division to Fuso.