Industry Insights
The global managed security services market size was valued at USD 17.65 billion in 2015. Increasing regulatory compliances such as Cybersecurity Act of 2015, The Payment Card Industry Data Security Standard and the HIPP Act of 1996 are enabling organizations to propel the adoption of managed security services. Elements of digital business such as cloud computing, mobile computing, BYOD, and Internet of Things (IoT) are gaining popularity and are expected to increase its application over the forecast period, opening new exploitable vulnerabilities for cyber-crimes.
Global managed security services market by region, 2014 - 2024 (USD Million)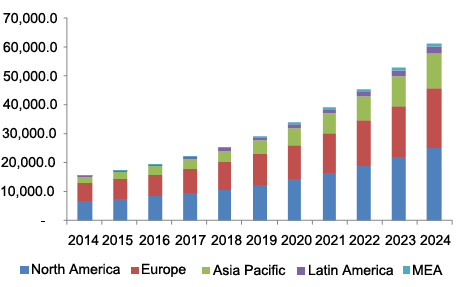 Collaborating with technology providers and joint R&D programs has become a necessity for service providers to maintain their market presence. The challenges for security sector are increasing, due to continuous advancements in the IT industry. Authorities need joint R&D programs and collaborations to identify new skills and expertise that can devise strong managed services measures with rapidly changing IT platforms.
Managed endpoint threat detection is expected to grow at a CAGR of over 16.5% from 2016 to 2024 due to the increasing BYOD trend as organizations are expanding branches at remote locations. This is enabling organizations to deploy endpoint threat detection solutions to secure their endpoints from cyber threats. The rise in the demand for tablet and mobile security solutions is further propelling the growth of endpoint threat detection.
Managed SIEM is expected to reach USD 2.28 billion in 2015 due to the need for regulatory compliance reporting requirements among organizations. The need for analyzing the generated security threats in a network is boosting the adoption of these solutions among enterprises.
Deployment Insights
On-premise security services are dominating the industry with over 54% industry share in 2014; However, cloud-based security services are expected to hold major share over the forecast period. There is an increase in security spending in the area of cloud implementations and service providers are focusing on offering cloud-based services rather than on-premise services.
Various security functions are shifting towards cloud as these solutions eliminate the need for maintaining the on-premise hardware. Moreover, network service providers are launching security-as-a-service based solution offerings for small and medium enterprises.
Organization Insights
Small and medium enterprises are anticipated to be the fastest-growing segment growing at a CAGR of over 17.5% from 2016 to 2024. The demand for managed security services is increasing in the small and medium businesses owing to the minimal IT staffing to handle complex threats. This is enabling organizations to outsource security tasks to managed security service providers. Increasing awareness about security threats and rise in security spending among these organizations is boosting the adoption of managed security services. Moreover, service providers are offering flexible pricing models to attract more organizations toward the usage of these offerings.
Large enterprises are expected to dominate the market over the forecast period. These enterprises are establishing branch offices at remote locations, which are enabling them to outsource services to these locations. Moreover, organizations are approaching towards enhanced services with specific requirements and objectives influenced by cybersecurity resources for advanced protection.
Application Insights
The BFSI sector is estimated to dominate the industry accounting for over 23% share in 2024. One of the important reasons for data loss in this sector is the inadequate controlling of physical and logical access to systems containing customer data and the insufficient logging & monitoring of security-related events.
The BFSI sector is continuously visualizing the regional, instability, terrorism, physical risks, criminal networks, and modern threats originating from cyber-sabotage and opaque sources. The rising regulation in the finance sector is driving the growth of the industry in this sector.
Regional Insights
North America is expected to dominate the market accounting for over 41% market share by 2024. The extensive developments in the IT sector have attracted several organizations to operate in the region. The proliferation of these developments has led to the evolution of severe and sophisticated cyber threats. This safety concern has increased the deployment of security services in the region.
Asia Pacific is estimated to be the fastest-growing region accounting for a CAGR of over 19% from 2016 to 2024. The regional growth can be attributed to the increased IT security spending in countries such as India and China. One of the major factors contributing to the growth of the industry includes the progression towards stricter cyber enforcement. In 2016, Taiwan amended its Personal Data Protection Act by introducing sensitive personal data to the act.
Competitive Market Share Insights
Key industry competitors include Dell SecureWorks Inc., IBM Corporation, Symantec Corporation, Verizon Communications Inc., and Trustwave Holdings. Companies are focusing on mergers and acquisitions to gain market presence. For example, BAE Systems acquired SilverSky to enhance its strategy of the commercial cyber security business.